How To Become A Spiritual Warlord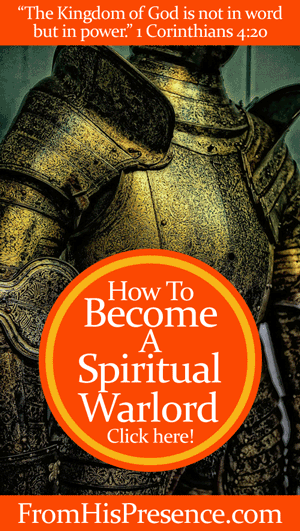 Would you like to be a spiritual warlord? Would you like to walk in power and authority, knowing that what you say goes, and what you decide becomes reality?
As Christians, we are each called to be spiritual warlords.
You might not have thought of yourself like that before. You've probably heard people talk about "gang lords" and "drug lords," but I'm here to tell you that we serve THE LORD, and we are called to walk in more power and authority than the world can ever offer.
And as God's representatives on earth, we are to become like Jesus, who was definitely a warlord:
Jesus spoke a thing and it was done. At creation, He SAID "Let there be light," and there was light.
Jesus cursed the fig tree, and it withered immediately (Mark 11:12-25).
Jesus SAID "Follow Me," and His call birthed in the disciples both the desire and the power to perform it.
Jesus healed the sick, raised the dead, and cast out demons with a mere word or a touch.
What Jesus said went, and nothing could stand against Him.
So what is a spiritual warlord?
Spiritual warlords are those who walk in the same power that Jesus had. Spiritual warlords speak a thing and it is done. They ENFORCE the will and Word of the Father on the earth. Spiritual warlords call those things that are not as though they already were until they become.
Spiritual warlords dominate the earth in their sphere of influence, just like Jesus did. They are not under the weather, under attack, or under the circumstances. They have victory in all things, because they appropriate everything Christ lived, died, and rose again to give them.
Spiritual warlords don't dumb down what the Word of God says to accommodate their doubt and unbelief.
Spiritual warlords believe God for what He says.
Spiritual warlords walk with an acute awareness that "the same Spirit Who raised Jesus from the dead dwells in me."
They walk with an awareness of the Holy Spirit—of what He is doing and saying—at all times.
As spiritual warlords, we become fully aware of Christ in us, and that we can do nothing of our own natural flesh—but that we can do all things through Christ who gives every one of us POWER (Philippians 4:13).
After all, according to 1 Corinthians 4:20, "The Kingdom of God is not in word but in power."
I'm done with weak, powerless religion, aren't you? Jesus Christ lived, died, and rose again to give us eternal life, victory in all things, and POWER. In Acts 1:8, Jesus said:
But you shall receive power when the Holy Spirit has come upon you; and you shall be witnesses to Me in Jerusalem, and in all Judea and Samaria, and to the end of the earth."
As spiritual warlords, we walk in the power God has given us. That means:
We bind evil things away just like they are already bound in Heaven, and we loose good and holy things, just like good and holy things are already loosed in Heaven (Matthew 18:18-20).
We go on the offensive for the Kingdom. We take it to the streets like Jesus did. We aggressively release the Kingdom of God, with its righteousness, peace, joy, and POWER everywhere we go.
Jesus told us that we in the Church are to be aggressors for His Kingdom's sake:
 Jesus answered and said to him, "Blessed are you, Simon Bar-Jonah, for flesh and blood has not revealed this to you, but My Father who is in heaven. And I also say to you that you are Peter, and on this rock I will build My church, and the gates of Hades shall not prevail against it.

And I will give you the keys of the kingdom of heaven, and whatever you bind on earth will be bound in heaven, and whatever you loose on earth will be loosed in heaven" Matthew 16:17-19.
It's time for us to go all-in for Christ.
As spiritual warlords, we will speak what Jesus speaks. What Jesus does, we will do; and we will do even greater works than He did, because He returned to the Father before He had time to do all the great works that could be done.
Are you ready to dominate in your sphere as a spiritual warlord? Are you ready to enforce the will and Kingdom of God on the earth? Yes? Good. Because for the next couple of weeks, I'll be blogging about HOW to go to this next level; HOW to become a spiritual warlord. Every believer in Christ Jesus can and should walk in this level of power and authority.
In the meantime, does this message inspire you? Can you hear the trumpet blast of the Holy Spirit calling you into war as a spiritual warlord? If so, please leave a comment below! I'd love to hear what you think!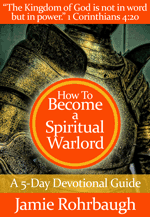 Do you prefer to read the Warlord series in one easy-to-use PDF file? You're in luck!
I also made a 5-day, printable devotional guide out of this series. Each devotional has a simple prayer and/or equipping assignment at the end.
 (The prayers and equipping assignments are not included in the blog posts online.)
This e-book will kick-start your devotional life with power. So click the button below to grab the Spiritual Warlord devotional guide e-book on my Gumroad store!


Related: Read all the other posts in this series!