My Father, My Father! (Please Leave Your Mantle Behind)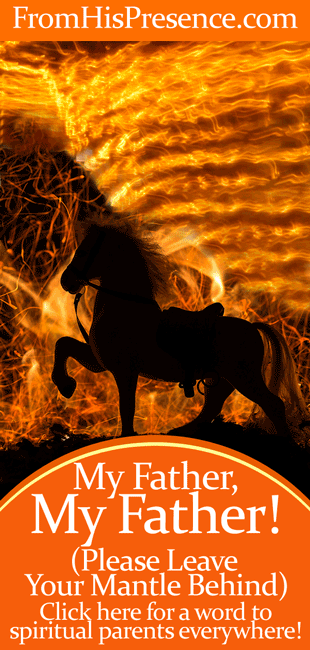 This week, I read the announcement of John Paul Jackson's death. I wept when I read it.
I am indebted to Jackson and his ministry. About ten years ago, my pastor took a group of us from our church to attend Jackson's classes about hearing God and dream interpretation. Those classes changed my life forever. They taught me how to listen, how to hear, how to believe in a supernatural God who still works supernaturally, and how to reach people for Jesus using my gifts.
Those classes meant the world to me; and since that time, I've been intrigued anytime I've heard John Paul Jackson preach. I'm sorry for his suffering, and sorry for his passing. He wasn't old, and his time was cut short by cancer. But what a gift to the Body of Christ he was while he lived.
When I read the announcement about Jackson's death, I was at work. I began to weep, and I slipped away from my desk to be alone for a moment. And as I did, suddenly the scene came to mind from 2 Kings 2:9-12:
And so it was, when they had crossed over, that Elijah said to Elisha, "Ask! What may I do for you, before I am taken away from you?"

Elisha said, "Please let a double portion of your spirit be upon me." So he said, "You have asked a hard thing. Nevertheless, if you see me when I am taken from you, it shall be so for you; but if not, it shall not be so."

Then it happened, as they continued on and talked, that suddenly a chariot of fire appeared with horses of fire, and separated the two of them; and Elijah went up by a whirlwind into heaven.

And Elisha saw it, and he cried out, "My father, my father, the chariot of Israel and its horsemen!" So he saw him no more. And he took hold of his own clothes and tore them into two pieces."
And all I could hear was the agony of Elisha's voice, crying, "My father, my father!"
What does this have to do with John Paul Jackson?
Elisha loved Elijah, his spiritual father. He mourned when Elijah was taken from him, just as the Body of Christ is mourning John Paul Jackson right now.
But John Paul wasn't the first spiritual father to pass away recently. A number of fathers have gone over the Jordan in the last few years. Bob Jones comes to mind immediately. I know there are many more.
But what has happened to their mantles?
John Paul Jackson was not my father, personally. I benefited from his ministry, of course, but I did not follow it closely enough to say that he was a father figure to me, even from a distance. However, he was a father to many, and he spent his ministry equipping believers to carry on the work of the ministry.
But I do have spiritual fathers (and mothers), and so do you if you are a part of a local church. And those spiritual parents carry mantles. And unfortunately, our fathers and mothers are not getting any younger.
Of course, I hope and pray they'll still have decades of health and successful ministry. But so many of the Greatest Generation have already left us. And the folks in the generation after them—the Baby Boomers—are getting older. These are the people who have, in many cases, given their lives to the work of the Gospel. They are the ones who have decades of church-building and church-planting and church ministry under their belts. Decades of evangelism. Decades of Bible study and thousands of hours mastering the art of preaching. They have spent decades on their knees, sowing oceans of blood, sweat, and tears into the cause of Christ. Their hearts for God are unequaled. Their wisdom is irreplaceable.
And when I heard about John Paul Jackson's death, it made me wonder: What will happen to the mantles of these remaining fathers and mothers as they begin to move toward glory?
An entire generation of spiritual fathers and mothers means that there's a generation of sons and daughters that have come up under them, and those sons and daughters must be equipped and prepared to take the reins of every ministry across Christendom when our fathers and mothers go home.
But will it happen? Or will those mantles fall to the ground without successors?
Dear God, have mercy.
I'm sobbing as I write this. Elisha's cry resounds in my spirit: "My father, my father!" This message is so relevant to EVERY Christian leader. Whether you're the pastor of a country church that seats 10 people, the pastor of a New York megachurch that seats 60,000, or any leader of any Christian ministry in between—from evangelism, to feeding the poor, to foreign missions—the principle is still the same:
"My father, my father!"
Dear spiritual fathers and mothers, can you hear the cry of our hearts, your sons and daughters? We love you. We depend on you. We trust you. We have sat at your table and been fed at your hand all these many years. We don't want you to go. Please don't leave us.
But if time sails on and the Lord tarries, dear fathers and mothers—
If we have to watch the chariots of fire come and carry you away as our hearts break—
As we tear our robes and mourn your passing—
Then my father, my father! Please, please, please… would you leave us a double portion of your mantle?
I know mentoring us is inconvenient sometimes. I know we can be stubborn and immature sometimes. But we are your legacy, and we want to carry on the work of the Gospel. We want to be the sickle in Jesus' hand that He uses to bring in a billion-soul harvest. We want to make you proud.
But we need you. We want to learn everything we can, while we can. We are watching you and trying to emulate you, and we want God to make us a crown of glory for your head—the icing on the cake of your years of successful ministry.
My father, my father! We wish you renewed youth and vigor. We pray for God to strengthen you who have been fighting all these years. We earnestly desire for your latter days to be greater than your former days, and we want to serve you and the vision God has given you.
But my father, my father! If Zion calls, and you have to answer … please leave your mantle behind.
Image is a combination of two images: one by Kevin Dooley on Flickr via Creative Commons license and the other by Prasanth Chandran on Flickr via Creative Commons license. Images have been cropped and graphics added.