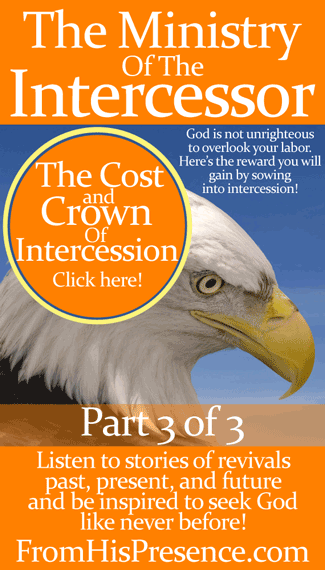 Part 3 of this series–"The Cost And Crown Of Intercession"–is, I believe, the most powerful message I've ever taught. Bar none.
In this message, I used real-life stories of revivals past, present, and future to teach this one thing:
Intercession will cost you time, perseverance, and more… but the reward is worth it. The prize you will win for your labor goes far beyond your wildest dreams.
Men and women throughout history have proven this over and over again. Their stories will grip you. Their labor will inspire you. Their results will amaze you. Their dedication to the Lord will fuel your fire and compel you to your knees like never before.
I'm not going to try to write a long description of this message, because you just have to hear it. So head on over to my Gumroad store to download it today. And while you're at it, if you haven't gotten part 1 and part 2 of this series, please grab those too!
(On Gumroad: To purchase more than one item at a time, just click on the image of each item you want, and then click the "I want this!" button. Easy peasy.)

You'll get an email when new content is posted. You'll also receive my free, printable blessing cards and my ebook–The Presence Seeker's Creed–for free when you confirm!