The Challenge Of Intercession: 7 Ways To Intercede And Get Dramatic Results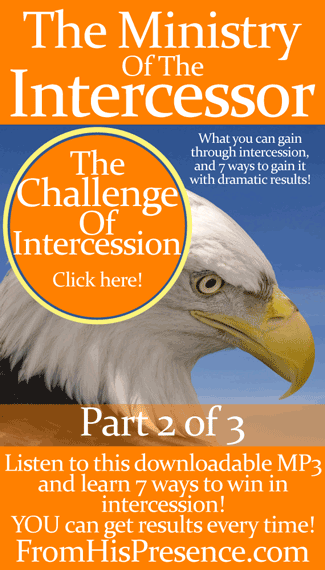 Are you ready to try your hand at intercession, but you're not sure how to go about it? If so, this message is for you.
The fact that this message even happened was a total miracle. I suddenly got very sick the day before I was scheduled to teach it, BUT GOD healed me enough to teach anyway. He showed up and showed out. Why? Because He wants His people to be empowered.
Part 2 of the Intercession series contains the "HOW" of intercession. It's a powerful message that will give you the tools you need to actually step out and start interceding with power–even if you've never tried intercession before.
So "The Challenge Of Intercession" is about:
What there is to gain by intercession;
How to gain it; and
HOW to intercede. In this message, I share 7 ways to intercede with power–things ANYBODY can do, even if you have zero experience in intercession.
Part 1 of this series, "The Call Of Intercession," teaches how intercession is available to every believer. Yes, YOU TOO. Intercession is not for some super-subset of Christians that call themselves "intercessors." It's a tool of government, power, and intimacy with God for YOU, because Jesus is the Ultimate Intercessor, and we're all to become like Jesus. Part 1 taught the heart, purpose, and motives of intercession.
Now Part 2 will give you the tools you need to step out.
Are you ready? Download "The Challenge Of Intercession" today, and let the Lord take you to a whole new level of power as you stand in the gap for the people you love!
Click the button below to purchase "The Challenge Of Intercession" on my Gumroad store!