How To Become a Spiritual Warlord: A 5-Day Devotional Guide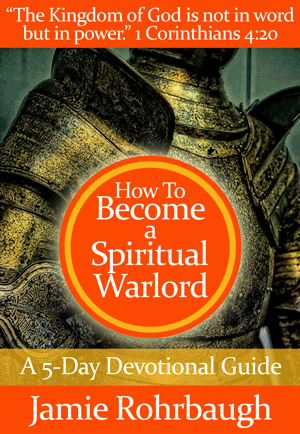 Last year, I received one of the fastest, most urgent, and most overwhelming downloads of a prophetic word that I've ever received. It was almost violent in how fast and powerfully the Lord dumped it into my spirit.
I was literally walking down a sidewalk downtown in the city where I live, and between a parking garage and an office building, here came this word. The download came so quickly and urgently that I found myself typing notes into my phone, trying not to get hit by cars as I crossed the street!
That word was "How To Become a Spiritual Warlord."
Later that same day, my pastor/spiritual dad asked me to teach this word to the prophetic team at my local church, and then my other pastor asked me to share it again during our church service. The Holy Spirit sat on it both times, encouraging His people to be believing believers.
The word came out of the blue, but I believe that the humorous way the Lord gave me this word and then had me deliver it demonstrates the urgency of the message. Could Papa not have waited for me to arrive at my office before He began downloading? No. It was on His mind right that moment, and whether I was in the middle of a street or not, He required me to interrupt my schhhhheduuule and listen.
It reminds me of this verse:
A lion has roared! Who will not fear? The Lord GOD has spoken! Who can but prophesy?" (Amos 3:8).
When God speaks, His words carry POWER. And if you will yield to His unction, amazing things happen.
Well, later I turned this word into the 5-part Spiritual Warlord blog series. But yesterday, a brother contacted me and asked for an easier-to-read printable version of the series. When I received his message, I had a sudden download of creativity from the Holy Spirit. 🙂
So, I just made the Spiritual Warlord series into a 5-day devotional guide e-book.
The e-book has all five blog posts in it (nearly word-for-word, although not precisely word-for-word), plus simple prayers and/or equipping assignments for you at the end of each day. Keep in mind that all five blog posts, minus the prayers and equipping assignments, are available for free here on my blog. So if you want to read them that way, click here for the Spiritual Warlord series table of contents and have at it.
But if you prefer an easy-to-read PDF file with all five devotionals PLUS the short prayers and equipping assignments in one printable file, then today is your day! 😉
This e-book is instantly-downloadable. This is a PDF file; it's a total of 19 pages long, 16 pages of which contain easy-to-read teaching, divided into five devotionals. The five devotionals are:
How To Become a Spiritual Warlord;
The Word of the Warlord;
The Weapons of the Warlord;
The Warfare of the Warlord; and
The War Cry of the Warlord.
Also, please note that it's the kind of e-book that you read, not the kind that is all graphics inside like my Ruth Bible Study workbook. The Warlord devotional guide does have a couple of fill-in-the-blank sections, but it's not intended to be a workbook per se. It's a teaching book. 🙂
Ok, are you ready? Want to power up your quiet time with the Lord this week using a five-day, power-filled prophetic series? It's easy to understand. It's inspiring. I believe it will rock you as it did me. So, click the button below and WARLORDS ARISE!

May we all have ears to hear what the Spirit is saying to the churches!