An Encouraging Word For Intercessors: Make Like a Fire Horse and Stand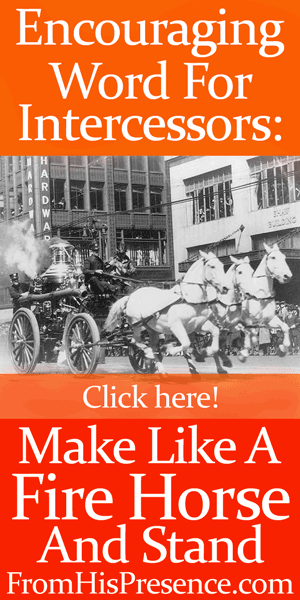 Intercessors, do you ever feel the heat of the battle so strongly that it feels like your skin is being burned off?
Do you run to the battle when you're called, but sometimes wish you could run away when the fight is fiercest? I know I do. However, the Lord has given me a mandate lately that I believe is for you too:
"Make like a fire horse and stand."
Intrigued? Want to know what a fire horse has to do with intercession? Read on.
What is a fire horse?
Fire horses were the animals used to pull fire engines before the advent of motorized vehicles. The use of fire horses began in 1877 and ended July 19, 1921, when the last set of fire horses was retired.
Fire horses were noble and special. Here are a few examples:
They were so well-trained that they were raring to go as soon as the fire alarm sounded.
When the alarm sounded, they would stand in their stalls while they were hitched to the fire apparatus, but afterward, they were known for their hunger to get to the fire as soon as they could.
They would run of their own accord to the fire as fast as they could get there.
Sometimes they were found to have run on injured legs or hooves, but they didn't care–they ran anyway.
Even after a horse was retired, if he heard a fire bell, he would still paw at his stall to get out and try to run to the fire.
Fire horses were so faithful that they would stand with the fire engine at the scene of the fire–even though sometimes the heat got so bad that the horses were later found to have their skin burned off.
Watch a video of actual fire horses running to a fire in 1901.
Fire horses knew what they were called to do. They knew what they were trained for. They had the character and heart necessary to sustain their calling. Most importantly, however, they refused to leave their battle stations… even when their skin was getting burned off.
Fire horses and intercession have a lot in common.
Sometimes intercession is joyful and fun. Other times, it's agony. Sometimes the heat of the fire feels like too much. Sometimes you can feel your skin burning off, and what your flesh wants the most is to run away from the battle.
If you're feeling that way right now, intercessors, I get it. More importantly, however, Jesus gets it! He is the original, Faithful Intercessor, and yet He's the One who prayed "O My Father, if it is possible, let this cup pass from Me; nevertheless, not as I will, but as You will" (Matthew 26:39). Even Jesus asked to be released from the battle!
However, I thank God that it was the Father's will for Jesus NOT to get released from the battle. Salvation would never have been possible if Jesus had obeyed the dictates of His emotions and flesh and run away.
In the same way:
The victory the Lord has assigned to you and I will never be possible if we obey the dictates of our flesh and emotions and run away.
I know it's hard. I know it's painful. I know the heat seems unbearable.
The Lord knows all these things, too. But intercessors, I want to encourage you today:
His grace is sufficient for you. His strength is made perfect in weakness (2 Corinthians 12:9).
We do not know how to pray as we ought, or how to offer it worthily as we ought, but the Holy Spirit makes intercession for us with moanings and groanings that cannot be uttered (Romans 8:26). The precious Holy Spirit of God is helping us and interceding for us.
Jesus Christ Himself ever lives to make intercession for us (Hebrews 7:25).
So stand. Call on the Lord to help you stand.
You didn't imagine your call. It's not all in your head.
GOD HIMSELF has called you. You are called to enforce His will on the earth through your prayers and declarations. You are divinely ordained to call forth God's eternal purposes in those people and organizations under your care. YOU are called. Yes, the victory belongs to the Lord, but He has ordained that it will come through YOUR prayers. Not someone else. YOU.
So stand…
When the fire is so hot that you can feel your skin melting and falling to the ground … stand.
When the battle rages fiercely and you feel you have no strength left … stand.
When it feels like all hope is lost and darkness seems to be winning, God is still on the throne, and He's not intimidated … so stand.
Stand, stand, and keep on standing. The Lord is on your side, and you will not be put to shame.
Intercessors, the battle cannot be won if you run away.
So I pray God will give you a special grace today. Stand your watch, soldier. Refuse to give in. Enforce God's purposes on the earth through your prayers.
Will you make like a fire horse and stand today?
Join me in praying this simple prayer for yourself:
Dear Heavenly Father,

I come before You in Jesus' name. Father, thank You for hearing my prayer right now. Thank You for loving me and knowing exactly how I feel and where I am in my life at all times. Thank You for knowing me so intimately that You know what I am about to ask You, before I even think it. I love You, Daddy, and I depend on You completely.

Father, Your Word tells me to boldly come before the throne of grace, that I may obtain mercy and find grace to help in time of need. Daddy God, I need Your mercy and grace right now. I'm in a time of need like I've never been in before. I know You're with me, but I feel the heat of the battle raging fiercely in my life in ___(insert your situation here)___. 

Heavenly Father, it hurts and I feel too weak to keep on standing. But Daddy God, I know You want me to stand. Your Word says that if I will stand, You will do the fighting for me. The fire horses didn't fight the fire… they just stood. And Lord, I want to be faithful to Your call and Your command and stand, fearless, perfect in faith and love, and filled with expectation and hope until Your victory manifests in this situation.

So Heavenly Father, in the name of Jesus, please help me right now. Fill me with Your Holy Spirit. Help me to stand. Restore my courage, Daddy. Heal the wounds that are in my heart from having my hopes deferred for so long. Give me hope again, Father, and restore my joy and sense of expectation.

Father, please help me to keep on believing Your promises. I know that faith comes by hearing, and hearing by Your Word, so please increase my time in Your Word. Help me hear Your on-time words whispered in my ear so my faith will increase. Fill me with faith again.

Lord, help me to stay right where You've called me. Give me a supernatural, divine empowerment to stand on Your promises, to stand where You've put me, and to stand firm in the midst of battle.

Thank You, Lord Jesus. Thank You, Father. Thank You, Holy Spirit. I know You are hearing and answering my prayer right now. I know that I can do all things through You who strengthen me.

In Jesus' name. Amen.
Have you been standing in a fiery battle? If so, does this message encourage your heart today? Please leave a comment if so! And thank you in advance. I love to hear from you!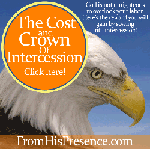 Related: The Ministry of the Intercessor: 3 instantly-downloadable, full-length MP3 teachings:
Purchase and download them all instantly here at my Gumroad store!
To learn more about horses and how they pertain to God's call on your life, including a brief snippet about fire horses, click here and purchase Ray Hughes' teaching on "The Warhorse" from the Bethel Store. This is where I first learned about what a fire horse was, and I've never been able to forget it.
Photo source: Library of Congress