Has Hope Deferred Made Your Heart Sick?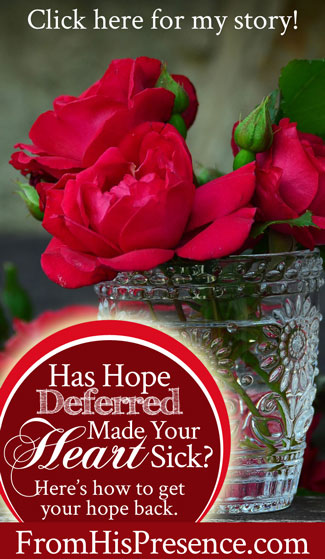 I couldn't figure out what was wrong with me. I just wanted to hide.
Nothing was visibly going wrong. Everything seemed okay at work. Everything seemed okay in my friendships. And I wasn't married yet, so I didn't have any romantic relationships to worry about.
But I was moping around. Unmotivated, apathetic. I wanted to stay at home and hide all the time. If I had had access to one, I would have loved to have crawled into a cave and not come out.
I wanted to keep the world away. I couldn't face anybody.
I don't remember how long this went on. All I remember is how disengaged from life I felt.
I just didn't want to have anything to do with … well, anything.
Then one morning, going about my regular routine, I hit a proverbial wall. I had gotten ready for work and was ready to walk out the door … when I just. couldn't. anymore.
I remember the exact spot. I fell to my knees on the floor at the end of my bed and cried out to God–words I hadn't even known I was thinking just welling up out of my spirit:
"Father, please. Give me my hope back. Fill me with hope again."
It was a short prayer. A desperate prayer.
But quickly, it was an answered prayer.
Nothing dramatic happened on the outside in that moment that would have accounted for how God answered. Nobody called to encourage me. Nothing great just suddenly happened that just made all my dreams come true. Nothing like that.
But as I rested there a moment, on my face in a fetal position before God, hiding from the world–
–He answered.
It was like a heavy dew or maybe even a gentle rain, spiritually speaking. All of a sudden, I simply felt hope seeping into my soul.
Into my heart. Into the fibre of my being.
Hope. Sweet, precious hope.
It made all the difference in the world.
Some of you who are reading this today may have lost your hope, just like I had. And all you want is to get your hope back.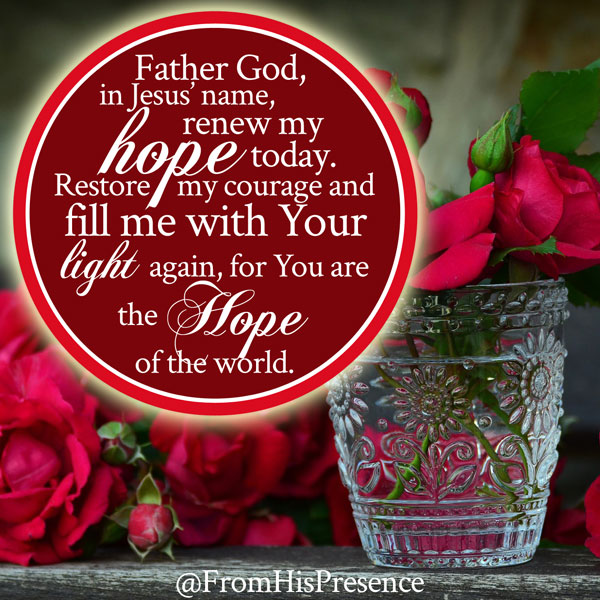 If that's you, beloved, I want you to know that no outward change will restore your hope. Hope is a spiritual substance; a gift from God. It's something that only He can give … but He IS Hope, and He wants to refill you with hope right now.
And the good news is:
You don't have to wait for your relationships to get better to have hope.
You don't have to wait for your finances to get better to have hope.
You don't even have to wait until you always think perfectly, act perfectly, or have perfect faith in order to have hope.
Nope. None of those things are the determiners of hope. Hope comes from Jesus.
Without hope, our heart becomes sick. Proverbs 13:12 says:
Hope deferred makes the heart sick, but a desire fulfilled is a tree of life" (Proverbs 13:12 ESV).
But when we HAVE hope, we can hang in there and stand strong until our Father does, in fact, change our circumstances.
So do you want to get your hope back today?
If so, stop right where you are. Present your need to Papa God in prayer. Ask Him to fill you with hope again, and help you to stand and wait for whatever answer to prayer you need in faith.
Even if the thing for which you've been praying–the dream for which you've been waiting–still takes awhile to arrive, Papa God wants to fill you with HOPE right now.
Beloved, no longer does your heart need to be sick. No longer do you need to wait in despair or discouragement. No longer do you need to hide from the world.
Ask Father God today to fill you with His hope, and He will. His hope will make all the difference in the world.
Does this message encourage your heart today? If so, please leave a comment below. I'd love to hear from you!