Prayer for a Divine Turnaround
Do you need a divine turnaround today? If so, even while you humbly wait on the Lord, you can pray and ask Him to bring you the divine turnaround you need TODAY. Read on for more!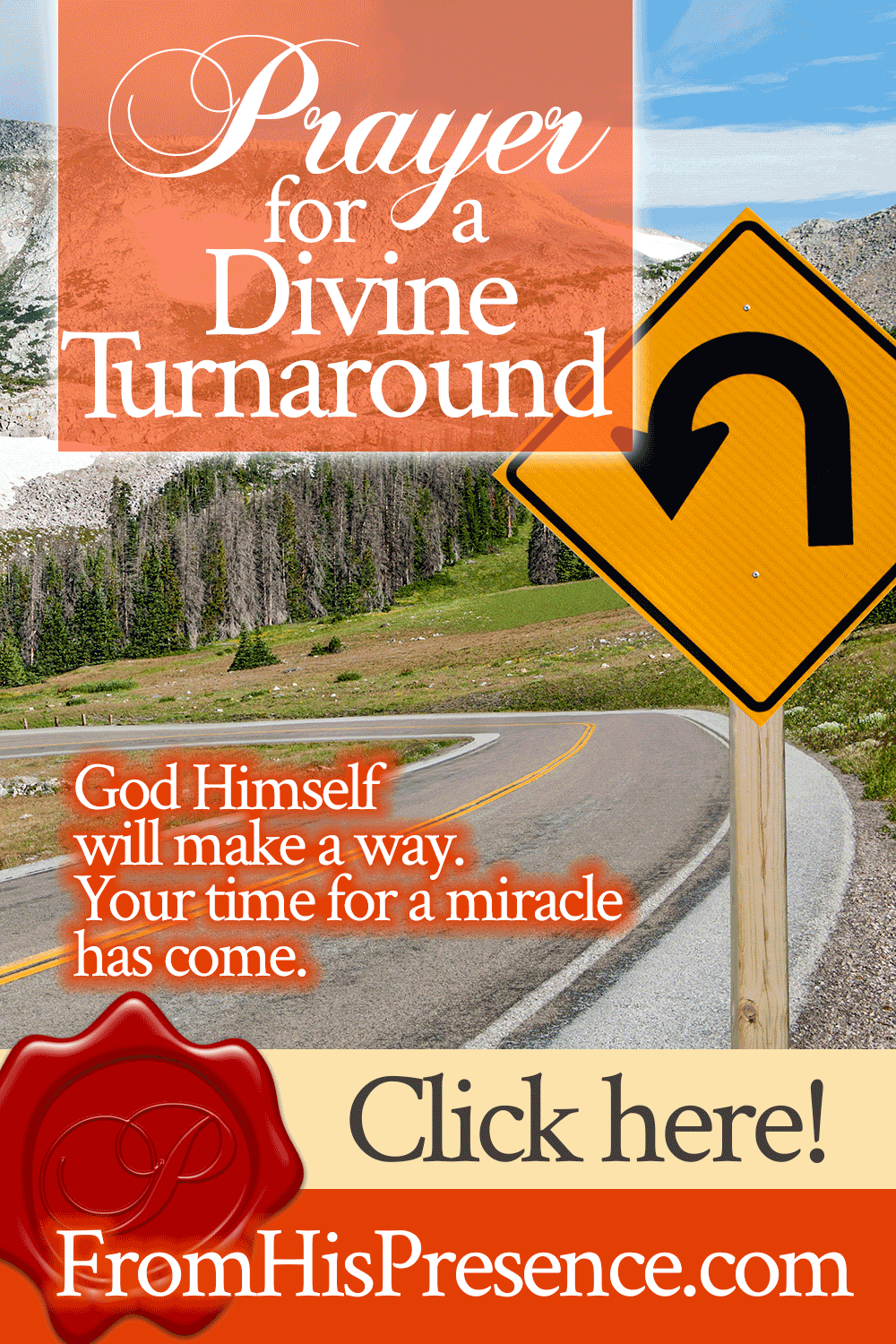 As we all know, sometimes breakthrough takes awhile.
However, usually when the pressure is the worst, God often steps in with sudden miracles. That "suddenly" moment is like the crowning of a baby being born; the pain can be terrible, but the result comes swiftly.
We find an example of God's "suddenlies" in Acts chapter 2:
"When the Day of Pentecost had fully come, they were all with one accord in one place. And suddenly there came a sound from heaven, as of a rushing mighty wind, and it filled the whole house where they were sitting.

Then there appeared to them divided tongues, as of fire, and one sat upon each of them. And they were all filled with the Holy Spirit and began to speak with other tongues, as the Spirit gave them utterance" (Acts 2:1-4 NKJV).
On the Day of Pentecost, those who believed in Christ had been gathered, waiting, and praying for fifty days. Fifty days! That's a long time to pray without ceasing and see nothing happen.
Yet, they remained faithful. Jesus told them to wait and tarry until Holy Spirit was poured out on them, and until they received His power.
You know their flesh didn't like to wait that long–and neither does ours.
However, even when we have to wait a long time, breakthrough always comes. There is always a "suddenly" moment when the waiting ends and our Heavenly Father sends His divine turnaround. In that moment:
Suddenly, our answers show up.
Suddenly, we are propelled into the next level of blessing.
Suddenly, the Lord moves on our behalf and we forget the pain of proverbial "childbirth" for the joy of seeing the "child" (that thing for which we have been praying) born into the world.
Suddenly, there is a divine turnaround.
God sends His divine turnaround when it is His own good time to do so. However, remember that "Surely the Lord God does nothing, unless He reveals His secret to His servants the prophets" (Amos 3:7).
God will speak to your spirit in advance, telling you what He intends to do. When it is His time to bring breakthrough, His Holy Spirit will bear witness into your spirit that the time has come.
He does this not only because He desires to converse with you, but also because He desires you to agree with His will in prayer so that He can bring you the divine turnaround for which you have been believing and contending.
Right now, I feel it is TIME for a divine turnaround.
If you're reading this article, I believe it is your time. Do you feel it? If so, pray this prayer for a divine turnaround in faith today. Believe God to show up suddenly on your behalf.
Let's pray this prayer together for a divine turnaround:
"Dear Heavenly Father, I come to You in Jesus' name.
Father God, thank You for hearing my prayer today. Thank You for loving me and taking care of me. You are good, and Your mercy endures forever. I love You, and I bless you.
Abba, I'm grateful to belong to You in Christ Jesus. I humbly acknowledge that I need You for everything. I cannot take care of myself or sustain myself, Father, but You sustain me and care for me every day. Thank You.
Father God, I praise You right now for Your mercy. I praise You for Your strength and grace. And Father, I call on You today because I need You to demonstrate Your mercy, grace, and strength on my behalf.
Dear Abba Father, I need a divine turnaround.
Lord God, You see what has been happening in my life. You see that I have been hard-pressed on every side (but not crushed), perplexed (but not in despair), persecuted (but not forsaken), and struck down (yet not destroyed) (2 Corinthians 4:8-9).
You also see that the enemy has attacked me and my family left and right. It seems the devourer has been hard at work, yet we have paid our tithe and You promised to rebuke the devourer for our sakes.
Abba, time after time lately things have gone wrong. They have been hard, hard, hard. Trouble after trouble has beset me; the stress of it all is off the charts and beyond my ability to handle.
You have kept me alive as I have trusted You and rested in You, and I thank You for that. However, Abba, I am petitioning You today to bring breakthrough on my behalf.
To learn more about rest, read our free article series called Rest In God, Reach Your Destiny!
Here are all the posts in the Rest in God, Reach Your Destiny series:
Father God, in Jesus' name, I ask today that You would intervene suddenly and swiftly on my behalf, bringing me a divine turnaround.
Let the huge and miraculous answers to prayers I have been praying for years suddenly come through to me.
Make all the attacks against me cease.
Propel me into the manifest victory that Jesus purchased for me on the cross.
Flaunt Your victory over the enemy through me and my life.
Abba Father, I don't know what to pray, but I have waited long enough.
I will continue to wait on You as long as You need me to, Father. But, something in my spirit says that You need me to agree with You and pray Your will back to You for divine turnaround now.
And Lord, Your Word teaches us that I should be anxious for nothing; but that in everything, with prayer and supplication, with thanksgiving, I should make my requests known to You. You want me to petition You.
Therefore, Heavenly Father, I present to You:
That I have waited on You, in accordance with Your instruction;
That I have fasted and prayed, in obedience to Your will;
That with my whole heart I have sought You, in submission to Your Word;
That I have sown and tithed and offered to You, Lord, surrendering to You in everything; and
That I have willingly and humbly and in brokenness submitted to Your discipline, Father, as You would have me to do; for You discipline in love, and Your discipline is necessary correction.
Your Word says "Come, let us reason together," Father.
And because Your Word says that, I know that You are a God who wants to talk. You desire to discuss these things with me. Thank You for that, Abba Father.
Father God, if it is not Your time to bring me a divine turnaround, then I submit to Your will and timing. Your Word says that You perfect all things that concern me, and that my times are in Your hands. So I submit to Your perfect will and Your perfect timing, Abba.
But Father, I do believe in faith that now IS Your time to bring me a divine turnaround.
I feel it, Father. I feel it in my bones. Therefore, I ask in Jesus' name that NOW would be the day of my salvation:
Work miracles on my behalf, Father.
Let every attack the enemy has thrown at me be smoke and mirrors; let nothing come of these attacks, and let them cost me nothing.
Honor my faith and hear the cry of my heart.
As I have sown and given and poured into others, so I ask today that You would bring me harvest and blessing and pour into my bosom more blessing than I could ever imagine.
As I have diligently dedicated myself to being Your hands and feet on the earth, encouraging others and making others' dreams come true, so I ask also that You would encourage me, lift me up, and make my dreams come true.
In faith I say today, "Turnaround, BE! In Jesus' name!"
Divine turnaround from God, come forth in Jesus' name! Blessings from Heaven, come forth in Jesus' name! Advocacy of the Holy Spirit, come forth and BE on my behalf in Jesus' name today!
Jesus, Son of David, have mercy on me.
I thank You that You have always sustained me. You have always protected me and taken care of me; thank You! And thank You for being My everything:
My Shelter in time of storm.
My Strength, for I have none of myself.
My Wisdom, for You are Wonderful Counselor.
My Provider, for You are El Shaddai and You are more than enough.
My Refuge, for life is hard and I cannot handle life by myself. Only when I hide in You can I even face the prospect of another day.
Jesus, You are my everything. Thank You. Holy Spirit, You are the One who nurtures me and nurses me, caring for me like a parent cares for an infant. Thank You! And Abba Father, I belong to You.
Thank You for sustaining me, protecting me, and providing for me in every way I know, and in every way I don't know.
I thank You, Father, for always providing all of my needs. And today, I need a divine turnaround:
I need You to show out and show off suddenly, Father.
I need You to work a miracle to plunge me back into blessing, healing, and prosperity of body, mind, soul, spirit, finance, relationships, and every other good thing.
Push through the divine turnarounds you are sending me, Father, even if there is warfare in the heavenlies over these things. YOU already won the victory; do what it takes to push Your answers through to me, please, in Jesus' name.
Thank You, Abba Father. I feed from Your hand. You are my Everything, and I give You all the praise.
In Jesus' name I pray, amen and amen."
Beloved friend, did you pray this prayer for divine turnaround today? If so, leave a comment below and thank the Lord for the turnaround He is bringing you by faith!