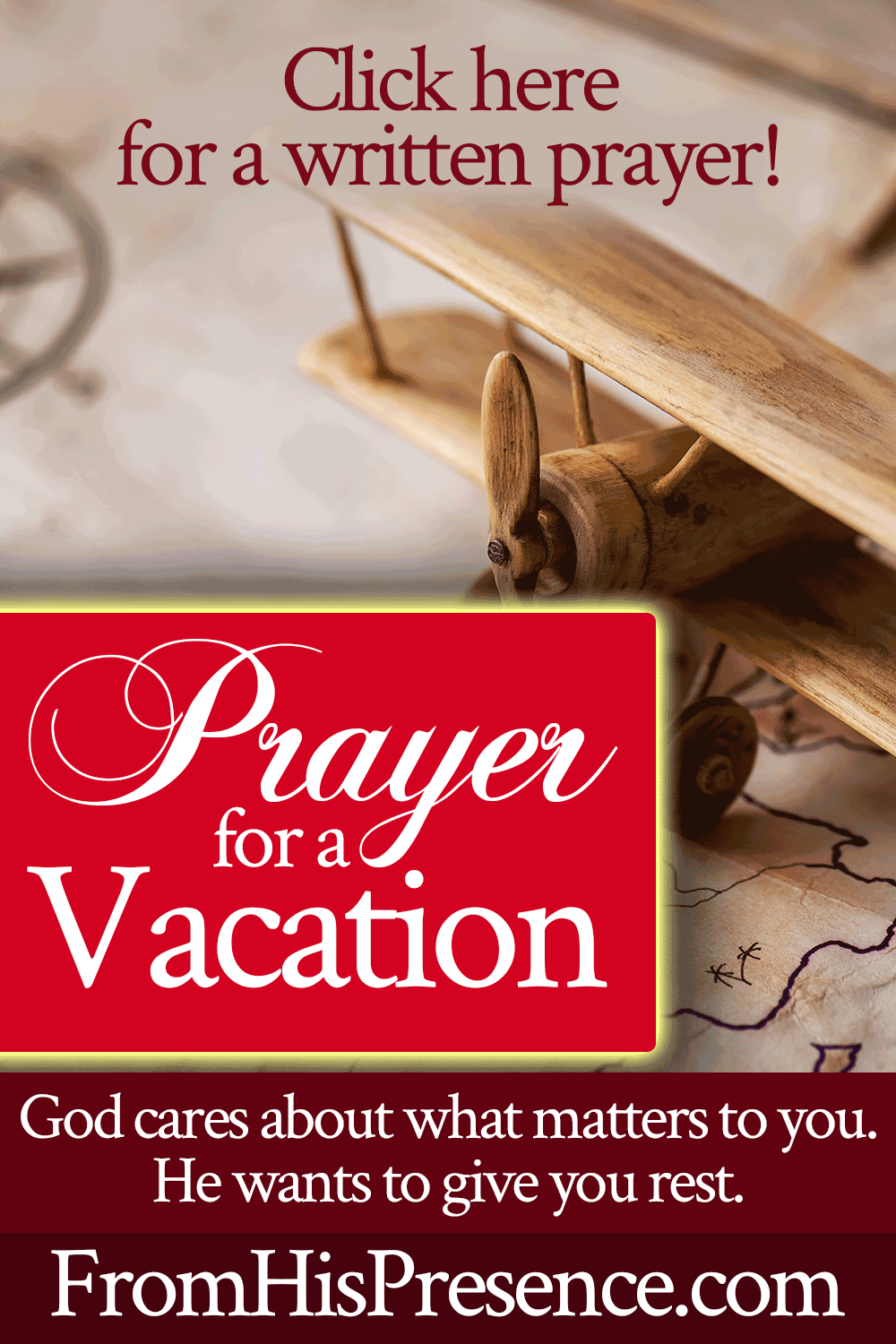 Are you desperate to go on vacation? If so, have you been praying about it? It may feel silly to pray for a vacation, but it shouldn't. God cares about what matters to you–and He will answer your prayer for a vacation when you need to rest!
If you aren't sure how to pray, read on for a written prayer. 🙂
First, let me encourage you in your faith for the vacation you desire.
God wants you to rest. In fact, He commands that we should all rest. Look at what the Bible says in Hebrews 4:1:
"Therefore, since a promise remains of entering His rest, let us fear lest any of you seem to have come short of it" (Hebrews 4:1 NKJV).
Then, check out Hebrews 4:11:
"Let us therefore be diligent to enter that rest, lest anyone fall according to the same example of disobedience" (Hebrews 4:11 NKJV).
These are only two of the many Scriptures about rest in the Bible. And while they are not all-inclusive, they are very clear.
God wants you to rest.
He wants us to rest in Him every day. In addition to that daily rest, He knows that sometimes we need to get away from the worries, cares, and stressors of life in order to get an extra measure of rest. Sometimes, you just need a vacation!
Therefore, if you feel tired, worn out, and in need of a vacation, will God give you the vacation you desire? YES.
The answer is absolutely "yes." God will always take care of you in every way, including in this way. He will give you time, money, and opportunity to get away and rest, if you will ask Him for it.
Will He give you your dream vacation right now?
Maybe, and maybe not. He will certainly give you a vacation and an opportunity to rest right now if you ask for one. And if you have a specific dream vacation in mind, He will give it to you if you ask … eventually.
However, wisdom dictates that some vacations must actually be planned out in advance. Hotels, airfare, and excursions all take planning and foresight.
Therefore, if you have an elaborate dream vacation in mind, even though He says the "amen" the moment you pray in faith (see Mark 11:22-24), He may require you to plan ahead for your dream vacation, save up money for it, and work toward it.
Or, He may not. 🙂 That's up to Him.
To recap:
God will answer your prayer for a vacation the moment you pray. He will say yes the moment you ask Him. We know this because Mark 11:22-24 says this:
"So Jesus answered and said to them, "Have faith in God. For assuredly, I say to you, whoever says to this mountain, 'Be removed and be cast into the sea,' and does not doubt in his heart, but believes that those things he says will be done, he will have whatever he says. 

Therefore I say to you, whatever things you ask when you pray, believe that you receive them, and you will have them" (Mark 11:22-24 NKJV).
And John 14:14 says:
"If you ask anything in My name, I will do it" (John 14:14 NKJV).
However, the Lord's "yes" may be for a vacation that shows up instantly–or it may be for a vacation that you will need to work toward with His help.
He can and does answer prayer either way. If He wants His "yes" to manifest instantly, someone might call you tonight and offer you the use of their condo in Paris. 🙂
However, even if He requires you to plan and work toward your dream vacation, it will still be worthwhile to do so. And if you just need rest now, it's okay to receive a vacation anywhere you can get it. You don't have to wait until you have your absolute, #1 dream vacation in order to get some rest.
To learn more about rest, read our free article series called Rest In God, Reach Your Destiny!
Here are all the posts in the Rest in God, Reach Your Destiny series:
Are you ready to pray in faith, knowing that God wants you to rest and will provide for you to do so? If so, pray this prayer for a vacation:
"Dear Heavenly Father, I come to You in Jesus' name.
Heavenly Father, I love You so much. Your Word says to enter into Your gates with thanksgiving, and into Your courts with praise; so I thank You and praise You today:
Thank You for always taking care of me.
Thank You for caring about what matters to me.
Thank You, Jesus, that I can come unto You when I am weary and heavy laden, and You will give You rest.
I praise You, Lord Jesus, for You are my Hope. You are my joy. You are the One who sustains me day by day, even when things have been stressful, like they have been lately.
Father, thank You for keeping me going; for waking me up clothed and in my right mind. I praise You, Abba Father. Thank You.
Heavenly Father, I'm so tired today. So, I'm coming to You and asking for an opportunity to rest.
You know what my life has been like lately. The stress has been overwhelming, and I can't handle it.
Lord, You know I've been casting my cares upon You, for You care for me. And that has helped. Thank You, Father, for taking my burdens and rolling away the reproach off of me every single day. Thank You for allowing me to rest in You daily.
But Father, I need physical rest right now, in addition to spiritual rest. I need a vacation.
Therefore, Heavenly Father, I ask You today for what I need. Jesus, Your Word says "If you ask anything in My name, I will do it" (John 14:14), so I know You care about even something as practical as a vacation.
Father God, in Jesus' name, right now I ask for:
Time off work so I can rest. Help me to know how and when to ask my supervisor for time off work, and I ask that You would provide me with the time I ask for.
Wisdom to know where to go and what to do. Please show me where I should go. Send me on vacation Yourself, Father; show me Your wonderful created world.
Money to pay for this vacation. Even if it's only a few days, Father, I will still need transportation to get there; food to eat; a place to stay, and more. Please provide financially for everything I need in order to go on this vacation, even if the trip is simple.
Father, this trip doesn't have to be fancy.
Please help me to hear You clearly about where I should go and what I should do. Help me to have a great time and get rest for my soul, but please give me wisdom so that I do not overspend.
Also, Father, Your Word says to keep out of debt and owe no man anything (Romans 13:8). Therefore, please help me pay cash for all expenses, even if I have to save up. Debt is not Your plan, so please help me to be a good steward of the money I have–and You can provide supernaturally for this vacation.
Father, Your Word says I can ask for what I desire, and it will be done for me. Therefore, Father, I am asking for my dream destination.
I desire to go to _____, Father. Please help me get there. Show me Your way for me to get there, even if I have to save up and plan. And if I do need to save up and plan in order to go to my dream destination, Father, I still ask You for another vacation now, in the interim.
Abba Father, I need rest desperately. And You want me to rest; Your Word says so. So I thank You, Father, for allowing me to get away from the stress and responsibility of my daily life for a few days. Thank You for giving me the vacation I desire.
I love You, Father. Thank You so much for taking care of me:
Thank You for hearing my prayer for a vacation today.
Thank You for favor with my boss.
Thank You for Your wisdom and guidance.
Thank You for providing for me financially, so I can go on vacation–and thank You in advance for life-changing, healing, and rejuvenating rest and relaxation.
In Jesus' mighty and precious name I pray, amen."
Beloved, did you just pray this simple prayer for a vacation? If so, God heard you.
He knew your need before you even asked Him. And your answers are on their way! Step out in faith today and take the practical steps you need to take to make it happen. Believe God for favor, for He has heard and answered your prayer.
Where do you want to go on your miracle vacation right now? Leave a comment below, and tell me also about what practical steps you will take today toward your vacation of rest!