How To Do The Work Under the Anointing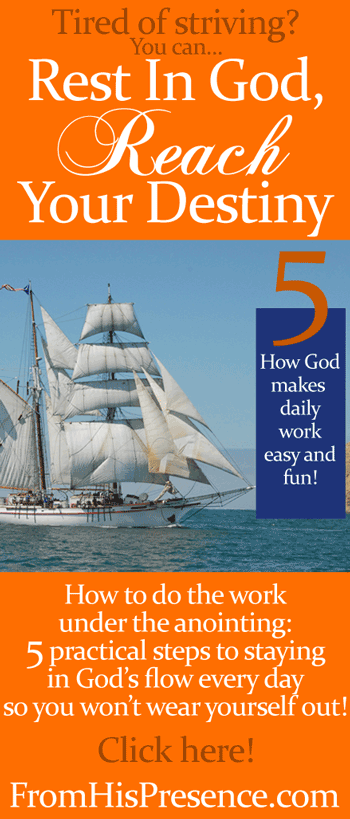 In the prior posts in the "Rest In God, Reach Your Destiny" series, we talked about how to reach your destiny by resting in God. (Resting in God just means you let Him manifest His completed work through you.) Today we're going to talk about how to do the work under the anointing of the Holy Spirit.
This is a very practical post, so I'm going to list the steps in a practical order. Here are the steps:
1. Pray. Ask God:
I recommend claiming this promise (reminding Him of His promise) when you ask God to help you hear Him:
The Lord God has given Me the tongue of the learned, that I should know how to speak a word in season to him who is weary. He awakens Me morning by morning, He awakens My ear to hear as the learned" (Isaiah 50:4).
When you ask God to waken your ears and help you hear Him speak to you, He will!
2. Listen for spontaneity.
Often, God will speak and give you instructions when you least expect Him to.
For example, a few weeks ago, I was having my quiet time when I suddenly felt the Lord telling me to go and type something He was downloading.
It was a completely spontaneous thought; it came out of nowhere. I thought: "That can't be God! Surely God would never tell me to stop praying and go write!" But He did, and after arguing with the Lord about it for awhile, I finally obeyed.
3. Follow the Holy Spirit's flow.
In the example above, how did I figure out it was God telling me to go write? Because I lost the feeling of divine flow when I didn't obey. When God tells you to do something and you don't, you will lose your flow.
In my case, I was in the middle of a beautiful prayer time. But after I told myself it couldn't be God telling me to go write, I suddenly couldn't concentrate on prayer anymore. I finally got up and went to type, and as soon as I did, the divine flow came right back. Words and ideas just flowed out. I was anointed to write, because God told me to do it.
When you ask God what task to do first, He will put a spontaneous idea in your mind. Beware: it might not always be the thing you wanted to do first! (He has told me to clean out the garage, scrub the bathroom, or do laundry many a time… and those are NOT things I enjoy doing.) 🙂
But when God gives you instructions, if you will obey His voice, doing the work will be easy and fun. You will feel a sense of ease that is literally the Holy Spirit doing the work through you.
However, if you don't obey God's instruction, you'll lose your flow. So if things all of a sudden get hard with whatever you're working on:
STOP.
Think back to the last thing you heard that you thought might be God, but that you said no to.
Then stop what you're doing and go back and do that thing you initially said no to.
Ten to one, you will feel that flow pick up again with the thing you didn't want to do.
By the way, it works the opposite way too. If you are doing one thing–and you think you hear Him telling you to do something different, and you do it but you lose your flow–it wasn't God. Stop, and go back to what you were doing originally. You will probably find that the Holy Spirit is still camping out on the first thing.
4. Be supernaturally practical.
Value the creative ideas that come out of nowhere. These are often ideas from God.
Even if your ideas are small, or you only have a tiny portion of an idea, write them down. Then act on them as He directs you to.
Keep pen and paper with you at all times.
If you have a smartphone, I recommend using Evernote to keep track of your spontaneous ideas. (You can access them online that way too.)
Learn how to record voice memos on your smartphone, too. Some ideas flow so quickly that you can't write them fast enough. When that happens, speak them into a voice memo.
5. Watch for an inspired courage and boldness.
If you feel a sudden dose of courage or inspiration, follow it. Do the thing you have courage for. God is giving you boldness. Believe Him to anoint your action.
A funny example of this is one time when God inspired me to make kidney bean quinoa burgers. I don't generally cook, but I was suddenly inspired to create burgers with no recipe and no idea how to do it. They were yummo, too!
Reaching your destiny is always going to take divinely-inspired hustle on your part. However, when you do the work under the anointing, it will just flow. Things will happen with an ease that you never imagined.
Have you ever felt this sensation of doing everyday work with the anointing of the Holy Spirit? If so, what practical tips could you offer to help someone else learn to recognize that flow? Leave a comment below!
Related posts in this series:
Image courtesy of Port of San Diego on Flickr via Creative Commons license. Image has been cropped and graphics added.