Why I Abandoned the Sabbath Rest (and How I Found It Again)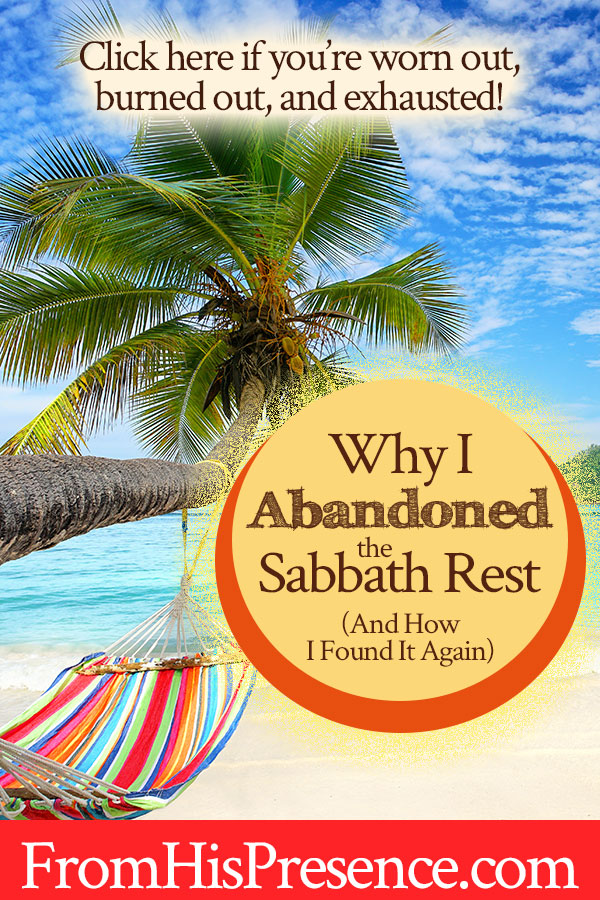 Are you tired, worn out, and burned out? If so, you may need the practice of Sabbath in your life. I didn't believe this for many years, but I have come to embrace the Sabbath rest again–and I love the results. Today, I'd like to share my story with you about why I abandoned the Sabbath rest in the first place–and how I found it again.
There is a book link toward the end of this post that is an Amazon affiliate link. Using this link means that if you purchase a resource on Amazon, Amazon will pay me a small commission at no additional cost to you. This disclosure is included here because it is required by law. See my disclosure policy here for additional details, and if you love legal mumbo-jumbo.
First, what do I mean when I say "the Sabbath rest"?
In Exodus 20:8-11, the Lord said:
"Remember the Sabbath day, to keep it holy. Six days you shall labor and do all your work, but the seventh day is the Sabbath of the Lord your God. In it you shall do no work: you, nor your son, nor your daughter, nor your male servant, nor your female servant, nor your cattle, nor your stranger who is within your gates.

For in six days the Lord made the heavens and the earth, the sea, and all that is in them, and rested the seventh day. Therefore the Lord blessed the Sabbath day and hallowed it."
This passage I quoted above is part of what we refer to as the Ten Commandments. In this passage, the Lord says explicitly that we are to work six days out of every week, but we are to rest on the seventh day and do NO work at all. The Lord called this day of rest the "Sabbath."
According to Strong's Concordance, "Sabbath" means (looking at both this word in Exodus 20:8 and its root word)
to repose,
desist from exertion,
cease,
rest,
away,
fail,
celebrate, and
intermission. (You can look at Hebrew words 7676 and 7673 in your Strong's if you want to read these definitions for yourself.)
Therefore, when I refer to the "Sabbath rest," I mean the concept of taking a whole day out of the week–not any particular day, but definitely one full 24-hour period–and resting, reposing, stopping anything that's hard, getting away from the cares of life in whatever way works for you, celebrating, and not coming back from this "intermission" in your week until the full day of rest is over. 🙂 Sounds heavenly, doesn't it?
But I didn't always think so.
Here's the backstory about how I abandoned the Sabbath rest:
I was born and raised in a very legalistic religious tradition that embraced the Sabbath. However, they didn't embrace Sabbath in a joyous way; it definitely wasn't a celebration. Instead, Sabbath was a thing to be endured. There were very specific rules about how to keep the Sabbath, such as:
Sabbath was only to be kept on Saturday.
Sabbath began at sundown on Friday night and ended at sundown on Saturday night.
You were not supposed to cook on the Sabbath. Ideally, you prepared your food in advance on Friday and put it in the refrigerator, so you could just warm it up on Saturday. Warming your food was considered okay, but cooking it was not.
You were not allowed to buy or sell on Sabbath.
You were not allowed to discuss secular music, movies, or any other secular topics on Sabbath. Talking about the Lord, however, or just talking about ideas in general, was okay.
You were not allowed to swim on Sabbath, but wading in the water was okay.
People who did not keep the Sabbath were generally considered lost and unsaved in that tradition.
You had to go to church on Saturday (sometimes twice or three times: Friday night, Saturday morning, Saturday night).
I could probably go on and on about the rules if I tried hard enough to remember them, but I've blocked most of them out and I'm happy that way. 😉
Anyway, I observed Sabbath like this my whole life until I was about 25 years old. But then …
When I was 25, attending a Spirit-filled Baptist church and still keeping Sabbath, people began asking me about why I kept the Sabbath. When they asked, I realized I could not defend the practice from the Bible. I couldn't explain why I couldn't do what they did on Saturday, or why a Sabbath was necessary at all in this New Testament Christian world.
I didn't like the fact that I couldn't defend my beliefs based on the Bible. I had only been saved for about 4-5 years, but I knew that everything I believed should be defensible based on God's Word. So, I decided to do something that felt really radical to me:
I decided to conduct a personal Bible study about the Sabbath.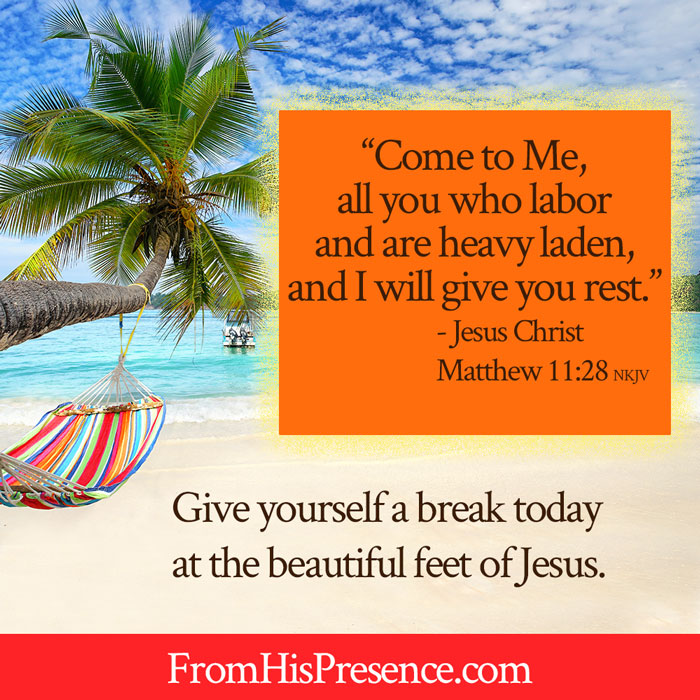 I had always kept Sabbath because, remember, I had been taught my whole life that a person HAD to keep the Sabbath. So I had behaved and been a good little girl. But when I realized that I couldn't defend my beliefs with the Word, I decided that I was going to study it out for myself. (It sounds simple, and it is … but I had been SO indoctrinated in these rules that this concept felt very rebellious indeed.)
I decided I was not going to go buy books about this person's beliefs about the Sabbath, or that person's. I was simply going to study the Bible for myself. So, I got right to work.
This blog post isn't intended to be a full Bible study in and of itself on the Sabbath, so I'm not going to quote all the Bible passages I studied. However, I will say I studied:
the writings of Paul, especially in Galatians.
I studied what Jesus did on the Sabbath.
I read the original Sabbath commands.
And when I finished my Bible study about the seventh-day Sabbath, I concluded that:
The Lord did in fact prescribe the observance of the Sabbath in the Mosaic Law. It was a command He gave to the Israelites in the wilderness.
The entire Mosaic Law was intended to foreshadow Christ. All the commands given were a picture of Christ.
The Law was holy, but Jesus came to fulfill the Law (Matthew 5:17-20).
The Law prescribed rest as a type and foreshadowing of the continual rest we would have in Christ. In Christ, we can rest every day of the week–not just once per week.
Therefore, the seventh-day Sabbath command is fulfilled, and indeed expanded, in the fact that now we can have constant, continual rest in Christ.
Basically, I found the answers I was looking for about Sabbath-keeping in Colossians 2:16-17, which says:
"So let no one judge you in food or in drink, or regarding a festival or a new moon or sabbaths, which are a shadow of things to come, but the substance is of Christ."
I also had already concluded that there's nothing wrong with going to church on Sunday.
Jesus and the apostles were in the Temple every day, so people who go to church on Sunday, Tuesday, or any other day are not going to hell for it. (This was something I had already embraced even before I began questioning the Sabbath, because remember, I had been told that people who went to church on days other than Saturday were going to hell.)
When I finished this study, I remember feeling so relieved.
Decades of legalistic rules fell to the ground around me, and I realized:
I am free!
I can work any day of the week!
I can go to the movies or go out to eat on Saturday!
I can go shopping on Saturday!
I can hang out with my friends on Saturday!
I can put laundry in the washer on Saturday, and I won't go to hell for it!
It was remarkably freeing. And so, having found the mandate to rest in Christ, and realizing that I was no longer bound to the legalistic standards of my upbringing, I went forth with glee and abandoned the concept of Sabbath rest entirely.
Oh, I still rested in Christ. Every day.
I studied rest in Christ and even wrote a blog series about it, called Rest in Christ, Reach Your Destiny (which I stand by and highly recommend). I spent lots of time in the presence of the Lord. But the concept of taking one day out of seven to rest and not work at all? I abandoned that completely.
So how did I come back to the idea of keeping the Sabbath rest, and when?
Furthermore, how does this impact you–and how can your life be forever changed by adding the practice of Sabbath to your life?
I'm so glad you asked.
Here's how I came back to concept of Sabbath rest–a new concept of Sabbath rest, rather than the old, legalistic one:
I burned out.
It's as simple as that.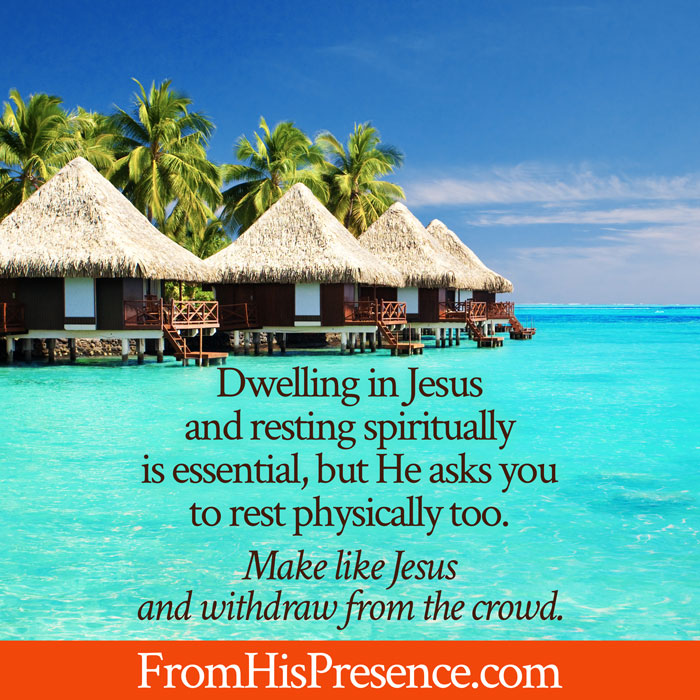 I only came back to the Sabbath rest recently, and it's all because I burned out …
While I was still at my corporate job (I used to work in the Fortune 500), I worked 70 hours a week for years between my job, this ministry, and volunteering at my then-church.
After I finally was able to leave my corporate job in 2017, I was pregnant shortly thereafter and had a really hard pregnancy.
After my child was born, I had no help during the day. He had lots of health struggles, and I was trying to work full time plus take care of him.
I love my son, and I enjoy working. I love this ministry. But nobody can do all of that for a prolonged period and not burn out. So I burned. Extra crispy, baby.
To be honest, I've never felt so burned out in my life. The whole reason the Lord put me in His spiritual ICU in December was because I was so burned out, and I needed to heal.
It also helped that the Lord opened up a spot for my son in a wonderful, Christian school (which he needed and loves) right at the same time as He began speaking to me about healing. All at one time, in mid-December of last year, the Lord made a way for me to focus on rest and on regaining my health.
Suddenly, I had my days free to work and rest … but resting was hard.
I've noticed some things about the progression of healing after burnout and exhaustion. I won't write all about that now (although I will sometime), but I will say that, when you're burned out and you first try to rest, you can't. You are so used to running on adrenaline that your body doesn't realize it's supposed to rest, and the adrenaline keeps pumping.
Therefore, when you're in that stage of healing from burnout, the only thing to do is to force yourself to do semi-active things that you enjoy: things that bring you soul-rest, but which don't require your body to be still. For me, that semi-active, soul-resting thing is hand-sewing. (I love quilting.) So when the Lord put me in His spiritual ICU and told me to rest, the only thing I could do at first was to sit down with a needle and thread, put on some worship music, and sew.
It took quite awhile–a few weeks–for my body to calm the adrenaline down and for me to be able to rest physically.
I still am not where I need to be, but I've slowed down enough to where I'm able to sit down and read for a few minutes, or even sometimes to take a nap. That is VERY strange for me, but it's all part of healing.
As I've been walking through this healing process, I've noticed something: the Lord hasn't let me work hardly at all on Mondays.
It's been the craziest thing. I'm naturally a very driven, hard-working person, and so when I suddenly had my days free to work, WORK is what I wanted to do. But the first Monday after the whole spiritual ICU thing started, the Lord told me to sit down and sew …
… then eat …
… sit on the couch for a few minutes …
… go for a walk …
… And every time I tried to start working, Holy Spirit rebuked me for it.
It was the craziest thing! I fretted and kicked at those goads, just like Saul/Paul did in the Bible. I did NOT want to waste a whole day resting and having fun!
But you know what? The Lord didn't let up. He didn't care about my excuses, either.
As a matter of fact, He threw all my excuses out the window. I thought I needed to work in order to bring in money for this ministry. ("We have a budget, you know, Lord; and payroll is coming up.") The Lord was not impressed; He reminded me that He is our Provider, and He told me to rest anyway. Then, while I rested and felt like a total loafer for a day, He sent some lovely large donations that provided more than we would otherwise receive at all in one day.
I told the Lord that housework was more important than sewing and walking, but He told me that obeying Him was more important.
I told Him that I didn't need to eat the calories or spend the money to go out to a peaceful lunch by myself (one of my favorite things to do), but He told me I was in the spiritual ICU and needed TLC and nutrition.
Et cetera, et cetera, et cetera.
As the weeks wore on, the Lord kept insisting that I rest on Mondays.
I guess I was dense, because I didn't realize this was a pattern until a few days ago. I just thought the weekends must really wear me out (which they do). But then, the Lord showed me what He had been having me do all along:
Keeping the Sabbath.
It wasn't about Sabbath on a certain day; a couple of times, I've had meetings and have been unable to rest on Monday, and then the Lord has had me rest on Tuesday, Wednesday, or even Friday–whatever day was available on which I haven't had meetings. So I know for sure that the Lord is not asking me to return to a legalistic, rules-based, THIS-DAY-MUST-BE-YOUR-SABBATH-DAY type of Sabbath observance.
But He IS asking me to pick one day out of seven and rest on that day.
Then one day I happened to be in a bookstore, and I saw a copy of Take the Day Off: Receiving God's Gift of Rest (see Amazon link at the end of this post) by Pastor Robert Morris of Gateway Church. I was intrigued, considering how the Lord has been dealing with me; so I bought it.
The beginning of the book stunned me. In this book, Pastor Morris opens with the story about how he also burned out–crispier than crispy–and the Lord led him into the practice of keeping Monday as a Sabbath day too.
Um. I think You're beginning to get through to me, Lord.
I know that the Bible doesn't require me to return to the rules and regulations of my youth.
I have no problem buying or selling any day of the week. It's ridiculous to think there's anything wrong with swimming any day of the week, talking about movies, or going out to eat. BUT …
I do know beyond a shadow of a doubt that the Lord has told me He requires me now to rest, one day a week. I was correct in abandoning the rules and regulations surrounding Sabbath rest and Sabbath observance. But, I was wrong to utterly abandon the concept of physical rest. Spiritual rest in Christ is not enough; the Lord wants us to rest physically as well.
So, the Lord has been telling me to sit down, sit back, and STOP working–one day in seven. 🙂
To emphasize His point, He has also let me know that He is removing His anointing to work from my life, for one 24-hour period per week.
That part has been the craziest thing too. I'm normally very motivated and very inspired. I work and work and work, and I enjoy work. Work is a gift from God.
But you know what? Ever since I've been in this spiritual ICU, for one day per week–the day of Sabbath rest, whether Monday or Wednesday or Friday or whenever–the Lord has outright removed every bit of inspiration that I've had to work. I know it's the Lord, too, because I've asked Him to give it back and He's told me no. 🙂
Nevertheless, like clockwork, when the 24 hours of resting are over, that inspiration ROARS to life within me.
I know it's Holy Spirit, for inspiration is His anointing. As soon as the 24 hours of rest finish up, all of a sudden my brain goes crazy with all the things I want to get done–when I had zero motivation before. I jump up, all energized, and work with anointing. With power. With inspiration and discernment. With Holy Ghost flow.
And I can continue that for six days, but then all my inspiration, energy, and anointing to work and get anything done simply … disappear.
This is very different from the way I've lived for years.
I abandoned the Sabbath rest when I was 25 years old. I'm 39 now, so it's been 14 years. But looking back, I can say that I never burned out back then. I always felt fresh, and my life was a lot more organized and peaceful.
Hmmm … Could it be that I have brought this whole burnout thing onto myself, through my own failure to rest?
I honestly believe it could.
So how does this resting thing apply to you?
Well, you definitely need to rest in Christ, every day. That goes without question according to Hebrews chapters 1-4. God gets very angry when we refuse to rest.
However, I believe there is more to this story for you:
I believe the Lord is calling His entire Body–each and every one of His people–BACK to the Sabbath rest.
I don't believe we need rules and regulations about it. I don't believe one person can make a set of rules for another when God has not spoken about a particular thing (e.g. "You can wade but you cannot swim on Sabbath").
But, I do believe that we each need to pick one day out of seven–no matter which day you pick–and rest on that day:
Let the housework go.
Do things that inspire you.
Celebrate the joy of life!
Enjoy time with your family.
Do things that bring rest and healing to your soul (your mind, will, and emotions).
We NEED a day of rest. Too many people are burned out, worn out, and tired beyond tired.
I've been one of them, but I'm not going to be any longer. My 3-month period of healing (the spiritual ICU) isn't even over yet, but taking one day in seven to rest has made a huge difference–even if the Lord had to force me to do it at first.
What about you? What can you do to begin resting one day out of seven?
I don't care which day you pick, but this principle is important to God. He made us to need rest, and for too long we have neglected His commands. Even resting in Christ every day does not produce the physical rest our bodies need–and the Lord made us to need that rest.
Our Manufacturer knows best. Is He calling you to rest today?
If so, please leave a comment below and share your thoughts!
Recommended resource:


If you would like to grab a copy of Take the Day Off by Pastor Robert Morris, click the image to view it on Amazon. This is an affiliate link, which means that if you click through the link to purchase a resource on Amazon, Amazon will pay me a small commission at no additional cost to you. Thank you in advance for your support, and you can view our affiliate disclosure here.