When Despair Looms, Put a Demand On God To Restore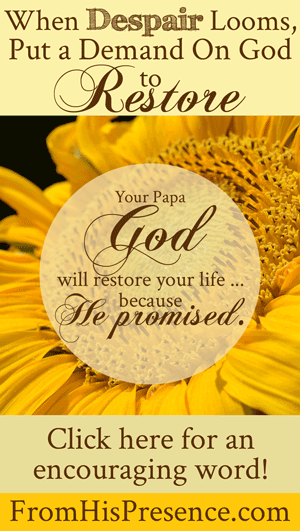 Many of you have told me about the horrible situations you're facing. A lot of you are dealing with broken hearts. Some of you are dealing with broken marriages. You have endured, or are currently enduring, hardship of all kinds. If that's you, I have an encouraging word for you today about how to put a demand on God to heal and restore your life.
I know from personal experience that sometimes things pile up and pile up, and sometimes despair looms on the horizon. Sometimes you can feel like nothing is going right; like there's injustice on every side; and like various parts of your life–even big parts–have been a waste.
I have felt that way many times, and honestly even this week I've been struggling with discouragement.
My pastor told me once that "the devil always comes after the Dove"–in other words, that after God moves mightily, the enemy tries to come in and steal what God did. And that's certainly true. GOD wants us to remember the good things and be thankful. Discouragement and despair are always from the enemy.
And yet …
The things that we tend to get discouraged about actually happened. The hard things we are going through are real. So how do we handle it? How can we get through these things victoriously and get our hope and courage back? How can we see God move miraculously and bring light and hope where we saw none before?
The key is 100% in the restorative and redemptive nature of God.
God wants to restore you in all things.
Romans 8:28 tells us:
And we know that all things work together for good to those who love God, to those who are the called according to His purpose."
Things happen in life. Life isn't fair, and sometimes people do things to us that they shouldn't do. Other times, we make bad decisions–or decisions we feel like later are bad.
But the fact is that God is a Redeemer. He is a Restorer. It's His way to take things that look ugly, that look pointless, that look unjust …
… and turn them around for your good.
I saw Him redeem something in my life in Nicaragua.
It may seem like a small thing, but it mattered to me. A lot.
Here's the story:
For those of you who don't know, I have a Bachelor's degree (what you earn after four years in university, here in the United States) in Spanish. I became a Spanish major in university because I had an advisor in high school who told me that I would make massive amounts of money as a translator with that degree–and that I would find a job immediately. That's honestly the only reason I pursued that course of study.
The problem was that, by the time I was a junior (third year of university), I no longer had any interest in Spanish. I would much rather have pursued a degree in business. However, in order to do that, I would have had to take so many additional classes that I would not have been able to graduate in time. And I wanted to get OUT of school, get a job, and begin my real life.
So I just kept on and finished the Spanish degree. And after I graduated, I found a job in an insurance company. My job had very little to do with Spanish, and I basically stopped speaking Spanish right away. I had no desire at all to continue with it …
… and I've been kicking myself for years for pursuing a degree in something–and spending all those years studying something–that has been of no benefit to my life. I have told myself so many times how stupid a decision it was. I can't tell you how much I have regretted it.
But you know what? On this mission trip to Nicaragua, I saw God restore benefit to me in an area I thought was useless and dead.
When I committed to go on this trip, I planned to brush up on my Spanish. I bought a Spanish Bible and three Spanish worship music CDs. I had every intention of studying hard so I could remember as much as possible and thereby be as useful to the Lord as possible.
It didn't happen.
I did listen to the worship CDs a lot, but that's it. I simply didn't have time for anything else.
But you know what? When I arrived in Nicaragua, all of a sudden my Spanish started coming back to me. It was the Holy Spirit. He helped me understand what the people were saying, and He downloaded the words to me to say pretty much anything I needed to say.
For example, one day I was preparing to preach a sermon, and as I studied (my English Bible), I literally heard the Holy Spirit download half the sermon into my mind in Spanish. I didn't preach it in Spanish, because I wanted my team to know where I was and what I was saying for the ministry time. But I heard it from God IN SPANISH.
I also translated for my team much of the time I was down there, and was able to be of service in that way; and I was able to minister in the altar at church services in Spanish.
And it occurred to me: Maybe the reason I got that degree, unbeknownst to me, was for God to redeem it so I could minister the Gospel in Spanish. Because on that trip, I saw God take something I thought was long-dead and resurrect it, working it for my good and for His greater purposes.
God wants to do the same thing for you. He wants to restore things you feel like have been lost or wasted.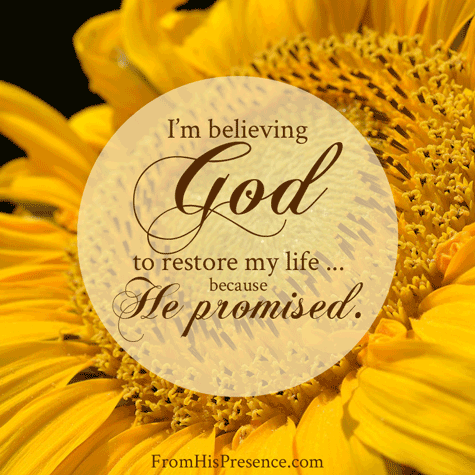 He is a good, good Father. He sees everything that has ever happened to you–the good, the bad, and the ugly. And He wants to restore you. He wants to heal you. Papa God wants to bring you full-circle into greater blessings than you have ever known.
And He wants to do it today.
Like I said above, I've been struggling with discouragement some this week. But this morning, in my quiet time, God took me to Romans 8:28 and I felt led to claim that promise over all the things I feel like have gone wrong in my life.
So I prayed about everything I could think of that has gone wrong, or where I've been stolen from or treated unjustly, and I asked God to redeem it. I asked Him to work these things out for my good, because He promised.
You can do the same thing. It's time for us all to claim this promise.
It's time for us all to put a demand on God to redeem and restore our lives.
Our loving Papa sees you. He sees right where you are. He sees everything that has happened to you.
And it's time for us to look at our own lives, lift God's promise back up to Him, and cry: "RESTORE!"
It's not time for us to drown in discouragement. It's time for us to fight. God gave us His promises so that we could receive them. But He moves on the earth in response to prayer. So:
That marriage that's broken? Lift it up to God and demand that He work it out for your good.
That relationship that's severed? Same thing. Demand that He work it out for your good.
That time someone stole money from you? Demand repayment from God, our Restorer. He loves justice and HE alone can repay you.
Those years of investing in someone or something – years you feel were wasted? Demand that God work those years out for your good.
Papa God is a good, good Father. He gave us a promise to heal and restore us. He promises that He will work ALL THINGS together for our good.
Will you join me today in praying for Him to redeem and restore your life?