Longing For More In Life? Put Your Toes In!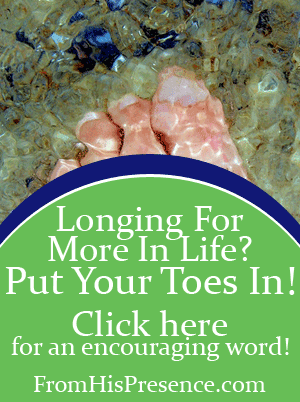 So you're longing for more in your life. You have a dream that you're desperate for, but you're not sure how to pursue it. Maybe you don't even know what you're hungry for, but you just know you want more.
If that describes you, I have a short word of encouragement for you today:
Put your toes in!
Ephesians 5:8-10 tells us that we are to walk as children of the light, "finding out what is acceptable to the Lord." The words "finding out" mean literally to test or prove. 
That means you may not always know what God's perfect path is for you; you might have to test it out!
If you're longing for more in life, here's how to test and prove what God's will is:
1. Compare your options to the Word.
If something you want to do doesn't line up with the Word, it's not from God. Period, end of story.
To the law and to the testimony! If they do not speak according to this word, it is because there is no light in them" (Isaiah 8:20).
2. Compare your options to sound wisdom.
Even though the Bible doesn't specifically address driving too fast, it's not wise to drive 20 miles per hour over the speed limit. That's obvious. Whenever you're considering different options, always use wisdom.
If you need wisdom, ask God for it! He will give it to you if you ask! Then use the wisdom He gives you!
If any of you lacks wisdom, let him ask of God, who gives to all liberally and without reproach, and it will be given to him. But let him ask in faith, with no doubting, for he who doubts is like a wave of the sea driven and tossed by the wind" (James 1:5-6).
Related: 11 Ways To Totally Miss God When You Make a Decision
3. If you still aren't sure, put your toes in!
You don't have to have your whole life and ministry figured out before you start to take responsibility. If you aren't sure which way to go, sometimes all you have to do is put your toes in a little bit and see what works!
For example:
If you aren't sure where you're called to serve at your church, try out several places. If you serve in the nursery and hate it, you're not called there. If you serve as an usher and love it, that's a good indication of where you might be called–at least for the current time.
If you have a heart for missions, take small steps towards going on that mission trip and see if God breathes on it!
If you dream of getting a better job, brush up your resume and start looking for new places to apply. If someone calls you for an interview, go! You never know what might happen!
Use these checks and balances as you're testing God's will:
God's will is not a mystery. He's not holding His plans back from us. However, the Bible does tell us that "It is the glory of God to conceal a matter, but the glory of kings is to search out a matter" (Proverbs 25:2).
God doesn't conceal His plans for our lives from us as much as He conceals them for us. When we search out His will, He readily helps us find it. 
It's like watching your 2-year-old play hide and seek.
You don't hide very far away, and the best part for you is getting found. 🙂 God's will is just like that. If you don't know what it is, rest assured that it's not hidden very far away. Just test and prove what God's will is, and He'll show you.
Compare your options to the Word. Use sound wisdom. And after you have done those things, put your toes in! You never know what a mighty, glorious river you might find yourself in when you do!
Image courtesy of Thomas Schobel on Flickr.