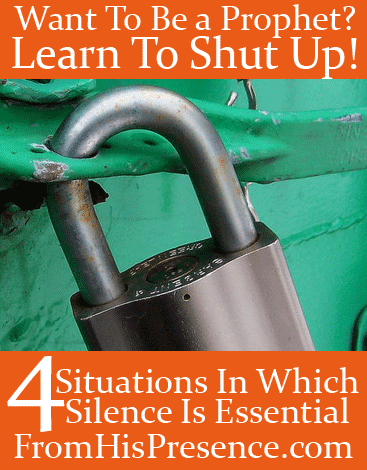 Sometimes I get the impression that people think serving in prophetic ministry means you talk a lot. The opposite is actually true. If you want to be reliable in prophetic ministry, I believe the #2 thing you can do (right after learning to hear God) is learning to shut up.
(By the way, if you like this post, you may also enjoy reading why I made some people mad when I wrote it, here.) 🙂
Here's why you should learn to shut up if you want to be a prophet:
1. God will tell you people's secrets.
If you operate in prophetic ministry–which requires a deep, strong prayer life–God will call you to pray for people and He will tell you why.
That means you'll know things about other people:
through discernment of spirits–the ability the Holy Spirit gives to discern what spirit someone is walking in or being influenced by; and
through words of knowledge–when random facts come to you out of the blue because the Holy Spirit whispers them in your ear.
If God tells you someone's secrets, you can be sure it's not for you to go tell people about. A better option is to tell nobody about it, and pray about it first. If God wants you to bring it up to the person, He'll tell you so – and He'll give you opportunity to talk to the person with good results.
Until then, shut up.
2. People will tell you their own secrets.
It's the freakiest thing, but people talk to people who hear God. The reason could vary from person to person:
Maybe they do it because they know you will stand beside them in prayer.
Maybe they need an encouraging word, and they know you'll be able to hear what the Father is saying.
Maybe they just need to vent, and they feel you're safe.
Maybe they can sense the Father's love in you, and they know you won't condemn them.
I hope all four of these reasons are true for every person in prophetic ministry. At any rate, people will definitely talk to you. So how should you handle that?
Honor their trust and keep their confidence.
Protect them where possible (unless they are doing something illegal, like abusing a child; in which case go to the police, of course).
Speak truth to them, but only as much truth as the Father releases you to speak. You'll probably have plenty that you could say from your own flesh or opinions, but don't do it. If the Father doesn't tell you to say a particular thing, it's because the person is not prepared to hear it.
When people tell you their secrets, you need to know how to shut up because you can't share their secrets with others AND you can't dump all your opinions and thoughts on them. Move slowly. Remember to walk in love and honor what they can handle.
Related: It's Time To Ask the Tough Questions
3. God will tell you His own secrets!
Amos 3:7 tells us:
Surely the Lord God does nothing, unless He reveals His secret to His servants the prophets."
God will give you glimpses of what He wants to do in the future. He doesn't do it so you can talk about it all over the place. Sometimes it's not time to release a secret like that. More often, God just needs you to pray.
Prayer might be the biggest reason God will tell you His secrets. So, when He gives you a dream, vision, word of knowledge or prophecy about something that He wants to do, start praying like crazy. Find Scriptures that support it and start speaking those into the situation. If you will do so, you'll be a spiritual midwife, helping to birth the thing the Holy Spirit wants to release.
If, however, you go blab about what God wants to do and He didn't give you permission to talk about it, somehow it can lose power:
You can lose the impetus to pray;
Other people's doubt can hinder the new thing; or
People that aren't on the same page with what God is doing might even try to hinder it.
Be very careful when God tells you about His own future plans. Pray into what He shows you, and unless He tells you to say anything, shut up. 🙂
4. A good word at the wrong time is still the wrong thing.
Intercessors and prophetic people tend to hear God all the time. A problem can occur, however, when they think that NOW is always the time to share what God said.
Here are some times when it's probably NOT appropriate to share what God said to you:
When someone else is lost in worship and God is working them over. Please don't interrupt them unless you're the person in authority. Your word is unlikely to be more important than what God is doing.
In the middle of a group prayer meeting, when what God told you in your quiet time that morning has NOTHING to do with the flow of prayer. If your word doesn't flow with the meeting, your word was for you, not for the group, and doesn't need to be shared.
At the end of a meeting or discussion when the meeting is CLEARLY over. You may be disappointed that you didn't get to share your word, but don't worry about it. If people are done and want to leave, nobody will listen anyway. Save your word for a time when people can pay attention to it. Ask God when and where, and He'll give you a time to share it if it needs to be shared.
No matter where you are in learning prophetic ministry, the #1 thing you can do is learn to hear God. After that, however, I firmly believe one of the most important disciplines you can develop is learning to shut up. Silence is golden when you're armed with information that could make you dangerous. 🙂
In what other situations is it important to be silent? Share your ideas in the comments below!
Image courtesy of Mike on Flickr.