I Made Some People Mad When I Wrote This (But I'd Write It Again)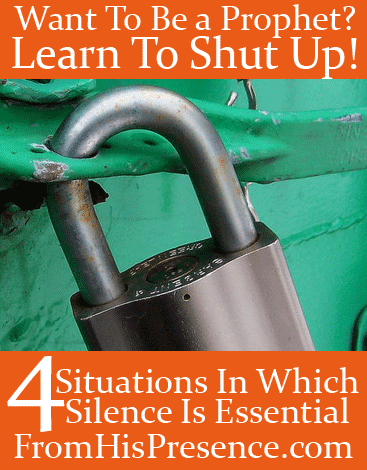 I made some people mad yesterday when I wrote my blog post entitled "Want To Be a Prophet? Learn To Shut Up!"  But you know what? I'd write it again, exactly the same way.
I must say I got more positive feedback than negative. The negative feedback, however, generally went along the lines of saying that prophetic people are supposed to be like the Old Testament prophets or John the Baptist, that we should speak up and not be quiet. Here's why I disagree with that perspective:
1) The point of my post was to discuss the need for discretion, discernment, and timing.
No one is going to trust you with their secrets, including God, if you can't be discreet. Nobody is going to come to you for ministry if they know you're going to blab it all over town.
My post was NOT about when prophets should speak, or should have the opportunity to speak. My post was about when prophets should be silent. I never insinuated that prophetic people shouldn't have a voice; they absolutely should. However, I did say there should be boundaries.
2) God doesn't call us to be like Jeremiah, Isaiah, or John the Baptist. GOD CALLS US TO BE LIKE JESUS.
Jesus only said what He heard the Father say. He only did what He saw the Father doing. That means He was silent if the Father didn't say it.
I, personally, would not go to anyone for ministry if I didn't think that person wanted to be like Jesus more than anything or anyone else. Would you?
3) Even the prophets only spoke as God gave them utterance.
Second Peter 1:21 says, "for prophecy never came by the will of man, but holy men of God spoke as they were moved by the Holy Spirit." Again, that means that if the Holy Spirit didn't move them to say something, they didn't.
The issue here is about boundaries.
Ray Hughes gives the best example ever in his teaching called "The Warhorse." He points out that wild mustangs out living in the wild and the free have no boundaries, but they also don't live long. You don't see a wild mustang living to its full age because they have no safety or proper care. Bring them into a corral and give them boundaries and proper care, and they'll live long and prosper.
Prophetic people, like any other people, must have boundaries. The boundaries of protocol exist for a reason. THEY ARE TO PROTECT YOU AND OTHERS. When you serve in prophetic ministry, God is trusting you to minister the souls and spirits of men for whom Christ died.
If that doesn't inspire you and fill you with a holy fear and caution–enough to be silent when silence is called for–you should not be in prophetic ministry.
I stand by my post yesterday. I'd write it again, exactly the same way. If we serve in prophetic ministry, we should walk with a holy, reverential fear and awe. We should only say what we hear the Father saying and do what we see the Father doing. If we don't see the Father doing it, we shouldn't do it. If the Father isn't talking about something or sharing it with others, we shouldn't either.
If we could all get that–if we could learn to walk in both integrity and power–our world and our churches would be turned upside down. People would know that we are safe. They would come to us when they have a need or are caught in sin, knowing that what we say will be what the Father is saying. They will know that we will not condemn them, but we will speak the truth in love and intercede for their restoration.
If we could walk in both integrity and power, then coming to a prophetic person for ministry would be like coming to Jesus for ministry.
Selah.