The Waves You've Been Under Will Lift You Higher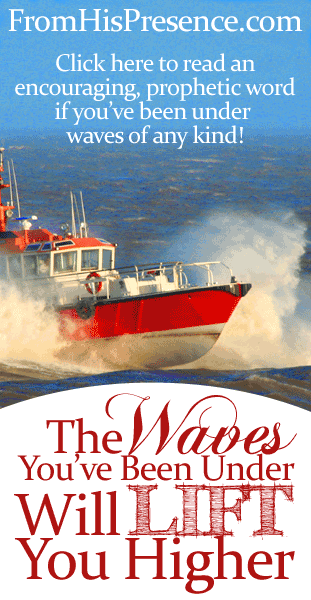 Have you been under some waves lately? Do you feel those waves crashing over your head even now? Do you feel like you're going to drown?
I felt that way recently. Something happened from which I felt like I wouldn't recover. Even after the initial incident, it kept getting worse. I was like, "Is this for real? Are you serious?" because some of the things that were happening were THAT ridiculous.
As I was walking through this situation–feeling like it had killed me and not having a clue how or when God would pull me out of it–God did something cool and intervened.
How God intervened:
I was at my church on a Wednesday night, and my pastor had an altar call for something like "broken hearts" after he preached. I went down to the altar because I was hurting so badly.
My pastor was going to each person at the altar and praying for them. When he got to me, he took one look at me and said:
You've been under some waves, but those waves are going to lift you higher."
I have no idea if he knew what was going on with me or not. He might have; he might not have. Either way, it was definitely a prophetic word. It hit my spirit like a ton of bricks.
What that prophetic word did in my heart:
When my pastor said that to me, I cried, because he read my proverbial mail. I felt like these waves of attack just wouldn't quit. I was drowning in sorrow. I had lost my will to be who God had called me to be in some very specific and very important areas. I felt very little hope for recovery at all.
But God said that not only was I going to live, but that those waves were going to lift me higher.
That word birthed hope back in my spirit. It gave me the ability to look up again. God used it to remind me that He had not forgotten about me.
The whole situation didn't resolve right away. I didn't get totally free until the weird, supernatural event I described here in my post about three things I learned from surviving a mockingbird attack.
But you know what? It wasn't long before what my pastor prophesied over me happened. The waves stopped. When the situation calmed, I was in a MUCH higher place than before. A place of blessing that I had never imagined could happen so quickly. (You can read more about a tiny portion of that blessing here, in When Loving Your Sheep Hurts: How I Found Healing After Betrayal.)
So why did all of this happen?
Because when God allows an enemy to come against us, He does it because it's time for us to be promoted to the next level.
See, our Papa God promises that all things will work together for our good. He also promises that He will deliver us from bad situations AND HONOR US IN THEM:
And we know that all things work together for good to those who love God, to those who are the called according to His purpose" (Romans 8:28).

"He shall call upon Me, and I will answer him;
I will be with him in trouble;
I will deliver him and honor him (Psalm 91:15).
One of the best examples I can think of in which God did this in the Bible is the story of David and Goliath:
Goliath the giant fought against Israel.
David, the misfit, redheaded shepherd boy fought Goliath and killed him.
David was promoted into the company of the king that same day.
David eventually became king himself as a result of the chain of events that began when he went out to fight Goliath.
David was in a troublesome situation when he went out to fight the giant, but God delivered him and honored him. All things worked together for David's good.
Jesus had the same thing happen. Jesus needed to go to the cross in order to accomplish His purpose in life: to redeem mankind. So who did God send Him? Not a friend, but a traitor by the name of Judas. Jesus had called Judas, taught him, provided for him, and brought him into His inner circle… and Judas was an enemy. But Judas was the catalyst God used to promote Jesus.
Did Jesus have to go to the cross and suffer anyway? Yes, but God sure made it worth His while. Now Jesus sits enthroned in Heaven, with all Heaven and earth under His authority. Now Jesus has the name that causes every knee in Heaven, on earth, and under the earth to bow and acknowledge that He is Lord.
Maybe having an enemy isn't all bad. Maybe getting hit by a few waves isn't the worst thing in the world after all.
Tommy Tenney puts it this way:
The size of your enemy is a clue to the size of your destiny."
God uses enemies as catalysts to promote us. He uses them as pawns in His hand to bring us into our destinies.
That's what He did for me. That's what He did in the Bible. And what God has done once, He'll do again… and He'll do it for you.
So what kind of waves have you been under lately?
Waves of financial hardship?
Relationship waves?
Waves of loneliness?
Waves of discouragement?
What my pastor said to me is true also for you, because it's based on the Word of God. Goliath was the catalyst to David's promotion. Judas was the catalyst of Jesus' promotion. The waves of __________ are the key to YOUR promotion.
God knows exactly where you are and what you're going through… and He has a big, bright future just ahead. The waves you've been under aren't meant to destroy you. Those waves are going to lift you higher instead.
If you've been under some waves, pray this with me:
Father God, in the Name of Jesus I thank You that You love me. I know that You have a good plan for my life.

Papa, I don't understand everything about these hard times I've been going through, but I believe that You will work it out for my good. I am calling upon You, and I claim Your promise that You will answer me, deliver me, and honor me.

So in the Name of Jesus, I speak peace into this storm right now. I ask You to calm the waves and still the waters. In the name of Jesus, I speak to all the finished works that You prepared before the foundation of the world for me, and I command them to manifest right now in my life.

Father, I thank You that You are a Mighty Warrior and You fight for me. Do Your thing and turn this situation for my good. I choose to rest in You today. You've got it all under control.

And Papa, while You're working, I pray that I would be anxious for nothing, but that in everything I would make my requests known to You, and that Your peace, which passes all understanding, will guard my heart and mind in Christ Jesus.

Thank You, Papa God. I love You and thank You for showing me the answers to my prayers. In Jesus' Name. Amen!
Does this word encourage your spirit? If so, please leave a comment below. I'd love to hear your thoughts!
Related: Radical Prayer #1: God Wants To Honor You
Image courtesy of Ben Salter on Flickr via Creative Commons license.