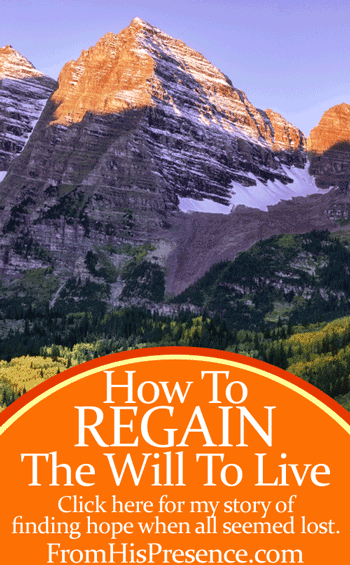 There have been times when I have lost my will to live.
That doesn't mean I was suicidal, although I have dealt with that too. I'm talking about something different here. I'm talking about losing my will to live–my will to go on–my will to carry out God's purpose for my life. You can lose your will to live without actually wanting to die, but both things are equally destructive.
Have you lost your will to live also? If you have, I want to share with you today how you can get it back, based on my own personal experience.
How to regain the will to live:
… based on my own personal story.
1. Tell God where you are.
He already knows, so this is not going to be a shocker for Him. God's not sitting in Heaven gasping in disbelief when you confess your deepest struggles to Him. He knows all about it before you do, so you can be open and honest with Him. It's nothing to be ashamed of.
In my situation, I felt pretty battered and beat up because of some things I'd been through. I felt so bruised, and I couldn't just snap out of it. I didn't even realize I had lost my will to live. But I started talking to Papa about it, and my prayer went something like this:
"Papa, I just feel like I can't go on. I'm hurting. I've been through the wringer. I know You've called me so I can't walk away, and I want to be right with You… but I don't have it in me to keep taking this."
I was open and transparent with God. Honestly, even by confessing that much, I felt some sense of relief. It was like I wasn't alone anymore; God was on my team and He was listening to me. It really helped.
In the same way, you can and should be open and transparent with God. Transparency is the only way to find freedom. When we are transparent, God can reveal the truth to us about ourselves, our situations, and His solutions. John 8:32 gives us God's promise about this:
And you shall know the truth, and the truth shall make you free."
Related: What I Got For Being Transparent
2. Ask God to give you the will to live.
In my situation, the prayer above just naturally led to my asking the Father: "Papa, I need the will to live."
When I was praying, that thing about "the will to live" seemed to come out of nowhere. I had not been able to put a label on my feelings before, but that was it exactly. I am convinced that that particular prayer/phrase came up because the Holy Spirit was helping me pray. [Romans 8:26 states: "In the same way, the Spirit helps us in our weakness. We do not know what we ought to pray for, but the Spirit himself intercedes for us through wordless groans" (NIV).]
After I asked the Lord to give me the will to live again, I felt a change immediately. I felt a fresh impetus–a drive–a spark come alive in my spirit that hadn't been there for a few days.
Related: When Loving Your Sheep Hurts: How I Found Healing After Betrayal
3. Take whatever is bothering you to the Father and ask Him to fix it all, and give you favor.
We generally lose our will to live because of outward circumstances:
things we've hoped for that haven't happened yet;
the way people treat us;
feeling lonely, etc.
Only Father can truly fix these issues. But He wants to do more than fix them. He wants to turn all of your situations around IN YOUR FAVOR.
When I was going through my situation, I took the things that were bothering me to the Father and asked Him to defend me, protect me, guide me.
However, I didn't stop there. I also asked Him to work things out to bless me hugely. I asked Him to surprise me with good things and to give me favor. I also asked Him to develop my character and help me to walk righteously, no matter what.
I want to be right with God, and I want everything He has for me. Since the Holy Spirit is our Advocate (John 14:16 AMP), advocating for me is His job. It's also His job to do great and mighty things that I don't even know to ask for when I call upon Him (Jeremiah 33:3). He's better at His job than anybody else, so I'm asking Him to do it–and I know He will.
Have you lost your will to live?
Papa sees and knows. Whatever you've been through that has left you battered and bloody, He can and will help you.
So tell Him where you are.
Ask Him to give you the will to live again.
Then pour out your heart to Him and ask Him to do great, HUGE things on your behalf in every area. Ask for all the specific things you can think of, and also ask Him to do the things you don't even know to ask for.
If you will, then not only will He give you your will to live back, but He will also astound you at the way He turns your circumstances around.
Does this message minister to your heart today? If so, please leave a comment below. I'd love to hear your thoughts.
You'll get an email when new content is posted. You'll also receive my free, printable blessing cards and my ebook–The Presence Seeker's Creed–for free when you confirm!
Image courtesy of Max and Dee Bernt on Flickr via Creative Commons license.