3 Things I Learned From Surviving a Mockingbird Attack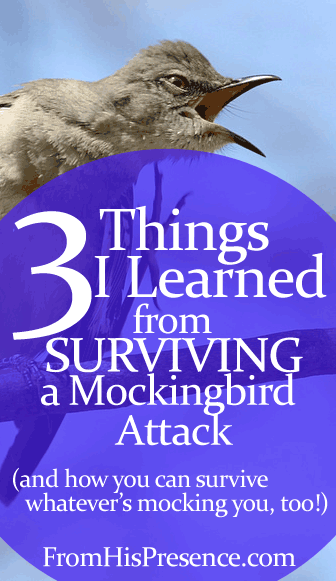 Have you ever had God speak to you through a really strange event?
I had something really, really strange–freaky, in fact–happen to me a few days ago. I was out for my early morning walk/run when I was attacked by a mockingbird. (You can't make this stuff up!) I was walking down the sidewalk in a greenway area, innocent as you please, when this thing swooped out of a tree and flew right at my head.
At first, I thought maybe it was a weird coincidence. But then it came back at me from the other direction… and again and again. It would leave a tree and fly right at my face. It got within a couple of feet each time, and I waved my arms at it to ward it off. It would swoop by me and land in another tree. Then turn around and come back at me again. This happened over and over as I was walking over a decent distance.
There was no apparent reason for the attack. I didn't see a nest anywhere. There were no injured chicks on the ground. It just seemed to come out of nowhere.
After I got the message that this thing was attacking me, it scared me a little bit. I didn't know if it was going to try to peck my eyes out or what, and it flew straight at my head each time. Since there was no provocation, immediately I sensed in my spirit that this was a demonic attack.
Before it even ended, the Holy Spirit reminded me of a story that Jesus told in the Bible:
 Then He spoke many things to them in parables, saying: "Behold, a sower went out to sow. And as he sowed, some seed fell by the wayside; and the birds came and devoured them" (Matthew 13:3-4).

"Therefore hear the parable of the sower: When anyone hears the word of the kingdom, and does not understand it, then the wicked one comes and snatches away what was sown in his heart. This is he who received seed by the wayside" (Matthew 13:18-19).
In this parable, the birds represented the enemy. The Holy Spirit quickened the same thing to me. The mockingbird represented the attack of the devil. I had been going through a difficult situation, and the Lord was talking to me about the situation.
He also showed me that its name "mockingbird" meant that the attack of the enemy was intended to mock and make light of me if possible; to humiliate me.
But you know what?
That mockingbird had no power over me!
It tried to hurt me, but it couldn't… and neither can the enemy.
So here are 3 things I learned from surviving this mockingbird attack:
1. Sometimes attacks will come at you from nowhere.
That bird attacked me from nowhere, and kept attacking from behind my back and in front of my face. Sometimes things happen to us in everyday living that come out of nowhere. You didn't deserve it. You didn't anticipate it. You just got attacked.
Remember this: Just because something is happening to you doesn't mean you deserve it. Sometimes it's just trying to derail you or scare you.
2. The attack looks bigger than it really is.
The attacker wants to hurt you and thinks he can. But you know what? The enemy can't hurt you. You are way bigger and stronger. The Bible tells us:
You are of God, little children, and have overcome them, because He who is in you is greater than he who is in the world" (1 John 4:4).
God is in you, and He is greater than the enemy. God has all power and no equal, and He is on your side.
God is fighting for you! Greater is He who is in you than he who is in the world.
3. Forget the attack and run stronger than ever.
Because this bird kept coming at me, I got distracted from my walk and turned to defend myself from it. But you know what the Holy Spirit said to me? He said:

Forget the bird and run stronger than ever! Forget the attack! Run! Soar! Fly! Be stronger than you've ever been!"
He wasn't telling me to flee the bird. He was telling me to forget the bird and be who He's called me to be with more strength and power than ever before.
What are you going through today? What has come at you lately? Forget the attack and run stronger than ever! Put your focus back on God! Strengthen yourself in the Lord, and walk in your calling more strongly than you have ever walked! Display the raw power of God, openly and unashamedly, and forget all the haters that don't like it!
So I ran. I wasn't running away; the bird was done attacking me by the time I really got this revelation. But I ran because I was agreeing with God that I would run and fly stronger than ever. And you know what? Something had been bothering me a lot, and at that moment, it completely broke off. I am free from any mocking bird. 🙂
Greater is He that is in me than He that is in the world!
What's mocking you today?
Is it a financial issue, a marriage issue, a friendship issue, a job issue? Is it a demonic spirit like anger, rage, resentment, bitterness, anxiety, or depression?
No matter what's mocking you today, I've got good news for you:
That attack can't hurt you. It's just trying to distract you, but you have absolute power over it. Greater is He who is in you than he who is in the world.
So choose to run after God. Forget the attack and run stronger than ever.
Does this message speak to you about anything you're dealing with? If so, I'd love to hear how it's encouraged you; please share in the comments below!
Photo courtesy of Ken Slade on Flickr. Photo was cropped to produce the beautiful pin you see above.