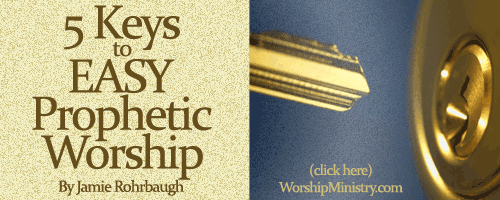 Several years ago, I was given the opportunity to start leading worship in my church's intercessory prayer meetings and healing rooms. I didn't know anything about leading worship at the time! However, I did know how to worship, and I had been trained in prophetic ministry. So I used the tools I had and experimented a lot. 🙂
Over time, the Lord showed me 5 Biblical keys to easy prophetic worship. These 5 things have helped make this style of worship accessible and fun for our team.
I wrote for WorshipMinistry.com this week about how to make prophetic worship easy. If you're involved in church worship at all and want to venture into prophetic worship, this article will help you.
Prophetic worship doesn't have to be difficult or intimidating. Do these 5 things, and the atmosphere in your worship session will be so pregnant with God's glory that new songs will just FLOW.
Click here to read "5 Keys To Easy Prophetic Worship" on WorshipMinistry.com!
You'll get an email when new content is posted. You'll also receive my free, printable blessing cards and my ebook–The Presence Seeker's Creed–for free when you confirm!