If Your Heart Is Broken Today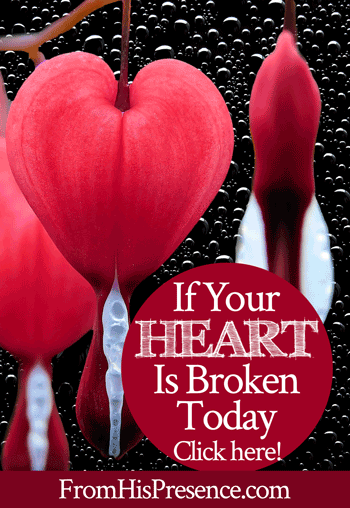 I stood up to worship because that's what the worship leader asked us to do, but my heart wasn't in it. Inside, I was wrestling with God.
I had been feeling a blockage between God and me. I still loved Him, of course. But I didn't feel so close.
Frankly, I didn't feel like He wanted to be close.
Why? What had happened? I hadn't always felt like this. What went wrong?
I wasn't sure. So, as music swirled around me, I started asking the only One who did know.
"Father, why do I feel so distant from You? What's between us? I have forgiven the people who hurt me. There has to be something else!"
Immediately, Holy Spirit put the first solution into my mind.
I was mad at God–and had been for quite awhile. It's not that He had done anything wrong. God cannot sin; He cannot do anything wrong at all. He is perfect in all of His ways.
But He hadn't done what I had wanted Him to do–and I was angry with Him about it.
Immediately, I realized I needed to forgive God.
How does one forgive God? By praying through the forgiveness prayer, the same way you forgive a person. However, when you're forgiving God, you forgive Him for not doing what you wanted … and you acknowledge that only He knew the right thing to do all along. You tell Him you trust Him, and you confess (and ask forgiveness for) not having trusted Him the whole time.
So that's what I did.
And I felt better right away.
But then, Holy Spirit showed me the rest of the solution to my perceived distance from God.
What was it?
Holy Spirit showed me that people had been cutting me down so long that I had come to believe that those people's feelings, emotions, and lies about me were actually the way God felt about me.
Aaaannnd, therefore … I felt like God had abandoned me. And my heart had broken into a million pieces.
Remember that these were feelings only.
I knew perfectly well–in my head–that God had not abandoned me. I knew that the horrible things people had been saying to me were all lies. NOT from the Lord. NOT true. NOT the way God felt about me.
But knowing something in your head is a whole lot different from feeling it in your gut. And when your emotions have come into alignment with a lie–even when you didn't realize it was happening–it is devastating.
That day, during worship, I knew I couldn't address the feelings in totality at that moment. I knew I would have to get in the Word and re-discover the TRUTH about what God really does think and feel about me, so I could get free of the lie and sense His love again.
So that day, I simply asked Holy Spirit to help me sense His love and affection during worship … and He did. It turned into a wonderful, refreshing time in which He encouraged my heart with His love.
But the next day, my broken heart and I sat down before the Lord, alone, and I prayed.
I prayed something like this:
"Father, I feel like You abandoned me. You didn't rescue me the way I wanted You to. And I've been feeling like all those terrible things people have said must be the way You feel about me.
Father, I know that these feelings aren't true. I know that You love me. But I need You to speak to me right now–to speak into the depths of my heart. I need You to heal my heart in the deepest places where only You can reach. Thank You, Father. In Jesus' name."
With that, I opened my Bible to the book of Isaiah and began to read.
And the Lord touched me deeply–as only He can do.
It's funny. Our Father always wants to minister to our hurting emotions. Our emotions may not be the most important thing; the TRUTH is the most important thing–but Papa really cares about our emotions too. That's why He sent Holy Spirit, the Comforter, to minister specifically to our broken hearts!
So when I opened the door to Him in my prayer to help me with my emotions, He answered. He began to show me the TRUTH of His Word–the exact truths I needed to counteract the lies the enemy had sent against me.
Verse after verse, I read things like:
Comfort, comfort my people, says your God" (from Isaiah 40:1).

"But you, Israel, My servant, Jacob, whom I have chosen, the offspring of Abraham, My friend … " (Isaiah 41:8).

"You are My servant, I have chosen you and not cast you off" (from Isaiah 41:9).

"Fear not, for I am with you; be not dismayed, for I am your God; I will strengthen you, I will help you, I will uphold you with My righteous right hand" (Isaiah 41:11).

"Fear not, I am the one who helps you" (from Isaiah 41:13).

"I am the Lord; I have called you in righteousness; I will take you by the hand and keep you …" (from Isaiah 42:6).

"Fear not, for I have redeemed you; I have called you by name, you are Mine" (from Isaiah 43:1).
Over and over, verse after verse, chapter after chapter, Holy Spirit ministered to my heart.
For every cutting thing the enemy had sent against me, the Lord sent His sweet Word that exactly counteracted it.
For every feeling of rejection with which I had been struggling, the Lord sent me His resounding, reassuring, comforting words of love and acceptance.
He ministered to my broken heart. And one by one, those hindrances that had left me feeling distant from my Lord fell away.
Is your heart broken today?
If so, I want you to know that healing for your broken heart is your portion. Comfort is your portion. Complete freedom from misery and from all the lies of the enemy is your portion.
Jesus paid for your heart to be healed. He paid for you to know how loved you are with His very blood. He bought and paid for your comfort. His blood paved the way for Holy Spirit to be poured out to comfort you.
You don't have to keep hurting.
What does it take to find healing?
Two primary things.
First, you have to allow God access to your emotions.
In my story above, I never would have been able to receive help from Holy Spirit unless I had first gotten real with Him. Praying something like "Father, I feel this way. I know it's not right. Help me …" goes a long way.
I have known a person who won't allow God to touch their emotions at all. That person actually criticizes modern worship music because it connects with God on an emotional level. That person is going to stay wounded until and unless they allow Father God to touch the places inside them that hurt.
If that's you, you don't have to worry. Papa's touch only brings comfort. It only heals. He will only help you, and you don't have to be afraid of Him.
Secondly, you have to be willing to receive God's truth.
When you open your Bible, Holy Spirit will lead you to the exact truths you need that will heal your heart. But if won't accept God's Word as absolute truth–and the attacks of the enemy as absolute lies–His help won't do you a lick of good.
You have to be humble enough to accept that God's Word is true and your word is not. God's Word is true and the devil's words are certainly not. As soon as you see what God says about a thing, you have to be willing to put your finger on it and say, "There is the truth. Thank You, Lord; I receive it."
If you won't do that, you won't benefit from God's help. Your pride will keep you hurting if you are not willing to humble yourself and believe the truth of God's Word.
Still don't feel like it? No problem. Confess God's truth out of your mouth. Your feelings will eventually line up with your confession. (And for that reason, keep your mouth closed if you are tempted to confess anything that does not line up with God's Word.)
If you have a broken heart today, healing for your heart is your portion.
Father God cares about everything. He cares about you. He knows and cares about every bit of minutia in your life. He cares about the big things too. Nothing passes Father's notice.
And He will heal your broken heart if you will let Him.
Will you open up your heart to the Lord and receive His truth today?
If this word encouraged your heart, please leave a comment below.
Would you help me with my work of reaching people for Jesus as a domestic missionary? I need you; we are in this together! This blog, and all of the Kingdom work we do in this community together, are made possible through your partnerships, donations, and product purchases.
If you'd like to help, please check out the partnership details and products available for sale here. And, thank you in advance for helping make this blog and everything we do together for the Kingdom possible!