Finding Refuge Under the Shadow of God's Wings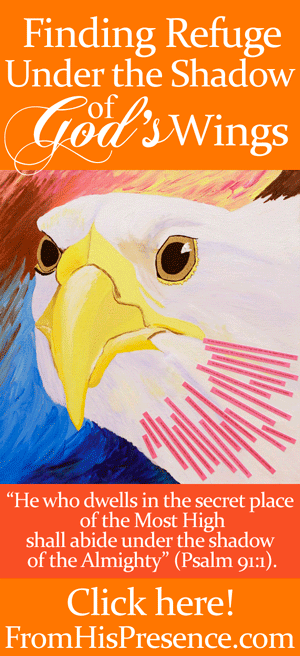 Do you feel unsafe, exposed to the world, unprotected, and in need of comfort today? If so, I have an encouraging word for you.
Some time ago, during my quiet time alone with God, the Holy Spirit gave me a mental picture (a vision) of what it looks like to be hidden under the shadow of God's wings.
This mental picture encouraged me so much. Many times, I have gone back to that picture in my mind and just meditated on it. It's beautiful, and so I wanted to share this vision with you today. I believe it will encourage you, too, as you pray and ask God to stabilize your emotions.
The vision was based on Psalm 91, verses 1, 2, and 4, which say:
He who dwells in the secret place of the Most High shall abide under the shadow of the Almighty. I will say of the Lord, 'He is my refuge and my fortress; My God, in Him I will trust'" (Psalm 91:1-2).
and:
"He shall cover you with His feathers, and under His wings you shall take refuge; His truth shall be your shield and buckler" (Psalm 91:4).
The vision was this:
I saw a bald eagle. He was sitting in a high place, the king of the skies. He looked all around, sharply, with glittering eyes and keen vision. Nothing escaped his notice, and nothing was too difficult for him to conquer.
I knew the eagle represented my Father God, for He uses an eagle analogy many times in the Bible to describe His own actions.
Then I saw myself crawling under the eagle's huge, brown wing. He remained seated where he was, but he closed his wing down over me.
It was dark under his wing, and warm, and safe.
No one could see me there. I could feel the warmth of his body and the beat of his heart. I could feel the smooth softness of his feathers. I was completely hidden from the world under the shadow of his wing.
And all the time–even while I hid under his wing–I could see his eyes in my vision. He kept a sharp lookout all around. His golden eyes glittered with awareness, with protectiveness, with knowledge. He was king of all he surveyed, and nothing could by any means harm me. The world could not even see me, for I was sheltered and completely hidden under His wing.
And as soon as God gave me that vision, I felt peace.
The sense of safety I felt under the shadow of God's wings penetrated my soul. The hiddenness, the quiet, the shelter fed my very spirit.
Under the shadow of God's wings, everything was ok. No one and nothing could reach me there. My loving Father God kept a perfect watch over me while I hid, safe and secure, under His feathers.
What's the application to you?
As you're seeking God, desiring to know Him, and getting closer to Him this year, take refuge under the shadow of God's wings.
Borrow my vision if you like. That's okay! Second Corinthians 1:3-4 tells us that when God encourages and comforts us, we can pass on that same comfort to others who are in trouble. So this vision is for you too. Get it in your mind's eye:
Imagine yourself huddled up under that mighty, brown wing.
Feel the warmth of His embrace.
Feel His heartbeat.
See His eyes glitter as He keeps watch over all things that concern you, while all you have to do is hide under the shadow of His wings.
Can you feel the safety of being covered with His feathers? Of finding refuge under His wings, and being protected by His truth and watchcare over you? I know I can.
Beloved, our Daddy God is watching over you continually. He is covering you, and you can always hide under the wings of your Father.
So meditate on this truth. Ponder the words of Psalm 91 deeply in your heart. Imagine yourself snuggled up to Him, nestled safely under His wings where no one can see you or touch you.
You're safe there, under His feathers. And nothing shall by any means harm you.
Does this vision encourage your heart today? If so, please leave a comment below. I'd love to hear how God touched you!
About the image: I love worship art. So, after God gave me this vision of hiding under His wings, I painted an eagle surrounded by glory. This is the painting you see above, to the left. It's an acrylic on canvas, and I called it "Under the Shadow." The pink paper strips contain all of Psalm 91. Under the Shadow is copyright by me, Jamie Rohrbaugh, 2012. All rights reserved and this art may not be reproduced or copied in any way.