How To Get Stable By Commanding Your Soul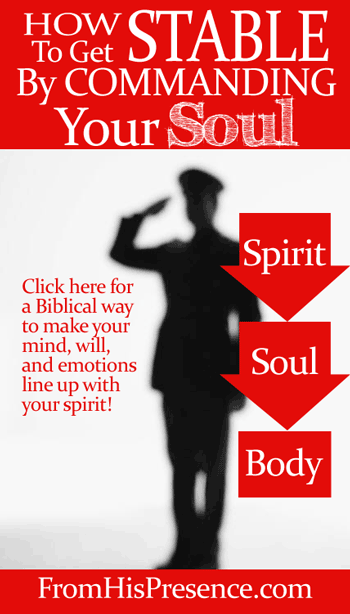 Do you ever struggle with maintaining your emotions on an even keel? If so, did you know that commanding your soul will help you with this?
I stumbled on this tidbit by accident (but I know it was the Lord, helping me). 🙂 One day a few months ago, I was throwing myself a pity party one morning. (I know none of you ever do that, but just humor me here and keep reading, ok?)
I was feeling sorry for myself. I didn't have any really good reason to feel sorry for myself, but you know how it goes.
Well, I had my quiet time, but I was still feeling blue afterwards. I went about my morning routine, but I was thinking about how I knew it wasn't right for me to feel that way. I knew self-pity is not from the Lord, and I knew I was giving in to a spirit of doubt and unbelief. I KNEW I had to snap out of it, but I didn't feel like I could muster up the strength. My emotions were running away with me.
All of a sudden, Psalm 103:1 came into my mind:
Bless the Lord, O my soul; and all that is within me, bless His holy name!"
As soon as I thought of this verse, it occurred to me that this is a very odd verse.
This verse was written by David, the Psalmist and ancient King of Israel. The odd thing is that, in this verse, David is talking to himself! Even more specifically, he's talking to a specific part of himself–his soul–and giving it orders!
Your soul consists of your mind (intellect), will, and emotions. So in this verse, David is addressing his soul and telling it what to do. He's telling his soul to bless the Lord.
Here are the odd things about David talking to himself like that:
Uh, who knew you could order yourself around? And have you actually obey yourself?
Why would you even bother to order yourself around–unless you are not already doing what you should be doing, and you know it?
I have always thought of David as being a bastion of faith. I've never thought of him as being like me and feeling sorry for himself sometimes.
(Uhhh, now that I think of it, though, he was a musician… but that's another story for another day, for all you musicians out there. 🙂 )
But when David wrote this verse, his soul–his mind, will, and emotions–must have been misbehaving. His soul must have not been blessing the Lord, because otherwise, David wouldn't have commanded his soul to START blessing the Lord.
Are you with me?
So back to my story. I was feeling all pitiful and pathetic. I noticed that David spoke to his own soul and commanded it to behave in a godly manner. I knew that my soul was created to be subordinate to my spirit, and I knew that my spirit is where the Holy Spirit lives.
So I thought I'd try David's method, and see if it would help me stop feeling sorry for myself.
I looked down at myself and spoke these words, out loud, to my soul:
Soul, I call you to attention in Jesus' name. I command you to line up with my spirit, which is full of the Holy Spirit, in Jesus' name."
IMMEDIATELY I felt my soul respond:
It was like my soul was a runaway puppy who came cowering back to his master.
IMMEDIATELY I felt my mind, will, and emotions snap to attention and submit to my spirit, which is who I really am, and which is full of the Holy Spirit.
IMMEDIATELY my soul was full of faith and hope again.
Immediately I stopped feeling sorry for myself.
I was shocked!
And delighted!
I had finally found a solution… and I felt so much better that quickly!
Here's why commanding your soul works:
My soul is not who I am. My soul is merely something I have; something I possess. It's something God created me with. But WHO I AM is determined by my spirit.
So just like my outward possessions–my car, clothes, and kitchen utensils–don't get to determine who I am, neither does my soul get to determine who I am. My spirit is in charge, and when I got saved, I turned my spirit over to the Holy Spirit. My spirit determines who I am, and "who I am" is that I am full of God.
It's the same for you.
If you have made Jesus Christ the Lord of your life, then WHO YOU ARE is full of God too. So your soul–which is something you HAVE–has to submit to WHO YOU ARE.
That means your soul has to line up with your spirit, which is full of the Holy Spirit, if you tell it to.
So what are you waiting for? Are you feeling turmoil and unrest in your emotions today? If so, call your soul to attention! Command it, out loud, to line up with your spirit, which is full of the Holy Spirit!
Commanding your soul will force your soul to do what it was made to do, and work for you, not against you. It has to obey.
Commanding your soul. Huh. Apparently, King David was onto something.
Second Timothy 3:16: "All Scripture is given by inspiration of God, and is profitable for doctrine, for reproof, for correction, for instruction in righteousness…'
Were you feeling down when you started reading this? Did you command your soul as I described above? And if you did, did you feel it respond? Please leave a comment below and tell me about it!
Related posts: I Want to Know the Holy Spirit