Dream Interpretation #2: Saving the Fishies One At A Time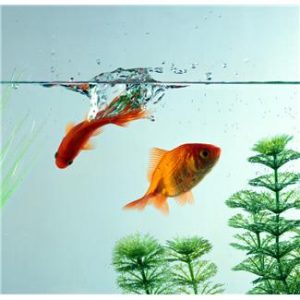 As we discussed here, God loves to speak to His people using dreams and visions. He also will give us the interpretation of those dreams if we will ask. Today's dream interpretation is for Miss D. Miss D has been having a series of recurrent dreams that are all very similar, so I'm going to address them as if they are one dream.
I asked Miss D what she would title this dream, and her instant response was: "Saving the Fishies One At A Time." This is how she relayed the dream:
"For over the last ten years I have had a series of dreams about fish. Various types of fish. But largely I dream about goldfish. The dreams would usually start like this:
I am in my home. I would "suddenly" remember that I have fish (and the dream sometimes switched to birds) that I need to take care of (feed, change and check water levels). I would run into the room they were located in, and the tank would be filthy. The water levels were extremely low, and I could tell that they were starving. (They looked both malnourished and either sluggish or hyper to eat.) I immediately go into action to take care of my fish that I had neglected, wondering to myself how I could have forgotten that I have fish to take care of.
Variations for this dream are usually as follows:
I am outside my home. The goldfish have decided that they don't want to live in the tank (or sometimes the "bowl") any longer, so they "fly" out of the tank and are extremely happy twirling around in the air. I, on the other hand, am extremely concerned because I know that they have only so much time they can actually spend outside the tank due to the nature of a fish, which needs oxygen in the water. The fish doesn't care, and just wants to be free in the open air. So I am trying to capture these fish with a net or something. Most of the time, I am productive at getting the fish back in the tank.
Then there are the other dreams where I literally am in panic mode, and am racing against the clock to get either the fish to water to sustain it, because it has flown out of the tank, or the tank has been broken, losing all the water. I am on a mission to keep this fish alive and get it to fresh water, so it can breathe.
Other variations include someone putting "foreign" fish (fish from another country) in my tank, and their mission was to kill my fish. So then I'm trying to scoop out the "foreign" fish so they won't kill my fish. (Trust me… this is a tedious job.)
I did also have one more "fish" dream, that I still recall to this day, that gives me the creeps. Not sure where I was, but it was like an outside fish store (set up like a zoo), and I recall walking by this particular large tank. The tank was on my left, and the fish was a large, eel-like fish. It was very intimidating, and I knew that it wanted to kill me. Even though this fish was enclosed in a tank, and could not survive outside the tank, I was still spooked pretty badly."
Miss D also advised that these dreams were in color.
Here are some of the meanings of the symbols:
The color gold means purity, holiness, something very precious and of high value.
Fish are used in the Bible to represent people: specifically, the souls of men.
Your home means your life, job, church, or family.
I think the "suddenly" represents suddenly moving into your calling.
The tank is a place that contains; a natural environment for fish.
Water in the Bible represents God; specifically, the Holy Spirit.
Food would represent spiritual food: the Word of God, Christ Jesus.
The fish bowl is also a place that contains; a natural environment for fish; but it's small and cramped.
Birds represent leaders.
"Foreign fish" would represent the assignments of the enemy against the souls of men.
Of note, I did ask Miss D if she had any particular bent or passion for evangelism, and she said she did–both for missions abroad and for evangelism here in America.
Here's what I believe this dream means:
I believe this dream is speaking to Miss D about her calling to evangelism. The fact that this dream is in color generally means that it's from the Holy Spirit. The fish represent people who need Jesus. These people are very precious to the Lord, and of very high value.

The fact that the first dream happens inside her home tells us that this dream is specifically talking about Miss D's calling. As in the dream, I believe she may suddenly move into her calling.

I believe this dream first shows Miss D how desperate is the situation for the unsaved. They have no spiritual food or water. They are mired in sin. Their environment is filthy and polluted.

But when Miss D goes into action to save them, she has the provision they need. She has the water (the presence of God; the Gospel of Christ; the Holy Spirit). She has the food they need: Jesus Christ, the Word of God. She can reach them, one at a time.

I believe the first variation on the dream talks about discipleship after Miss D moves out into the areas in which she is ministering. When people first get saved, they are extremely happy, but they don't understand how to grow or sustain themselves. But Miss D does understand, and she can help them grow in their new state, and the Lord preserves them alive.

I believe the second variation talks about some of the hardships that Miss D may encounter in her mission of evangelism. Sometimes people fall back into sin, but I believe this dream is saying that the Lord will use Miss D to help disciple them back into their proper place in Christ.

The foreign fish represent the assignments of the enemy against those Miss D is serving. Again, however, those wicked assignments do not prevail. The Lord will preserve these fish and keep them alive.

And finally, the last dream where Miss D was afraid of a fish that wanted to kill her: Miss D, you do not have to be afraid. The accuser of the brethren would like to derail your calling, but God is in control. Papa has displayed all His fish (His people) in front of you, and the field is ripe for harvest. Just keep your eyes on Jesus and on the work He tells you to do. Fear is never from the Lord; the Lord gives you power, love, and a sound mind. So just focus on Him, and not on any distractions.
Now it's Miss D's turn. Miss D, does this resonate with you? If so, could you please leave a comment below (on this blog post) and share your thoughts?