Ask And You Will Receive, That Your Joy May Be Full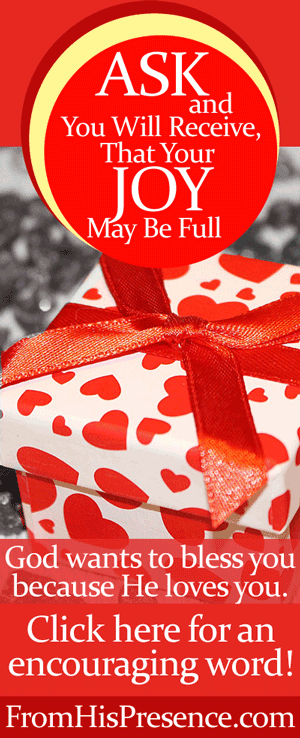 Do you really, really, really want something from God–but you feel like maybe you shouldn't ask? If so, the Lord gave me an encouraging word for you today.
Here's what He told me:
I was spending time with Daddy God this morning and just telling Him how much I love Him. All of a sudden, I saw a picture in my mind's eye of Him giving me a big bear hug and kissing my forehead. I felt Him squeeze me tight to His chest. Then I heard Him say, "What do you want?"
I was taken aback by this question. I kind of shook my head and said, "Father, I just want You."
And He said, "No, no, no. That's not what I mean. I want to give you something. I want to do something for you. What would you like Me to do?"
And suddenly I could feel His passion and the intensity of His love.
I could feel the burning love in His heart that was looking for a way to express itself. He wanted to do something for me because He loves me so much, and He just wanted to demonstrate that today. He is, after all, a Giver. He loves to give.
In total awe of our amazing Father, I asked Him for something specific that has really been on my heart lately. And He said He would give it to me. He just wanted to bring me joy today, because He loves me.
Related: A Big Hug From Daddy God For YOU!
Then He told me to share this with you, and that He wants to do the same thing for you.
How do I know? Because Romans 2:11 tells us that God doesn't show favoritism. If He wants to do something for me because He loves me, that means He wants to do something for you too–because He loves you just as much. He never changes, and He is ALWAYS pouring out His love on ALL His sons and daughters.
Of course we should ask with right motives (James 4:3). And we should never try to manipulate God or people with our asking. (See How To Avoid Witchcraft Prayer for more on that.)
But Daddy God DOES want you to ask. He loves you so much and He absolutely ADORES giving you awesome gifts and surprises. And what He'll do for me, He'll do for you.
That means Abba Father-Daddy God–is also kissing YOUR head right now, saying, "What can I do for you today?"
This is what Jesus was talking about in John 16:23-24:
And in that day you will ask Me nothing. Most assuredly, I say to you, whatever you ask the Father in My name He will give you.

Until now you have asked nothing in My name. Ask, and you will receive, that your joy may be full."
Somehow, in His infinite goodness, God actually wants to pour out on us.
Psalm 51:12 tells us that He is oh-so-generous:
Restore to me the joy of Your salvation,
And uphold me by Your generous Spirit."
And James 1:17 tells us that He is the Giver of Good and Perfect Gifts:
Every good gift and every perfect gift is from above, and comes down from the Father of lights, with whom there is no variation or shadow of turning."
And we already know that He loves to express His love to us through giving:
For God so loved the world that He gave His only begotten Son, that whoever believes in Him should not perish but have everlasting life" (John 3:16).
What a Daddy God we have. He's just so good.
So what do you want God to do for you today? Ask and you will receive!
Do you need your hope restored?
Do you need Him to comfort you?
Do you need financial provision?
Do you just need a friend?
Jesus said that whatever you ask the Father in His (Jesus') name, the Father will give you. He said to ask, and you will receive, that your joy may be full.
Your Abba Father wants to do something amazing for you today because He loves you. He is GOOD. He is a Giver at heart. He loves to pour out His blessings on you, and pour, and pour again. He loves you so much. His heart beats for you, and His adoring gaze is focused on you continually.
So what do you desire? Ask Him. He wants to see you smile. He wants to fill you with delight. He wants to restore your joy.
Are you ready to ask? Pray this prayer with me:
"Heavenly Father, I come before You in Jesus' name. Thank You, Father, for loving me. Thank You for Your great and precious promises. It amazes me that You actually want me to ask You for things. But I know Your Word is true, whether I feel like it or not.

So Father, in Jesus' name, I am claiming Your promise today. I receive the words of Jesus, Who said that if I ask You for anything in His name, You would give it to me. He said to ask, and I would receive from You, and that my joy would be full.

Father, before I ask, I ask You to cleanse my heart. Help me to ask for the right thing for the right reason. I plead the blood of Jesus over this request, and I ask the Holy Spirit to intercede for me since I'm only human and may not ask for things quite right.

But Father, I am claiming Your promise. I know that You love me as my big Daddy God. Thank You for caring about what I care about. So Father, in Jesus' name, I ask You right now for the desire of my heart today: ______________________. And as I ask this, I present the blood of Jesus and the name of Jesus to You, knowing that it's only through Jesus that You have made me Your child. Thank You for honoring the sacrifice of Jesus and pouring out on me because of what Jesus purchased for me.

Father, I love You. Thank You for being my Daddy. Please help me to notice Your answer to my prayers, and I thank You for hearing me and giving me my request. You are amazing, and I love You. Please fill me with joy today, and be glorified in my life.

In Jesus' name, amen."
Did this message speak to your heart? Please leave a comment below; I'd love to hear from you!
Related: Radical Prayers Get Radical Answers