So Much Blood: A Bystander's Tale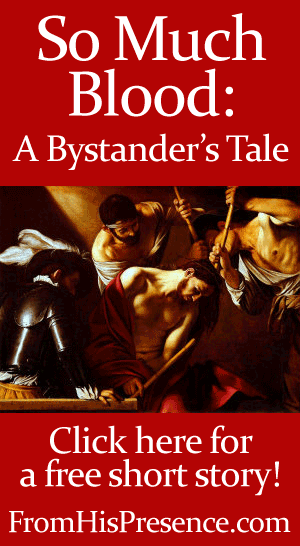 Let's end our Holy Week series with this, shall we? I have never written fiction before, but the Lord downloaded this short story for Easter while I was meditating on the flogging of Christ some time ago. I pray it will bless you as we remember and honor the suffering of Jesus. – Jamie
I stand in the courtyard as an angry mob mills all around me. I've found a post to lean on the outskirts of the crowd, and I think I'm safe here. The cobblestone pavement is gray and cold. The sun has just come up on this spring morning. But the chill in the air pales in comparison to the chill in my spirit.
They're angry at this man, this prisoner. They're angry and they want to kill him, and nothing seems to get in their way. Not truth, not right, not justice, not the law. They've abandoned all sense—common and uncommon—and are shouting murderous threats. I ought to leave, but I can't… this is too big, too sensational, not to see how it turns out.
My thoughts interrupted by a new wave of noise, I look up and stand on my tiptoes so I can see. A soldier is coming—wait, he's coming right toward me. He's pulling the prisoner, but the prisoner isn't fighting him at all. Huh; strange prisoner. Most folks would be fighting to get away, or at least fighting for fair treatment, but not this one.
The soldier approaches me and the crowd parts. Oh, wait – it's not me he wants. It's the post I'm leaning on. I'm not sure what they want with the post, but I move to the side. Don't want to get in the way of the Romans; it's better to just move when I'm told.
I can only move a few steps away. The crowd is too thick for me to get away. As I reposition myself to the side, I catch the prisoner's eyes by accident. I'm shocked by what I see there. I see no anger, no bitterness, no defending himself. Instead, I see clear eyes, pure eyes, eyes that look into the very depths of my soul. I'm shaken by His eyes.
The soldier pulls the prisoner up to the post and ties him to it. I'm on the forefront of the crowd now. I'm not sure what's about to happen, but I hear more shouting coming from the Roman garrison. The crowd parts again to let another soldier through. This soldier is big and muscular. The sneer on his face tells me he's not used to being messed with, and I certainly am not going to get in his way. He's carrying something—
Uh oh.
It's a whip.
Not just any whip, either. It's a Roman scourge.
My heart sinks in my chest. I've never seen a Roman scourging, but it looks like I'm about to. The soldier comes up, shouting and sneering at the crowd. He's getting them riled up again. Then, barely looking at his intended victim, he pulls back that huge arm. The scourge whistles through the air as the soldier throws his whole arm into the blow, lunging forward and striking the hapless prisoner.
I wince. No matter what this prisoner did, you can't help but feel his pain. Blood wells to the surface. His flesh begins to tear, then rip, then come completely off. What began as a trickle of blood becomes a river. It's running down his body, down his legs, onto the pavement. There's so much blood it spatters and splashes into the air with every lash.
Some of it starts to get on me. I close my eyes. Don't faint, don't faint, don't faint. So much blood. I see the blood on my dress, on my sandals, on my bare feet. It's everywhere. The people standing around me are getting splashed, too. We can't get away.
I try to stay calm. I don't want to make a scene and get pulled into this. Somehow I manage to imagine myself somewhere else while the flogging continues. If only the poor prisoner were so lucky… but he's not. His flesh rips and tears. When the soldier is done, you can't even tell this prisoner was human. He's a sopping, bloody mess. And somehow – he stands up.
I don't know how his legs are still working. I don't understand why he's not dead yet. He might as well just give up; surely he doesn't have long to live anyway. Blood is still flowing. How much blood can one man have?
I close my eyes again, and the crowd mills around me. There's talking coming from the balcony. Shouts of "Crucify him! Away with him!" The soldiers surround the prisoner. I hear noise, shouts, commands, and then after what seems like an eternity, the noise starts to fade. The soldiers are taking him outside the courtyard. The mob follows him.
I dare to open my eyes, and I see other women come in. They come right toward me – but wait, it's not me they want. They're after the blood. They start to mop up his blood. I hear them whisper to one another words I never imagined hearing:
"He is the Christ. Yeshua Mashiach. The Anointed One."
Christ? This man? How could it be?
I turn, stumbling, and run outside the compound. The streets are full of people, all running outside the city gates. I'm swept up with them, running with them as if we were one body. Thousands of people run with one goal in mind. I'm not sure what it is, but I have an idea.
We pass the city walls and pause at the base of the hill. I look up. I hear hammering, dull thuds, and voices. Low moans reach my ears. I know this Prisoner doesn't have much longer to live. The Romans know their business.
After what seems like an eternity, the soldiers lift the bloody prisoner up on his cross and secure the cross in place. He's hanging there like so much meat. Buzzards circle overhead. My stomach turns, knowing what they're waiting for.
Just then, a bunch of women rush past me—bloody women. I recognize them as the same women who were mopping up His blood in the courtyard.
And despite the scene on the hill, they're still saying the same thing:
"Jesus. He is perfect. He did no wrong. He is the Christ. Yeshua Mashiach. The Anointed One."
Then I suddenly remembered hearing the words of the scrolls that my father used to read me when I was a child:
"But He was wounded for our transgressions,
He was bruised for our iniquities;
The chastisement for our peace was upon Him,
And by His stripes we are healed.
All we like sheep have gone astray;
We have turned, every one, to his own way;
And the Lord has laid on Him the iniquity of us all.
He was oppressed and He was afflicted,
Yet He opened not His mouth;
He was led as a lamb to the slaughter,
And as a sheep before its shearers is silent,
So He opened not His mouth.*
And I believe.
_____________________
*Isaiah 53:5-7
Do you have a personal relationship with Jesus Christ? He died so your sins could be forgiven and you could be restored to a right relationship with God. Click here for more information about two ways to live.