Pray This When Your Friends Leave You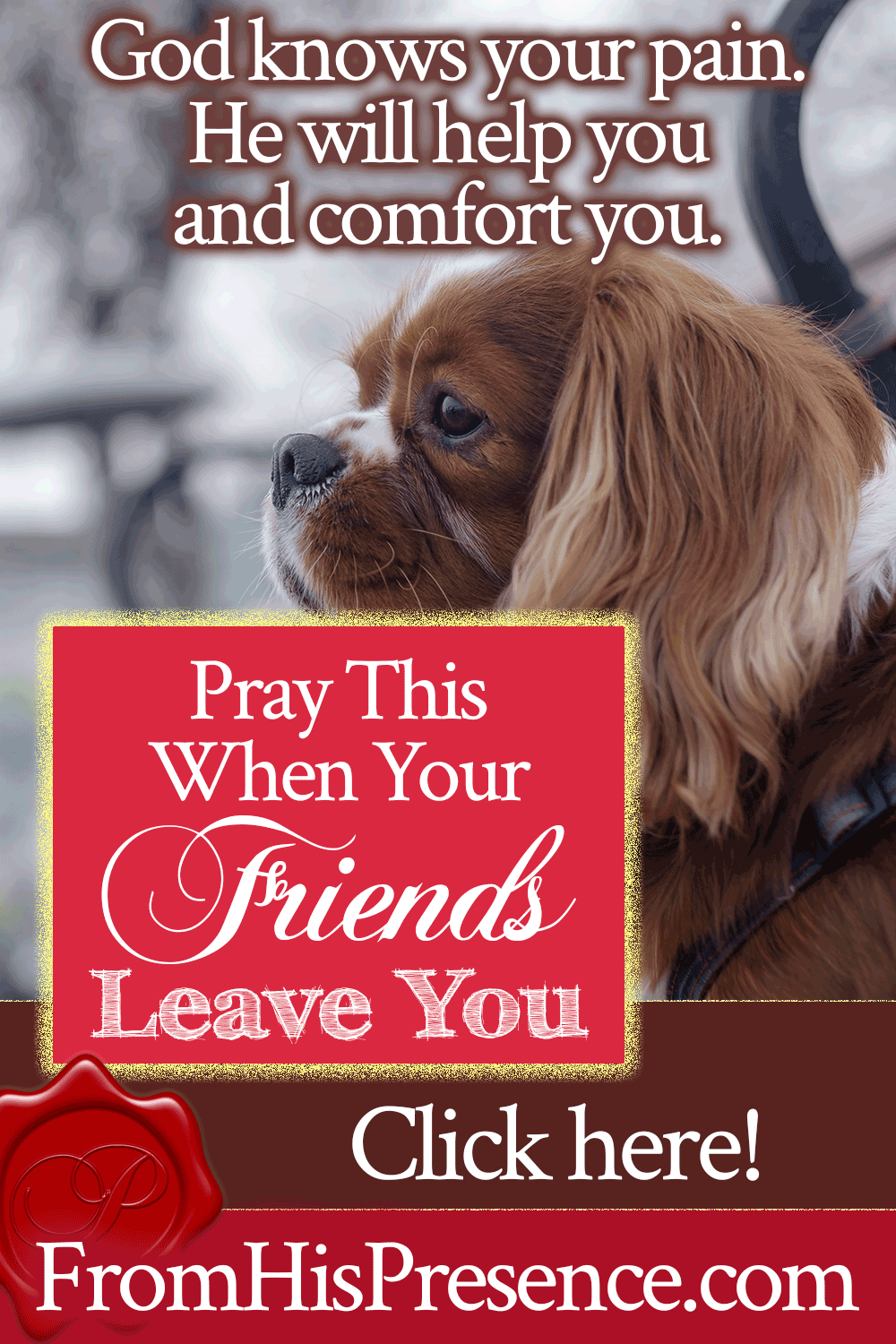 Beloved, is your heart hurting today because someone you thought was your friend has abandoned you? Has a friend you loved violated your trust, walked away from you, and left you wounded and broken? If so, today's sample prayer for when your friends leave you will give you words to pray when you don't know what else to say.
This article is part of our series of written prayers for the hardest things in life.
Read all the posts in this series of prayers for the hardest things:
My goal in this series is to give you words to pray to God–precious words of comfort from the Bible–when your heart is hurting so badly that you don't want to say.
Related: How to Heal from Rejection and Abandonment free blog series
When your friends leave you, the pain can be excruciating.
I know. And, more importantly, if you're experiencing the pain of a friend's betrayal and abandonment today, Jesus knows.
Jesus' best friends ran away from Him at His darkest hour–right when He needed them most. One of His best friends even denied he even knew Jesus–not once, but three times in a row! And another of His closest friends actually turned Him over to be killed–on purpose.
So Jesus knows.
Jesus knows the pain you experience when your friends leave you:
He knows how it feels to have someone tell you they don't want to be your friend anymore.
He knows how it feels to have your friends walk away from you, without even telling you why.
He knows how it feels to have people tell you to your face that they love you, but bad-mouth you and stab you in the back the rest of the time.
Jesus knows. And worst of all, He knows the pain of being left alone–alone and friendless, without a single soul in the world caring about His welfare or about the fact that He was literally dying. He knows that pain because He experienced it.
As it says in Mark 14:50–one of the saddest verses in the Bible:
"Then they all forsook Him and fled" (Mark 14:50 NKJV).
Every single one of Jesus' friends abandoned Him.
Yes, some of His friends eventually came back and stood with Him at the foot of the cross. BUT, they still had ALL run away from Him before that. Every single friend Jesus had left Him in the Garden of Gethsemane. Just because some of them came back to Him doesn't mean He didn't deeply experience the pain of total betrayal and TOTAL abandonment.
He did.
And you know why? He did it for you–and He did it for me.
Jesus endured the pain of having all His friends leave Him so that He could comfort you when all of YOUR friends leave YOU.
Jesus loves you so much that He purchased total and complete healing for you on the cross–healing for your body, mind, soul, heart, and spirit. And in order to win healing for you, He had to bear all the pain that humans have ever borne in the history of the universe.
Yes, that's right: He had to take it all on His own back, on His own heart, and on His own body so that He would have a right to comfort YOU … and to comfort me.
Oh beloved, this is good news today: Jesus Christ knows how you feel if your friends have left you.
And because He knows how you feel …
And because He is our Wonderful Counselor and His Spirit (who is another of the same kind as He) is our Comforter …
And because the only person who can help you when your friends leave you is someone who has also experienced the pain of a friend's betrayal; someone who knows exactly how you feel when your friends leave you …
Jesus wants to help you today.
Jesus is the Man of Sorrows, and He alone knows how you truly feel. And because He does know how you feel, He wants to comfort you right this very instant. He wants to heal your heart and take the pain away. He wants to help you forgive–yes, forgive!–the friends who have left you, so that you can be whole and no longer chained to their memory.
He wants you to be healed and whole, and He will help you get there.
You don't even have to know what to say when your friends leave you.
You can simply pray His own words back to Him, and He will heal your heart. He will interpret your prayers and help you get the deepest groanings and pains of your spirit OUT. Sometimes, for me, I have only been able to express that pain with a keening and groaning wail, but Jesus understands even our heartrending wails, gasps, and sobs.
Are you ready to pray?
If you're ready to pour out your heart to God, read and pray the sample prayer for when your friends leave you that I wrote below.
You don't have to stick with this prayer verbatim; if you sense Holy Spirit leading you to add words or say things differently, then follow Him. Tailor the prayer to your own situation.
HOWEVER, here's a word of caution: In order to receive comfort from the Lord, you DO have to thoroughly forgive the person or people who hurt you. So be careful not to forget or omit any part of the prayer below that talks about forgiving your friends who hurt you, okay?
Pray this when your friends leave you:
"Dear Heavenly Father, I come before You in Jesus' name.
Father God, thank You for listening to me talk to You today. Thank You that Your Word says Jesus is the Man of Sorrows–the only Person on the whole earth who truly understands what I'm going through. Thank You for Your mercy toward me, and for sending Jesus to heal and redeem my life.
Father God, I need Your help today.
Father, You know that my friends left me. They walked away from me without a thought or care about how much their actions would hurt me. I loved them with all my heart–and even more than that. I loved them with everything I had, and I was faithful to them as a friend in You.
But Father, my friends didn't care. They threw me away. They hurt me and didn't care that they were. They walked away from me and didn't tell me why. There was no good reason they threw our friendship away. I thought they would be covenant, forever-friends, and they weren't … and they didn't even care that their betrayal destroyed me for awhile.
O my Father, I need to forgive them.
So I pray right now, first and foremost, that You would help me forgive them from my heart. Your Word says that You will not forgive my sins if I do not forgive their sins, so I need Your help right now. Please anoint me to forgive my friends who left me as thoroughly as Jesus forgave the thief on the cross–and just as He forgave the Roman soldiers who crucified Him.
Heavenly Father, in Jesus' name, right now I choose to forgive (insert names here) for (insert what they did here) . I choose to leave these things at Your feet, let them go, and give up all resentment. I lay this burden right now at Your feet, Heavenly Father, and I take my hands off. I look up to You, Father God; and I step away from these horrible things that have been done to me.
By Your grace and mercy, I lift my eyes up to look at Your loving, tender face right now. I lift my eyes to You and keep them there; I choose to not pick these awful things back up anymore.
Father, in Jesus' name, I confess that I have harbored bitterness, unforgiveness, hatred, anger, resentment, and even a spirit of murder and vengeance toward these people.
Lord, I confess my sins to You in all these areas. I have not loved these people like I should have, and I confess my lack of love as sin also. Father God, in Jesus' name, please forgive me for MY sins. Cover me with the blood of Jesus. Wash me clean. Fill me with the Holy Spirit, and make me like You in all things.
And now, Father, I pray for (insert names here) . Forgive them for all the things they did to me (be as specific as you need to here) . Cover them and their sins with the blood of Jesus. Wash them clean. Cleanse them. Make them pure and holy by the blood of Jesus. Fill them with Your Holy Spirit, Father, and draw them closer to Yourself. Bless them, Father God, in Jesus' name.
Father God, thank You for blessing them. Thank You for helping me forgive them from my heart. And now, Father, I ask You to heal my heart completely.
Father, I know that You are the only One who can make my heart new right now.
And so I ask, in Jesus' name, that You would take away my old heart that has been hurting so badly. Remove it from my body, Father, and give me a new, shiny, clean, healthy, not hurting, COMFORTED heart in its place! Give me Your heart, I pray! Take away my old, broken spirit also, Father, and give me a new spirit–Your spirit.
Father, I ask that, right now, Your love and comfort would flow into my cells, bones, joints, muscles, heart, body, soul, thoughts, and spirit.
Help me to think only the thoughts that You want me to think about these people from now on. Teach me to see the situation the way YOU see it. Let Your tender and compassionate Holy Spirit comfort me right now, I pray; let me feel Your love and Your affection flowing through my veins, filling me up with the healing and wholeness that are only found in Christ Jesus.
Father God, I pray that, from now on, I would prosper and be in health, even as my soul prospers.
I thank You that You are forming Christ in me right now, for I give my life to You completely. I make Jesus my Lord and Savior all over again today. I receive Jesus into my heart anew and afresh; I affirm my total surrender to You today, and I invite You to fill me up with every bit of Yourself–everything You are and with everything You have also.
Lord, I am Yours. And because I belong to You, You said You will never leave me nor forsake me. You are my Friend who sticks closer than a brother. You are my strong and mighty tower; my faithful friend; my refuge from the storm.
Please comfort me today. Heal my life as only You can.
Lord, I speak to my life and I say: "RESTORE!" But Lord, I don't want the old thing back unless you specifically want to heal those old friendships and put them back together better. No, Father; I want the new and the better; for when YOU restore a thing, You make it better than it ever was before.
Therefore, Father God, I ask today in Jesus' name that You would bring me into the new friendships that You have for me.
Line things up and bring me into right alignment with those people and friendships that are divinely orchestrated and divinely ordained for me. Deliver me from every friend or friendship that is not Your will for my life! Order my steps in Your Word and bring me into covenant friendship with those people who are of like faith and like spirit with me–and with You.
Father, I thank You for the opportunity I have had to experience the sufferings of Jesus.
Your Word says that all Jesus' friends forsook Him and fled. I know that pain now, Lord; and although I would never have chosen it, I want to thank You today for allowing me to share in the suffering of Christ.
I thank You today for allowing me to sit down with You, Jesus, and get to know You and Your heart in a way not many others have experienced.
I wish Your friends had never abandoned You that way, Lord, and I wish I hadn't been treated that way also. But, I thank You for working it out for my good; for now You and I are closer than we ever were before. We are closer than we ever could have been if I had not experienced that same pain and sorrow of having all my friends forsake me and flee away.
Jesus, thank You for this experience of knowing Your heart a little better. Thank You for allowing me to share in Your sufferings. And Father God, thank You for seeing me through it–and for the new heart and new spirit You have given me.
Father, thank You for placing Your Holy Spirit inside of me.
He is my Comforter, and I yield completely to Him and to His work. Holy Spirit, please have all of me for Yourself:
Reach down deeper in me to heal me than I could ever reach.
Save me from any after-effects of having my friends leave me and abandon me.
Comfort me, and I give you all the praise.
Father, I thank You in Jesus' name that, by this time next year, all these things will only be a distant memory.
Even now, I receive Your healing. Even as I forgave my former friends, I felt Your love, comfort, and wholeness flowing through my veins. I thank You that I will wake up beholding Your likeness. I will wake up and the pain will be gone, for I have forgiven from my heart and there is no longer anything in me to which pain may cling.
You have worked all things out for my good, Lord. Please continue to do so; work even these hardest things out for my good over and over again.
Lord Jesus, Father God, and Holy Spirit, I confess that I am completely healed and whole in You:
I am filled with the new life of Christ in me, my Hope of glory.
And by this time next year, I will be able to look back upon this whole experience and say that I wouldn't trade it for anything.
It already feels as if it happened to a different person; that is the power of forgiveness.
I thank You for that, Abba Father. I thank You for using this situation to draw me to Jesus. I claim, ask for, and receive a hundredfold blessing because of the persecutions and unjust treatment I have been through, and I thank You for heaping rewards and healing upon my head.
Father God, I love You. Thank You for comforting me. Thank You for hearing my prayer and healing my heart. Thank You for blessing me and forgiving both me and the people who hurt me. Thank You that Your mercies are new every day, and thank You for healing and restoring my life.
In Jesus' name I pray, amen."
Beloved, if your heart hurts today because your friends abandoned you, Jesus is the answer.
When your friends leave you, you need Jesus and only Jesus. Nothing can heal the pain except His touch. No one but His Spirit can comfort you and heal you in your deepest places.
But HE can, and He will, and He will do it right now. Pray the prayer above, then be silent and still before Him as He touches and heals your heart.
Did Jesus and His Holy Spirit touch your heart today as you prayed this prayer? If so, leave a comment below and share your testimony! Your testimony about what Jesus did for you will encourage and bless others, helping them to receive healing from Jesus also!