On Keening From the Crucible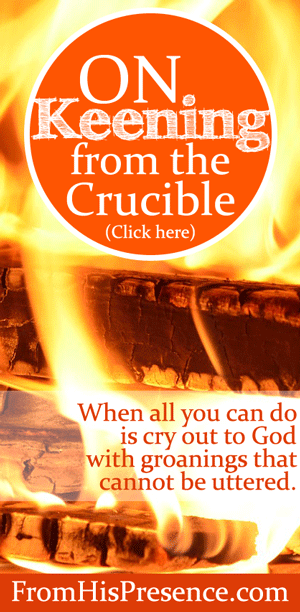 Sometimes all you can do is wail.
When the fires burn hottest, when you have no words …
When you feel so numb and jumbled that you cannot find release, and all that comes up is a weeping, a wailing, a guttural keening before the Lord … 
It's okay.
It's okay.
Again, I said, it's okay.
Let it out.
Because there's something deeper in you than your mind. It's called your spirit, and your spirit is the Real You. And when it's hurting, it hurts badly. It hurts deeply. And there are no words to describe this kind of spirit-pain.
There's only a wailing, a keening, a vomiting of emotion out to God through moanings and groanings that cannot be uttered.
Romans 8:22-27 tells us:
For we know that the whole creation groans and labors with birth pangs together until now. Not only that, but we also who have the firstfruits of the Spirit, even we ourselves groan within ourselves, eagerly waiting for the adoption, the redemption of our body.

For we were saved in this hope, but hope that is seen is not hope; for why does one still hope for what he sees? But if we hope for what we do not see, we eagerly wait for it with perseverance. 

Likewise the Spirit also helps in our weaknesses. For we do not know what we should pray for as we ought, but the Spirit Himself makes intercession for us with groanings which cannot be uttered. Now He who searches the hearts knows what the mind of the Spirit is, because He makes intercession for the saints according to the will of God" (emphasis mine).
So it's okay, beloved. If you're hurting, let it out. Daddy knows. He hears. And somehow, your keening speaks His language.
Have you ever been in a place where all you could do was keen and wail before God? I have. If you have too, please leave a comment below!