Do What You Love, Just Do It With Others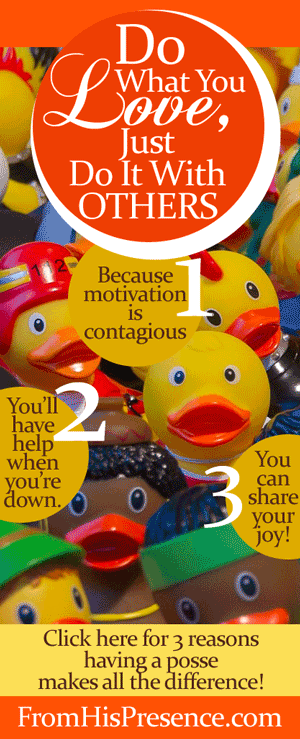 Do you want to seriously increase the joy in your life? Want to chase after what you're called to do with the highest level of inspiration and motivation possible? Want to know that even if you fall, you won't fall very far?
You can. You can do what you love and have all the joy, motivation, and help imaginable. All it takes is one key:
Do what you love, but don't do it alone. Find a posse and do life with other people.
See, Jesus didn't make us to do life alone. He is the Vine; we are the branches (John 15:5). We were made to do life with Him and with each other. We need each other!
I have learned this so deeply that I cannot operate any other way. I am not capable of operating any other way. I need the Body around me. I need to do life with them and have them do life with me.
I saw this once again, so clearly, this last weekend. I taught a workshop at my church called "Keys to Supernatural Favor." It was amazing, and we had a tremendous outpouring of the Holy Spirit. (We recorded it, and I can't wait for you to hear it!)
Now, you could look at that workshop and say I did it, but you'd be wrong. I didn't do it.
I might have preached it, but I can tell you for sure that the preaching of it really is only a part of the whole picture. We had a leadership team of about 11 people that made it happen. It wasn't just about one person preaching and the others supporting, either. It took:
Every person's gifts.
The power and Presence of the Lord on every person's life.
Every person's ministry to others.
Every person's words spoken to others.
Every person's worship.
Every person added so much power and anointing when they just walked into the room, and you could feel it in the ministry, too.
Why? Because we are ONE.
We had unity and agreement, and the Holy Spirit sat down on our unity and agreement and manifested Himself in incredible ways. It was a team effort. None of us could have done it without the others.
It's like the Lord says in Isaiah 65:8:
Thus says the Lord: "As the new wine is found in the cluster, and one says, 'Do not destroy it, for a blessing is in it,' so will I do for My servants' sake, that I may not destroy them all.'"
The new wine–the anointing, the power, the Presence of the Holy Spirit–is found when people get together. It's in the cluster. Not in one grape (or one person) alone. It's when we're together that the power flows. The Holy Spirit sits on unity.
It works the same way in daily life. Want to increase the anointing, Presence, and power on your life? Find a posse and DO LIFE together.
Here are three simple reasons why, in addition to the main reason (which is that the Bible says so):
Also read: Do You Need Covenant Friendships? and Prophetic Decree #4: Fullness of Relationships
1. Because motivation is contagious.
It's hard to live a victorious life without motivation. And when you do life together with other people, your motivation rubs off on them and theirs on you.
That doesn't mean you wait for someone else to get motivated in order to get motivated yourself. No; you have to take responsibility for your own life. Whenever I don't feel motivated, I pray about it and ask for divine inspiration, motivation, courage, and strength, and God gives it to me every time.
But when you do take responsibility for your own life, doing life together with others helps you MAINTAIN. It encourages you:
When you share what God is teaching you;
When you root for someone else who's going after a goal;
When you feel not-so-great today, but someone else speaks into your life …
You gain courage from that. You gain inspiration from that. You increase in hope and desire from hearing other people's stories, and they will be encouraged hearing about your stories.
2. Because other people can encourage you when you're down, and you can return the favor when they need it.
We need to lift one another up. That's why Ecclesiastes 4:9-12 says:
Two are better than one, because they have a good reward for their labor. For if they fall, one will lift up his companion. But woe to him who is alone when he falls, for he has no one to help him up.

Again, if two lie down together, they will keep warm; but how can one be warm alone? Though one may be overpowered by another, two can withstand him. And a threefold cord is not quickly broken."
"Doing life" with someone else means you're transparent with them. You love on each other when you need it. You support one another when you're discouraged. You pray for one another always. 'Nuff said. 🙂
3. Because you need a place to share your joy.
One of the marks of true friendship is when someone else is happy for you when you succeed. When something awesome happens, you need to be able to tell somebody and share your joy.
Sharing your joy is not bragging … but not everybody understands that. Only a real friend will understand that and be happy for you. Other people will be disinterested or even jealous and envious. But a real friend–someone who "gets it"–will rejoice when you rejoice (and also weep when you weep).
That's what it says in Romans 12:15:
Rejoice with those who rejoice, and weep with those who weep."
Yup. God gives the best advice. 😉
So. Want to increase the joy, inspiration, and anointing on your life? Do what you love, but do it with a posse.
You need to operate in unity with other believers, so the new wine of the Holy Spirit can come out of your people-cluster. You also need the joy, encouragement, motivation, and safety that comes from doing life together.
Does this word speak to your heart today? If so, please leave a comment below. I'd love to hear from you!