How To Maximize Your Prophetic Transition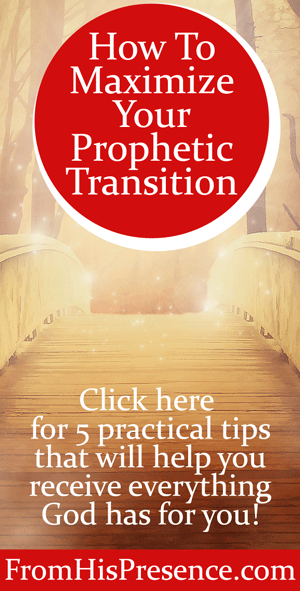 On Wednesday, we discussed the fact that prophetic transition is occurring, and how you can be aware of prophetic transition in your own life. Today, I'd like to offer 5 simple tips that will help you maximize your prophetic transition:
1. Block off time to focus on you. Give yourself some space.
This is really big, folks. Most people's schedules are so jam-packed that there's very little, if any, room for God to insert anything new in your life–let alone give you rest and rejuvenation. And when God starts to do something new, we need to enter into it refreshed.
There are two keys that will help you with this:
Key #1: It's okay to say no.
Recently, someone asked me to help with an outreach event in an area to which I'm not called. They said to me, "Hey, can you help with XYZ? It's on X date." My response? "I won't be here." They perked up, probably thinking I was going on some cool vacation, and said, "Oh, where will you be?" And my answer, with a smile, was: "Not here!"
I say that with humor, but my point is, I'm not called to everything. And if I spend my time and energy doing things I'm not called to do, then I won't have enough left to do the things I AM called to do. I'm not being hateful. I'm being faithful.
What's the takeaway for you? Be faithful to what YOU are called to do. Say no to other things. You'll be much happier and more effective for it, I promise–and you won't miss what God wants to do in your life because you're too busy trying to please people.
Key #2: Just because someone asks to spend time with you doesn't mean they get to.
Frankly, people ask me all the time, "Can I meet with you? Can I talk to you?" and sometimes the answer is yes. If God has called me to disciple somebody–if it's my daughter or son asking–I will move heaven and earth to make myself available to them. If I'm in covenant connection with someone, I share my life with them morning, noon, and night. (Although that doesn't always mean I respond to their every whim; I still have healthy boundaries.)
But if it's not someone to whom God has called me? The first, second, and third principles of management apply: delegate, delegate, and delegate.
See, if I'm not called to fill a special place in your life, then I can't help you. It's not that I wouldn't love to. I care; I really do. But if God has not called me to you, then it's because my skill set and/or what I would say to you wouldn't benefit you at this time. So I will send you to someone who CAN help you, because I can't.
Honestly, this key even applies sometimes with close friends that I AM in covenant connection with–but they understand. I have lunch or dinner with people all the time. But if I'm overwhelmed or busy trying to prepare for something urgent, and a friend asks me to lunch, I have to say no (see Key #1). My friends get it, though; they have to do the same thing.
If you will learn to have this boundary in your life, it will help you. Your time is your own, and you are responsible for it–and only YOU have to suffer the consequences for how you use it. So don't let people drain your time away. That doesn't mean be unfriendly or scroogish or stingy. It means be discerning.
So block off time to focus on you. Make plans sometimes to just go home and be alone. Take a bubble bath, read a book, or get alone with the Lord. And if someone asks you to do something? Your true and correct answer is: "I already have plans." And stick to it!
2. Find extra time for prayer.
I mean extra time. For example:
Pray in the Spirit in the car, all the way to work and all the way home. Turn the music off so you can really concentrate on God.
Instead of watching TV at night, grab your Bible and spend some time in the Word and prayer before bed.
Sneak away to a quiet place (like your car, or even an empty stairwell) at lunch and lay yourself out before God in prayer.
Finding extra time for prayer is key when God is transitioning you from one place to another. KEY. And much prayer and intimacy with God will protect you from the schemes and devices of the wicked one (see Psalm 91).
3. Rest.
Get some sleep already, beloved! You may think you can get along just fine with 4 or 5 hours of sleep a night, or even less. But I, personally, doubt that you are as great at not sleeping as you think you are.
God made our bodies to need rest. So ask the people around you if you seem grouchy and tired. Look at your body and see how your body is responding. And when you need to sleep, turn the TV off and sleep!
This is not just practical advice; it's spiritual advice too. You can't hear God clearly when you're not rested. It's hard to be at peace when you're not rested. And, as John Paul Jackson used to say, "Peace is the potting soil of revelation." In order to get clear revelation, guidance, and direction from God, you need to be rested and at peace.
So rest. Get rid of distractions. Turn off the endless flow of noise into your life, and rest… physically and spiritually. I would encourage you to consider taking a personal vision retreat. But even if you don't, rest. Wrap yourself in a cocoon of peace and white space for awhile, and let God have His way with your heart and soul.
4. Realign yourself and your schedule in preparation for what you feel your new season should look like.
Many times, I've eliminated things from my schedule that were good things, simply because God was done with them in my life. Just because you were called to something in the past doesn't mean you are called to it now.
So look at the things in which you're involved. Are they all bearing fruit? Or do some of them produce only hassle, worry, stress, fatigue, and anxiety in your life?
If you identify something in your life that is not producing the fruit of the Spirit (Galatians 5:22-23), prayerfully consider whether or not you should remove it from your schedule.
If you're not sure, seek godly counsel from someone who isn't personally involved. Ask them what they see in your life… but then take whatever they say to the Lord. Make sure any counsel you receive lines up and can be supported by Scripture.
Additionally, consider the people with whom you're aligned. Sometimes it's not about who you are; it's about who your father is. Are you aligned with the right people? Have you placed yourself under the covering and authority of people who are themselves under authority? Are you in covenant with people who are also in covenant?
If you have a history of self-seeking, and God is transitioning you, DECIDE that your self-seeking behavior stops now. Decide that you are going to serve just for the sake of serving Jesus. Line yourself up under the right authority so you can begin to make progress in your life. And be faithful.
5. Consider fasting.
Fasting is so key to powerful, victorious living. Fasting, by its very nature, separates you from the rigors of earthly life and tunes you in to the divine. Fasting tunes you in to God …
… Fasting with a right heart, that is. 🙂 Fasting with a wrong heart produces little but frustration. (For more about fasting with a wrong heart, read Field Notes From My Fasting Failures, here.)
If you're not used to fasting, go easy on yourself. Take it from me; I'm the poster child for failed fasts. But I've also fasted successfully, and fasting has had a powerful impact on my life. So here's my best advice: It is much better to do a simple fast (e.g. from desserts) successfully and with a right heart than it is to attempt big, mammoth fasts with a wrong heart and fail.
There ya go. That's my advice. Take it or leave it, but I'd encourage you to take it. 🙂
To sum it all up:
The key to getting the most out of your prophetic transition is simply to pull back from busy living for a time and give God space to do what He wants to do.
Get alone with God. Seek Him in prayer and fasting. Say no to things that would suck the life out of you. And align yourself with the people and places God shows you for your new season.
If you will separate yourself for a time and stare at Jesus, I believe you will see God move more powerfully in your life than you ever dreamed.
Did the Lord call something to your attention in this post that speaks to you directly? If so, please leave a comment below. I'd love to hear from you!