Prophetic Transition Is Occurring; Be Aware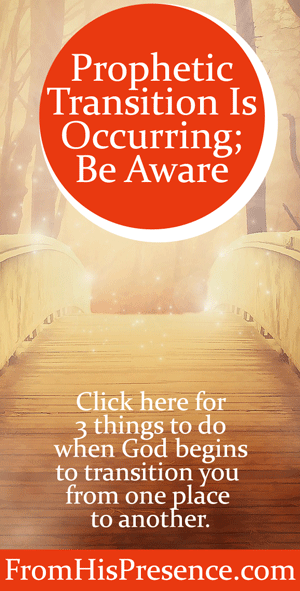 I believe we're in a season of prophetic transition. I plan to write more on Friday about how you can get the most out of your season of prophetic transition; but for today, I wanted to give you a few tips that will help you pick up on what God may be doing in your life right now.
1. Watch for prophetic signs, such as when you start seeing a particular set of numbers over and over.
Learn what the numbers mean in the Bible. God often speaks using numbers, and He does so using the interpretation found in His Own Word.
I find that He often alerts me to what He's doing in my life using numbers. For example:
Last week, He began to show me 11:11 or 1:11 all over the place–on clocks, etc. The number 11 means prophetic and transition, and the number 1 means God, and doubled anything (as in 11:11) speaks of a thing that has already been established. So God used those numbers to tell me He was transitioning me. (And God works seasonally across His entire Body, so what He's doing for me is what He's doing for you too. Read 2 Corinthians 1:4 for more.)
However, I wasn't paying attention very well, so that's why tip #2 is so important:
2. Listen to the prophetic words God sends you.
Put them all together and see what the themes are. This week, my pastor sent me a prophetic word about transition also. I was already aware of transition going on from the numbers I had been seeing, but I had taken it kind of lightly and hadn't let it sink in. I hadn't begun to pray about it or anything like that; I just thought, "Oh, transition; that's nice." #facepalm
But when my pastor sent me that word, it got my attention. I was like, "Whoa–okay, God, You've been talking and I haven't been listening. Okay. What's going on? Of what do I need to be aware?" and I began to really pray into it (which is, of course, the correct response to any prophetic word). 🙂
3. Put it all together and look for themes.
God doesn't speak for no reason. He speaks because He wants to tell you something important. And even though He speaks all the time, we have to pay attention and dig into what He's saying in order to get the most out of it. That's why He says, in Proverbs 25:2:
It is the glory of God to conceal a matter, but the glory of kings is to search out a matter" (Proverbs 25:2).
So pay attention right now. Watch for:
Verses of Scripture that have jumped off the page into your heart recently. What has God been telling you?
Godly counsel. What do your leaders tell you that they see in your life regarding what God is doing, what you're going through, etc?
Prophetic words people send you or that you see from reputable prophetic voices.
(If you don't know where to find reputable prophetic voices, start with The Elijah List, especially its Facebook page. The Facebook words are short and very, very relevant. Also, one of my favorite prophetic voices is Doug Addison, who has a HUGE gift for discerning times and seasons–the anointing of the sons of Issachar. I highly recommend following his blog and Twitter account.)
When you put the things together that God is saying, look for themes. God tends to repeat Himself until we get it! 🙂 So what is He saying? When you notice what God is saying, then you will be able to prepare yourself for what He is doing.
On Friday, I'll write more about how to make the most of prophetic transition. So be sure to check back Friday.
Have you been seeing God speak to you using signs and prophetic words? If so, what's He saying to you?