Prayer for Punitive Damages In the Spirit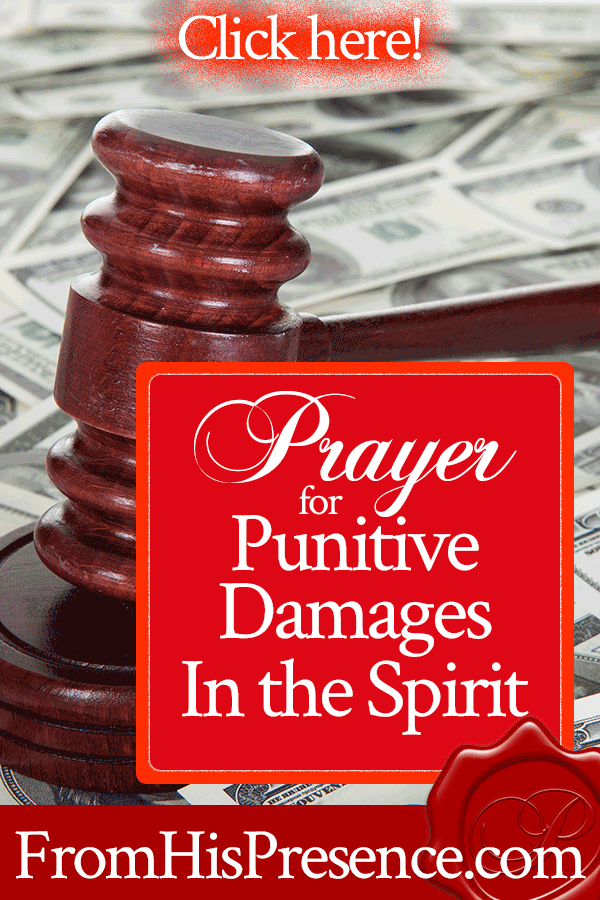 My friend, have you had things stolen from you? Has the enemy been attacking you and your family? If so, you need to pray this prayer for punitive damages in the Spirit today with me.'
Here's the backstory:
I'm mad at the devil. And while I love to be sweet and encourage you, today I'm being aggressive and I want to challenge you to war.
Here's why I'm in a warring mood right now:
1. I've spent a lot of time in hospitals over the last few weeks.
My husband had to be admitted once and seen in the Emergency Department another time. He had to have a very invasive medical procedure on an emergent basis as well.
My son had surgery and had to be admitted twice for multiple nights, with major health challenges after that. For me, my left eye is swollen up for no reason and I can barely see out of it. This stuff was all from the devil and I'm not going to tolerate it anymore.
2. I'm also ticked because of the stress I've been under.
If I didn't beg God for His grace every single morning, filling up on the Word of God, I would have cracked under the stress of this ministry + my family's health issues a long time ago. The stress has been intense, and it's wrong. All of it. It should never be happening, and the things that cause the stress should never be happening. They don't line up with God's Word.
3. God's Word says I'm due a harvest.
I've sown a whole, whole lot of financial seeds and have received some good harvests on my seed. But I've sown a lot in past years that I HAVEN'T received good harvests on–seeds sown into not-good ground, even though I thought it was good ground at the time. I am believing God to resurrect those seeds and bring me a harvest.
I also have sown a lot of:
labor;
taking care of people;
ministering to the saints; etc …
… that I haven't received a harvest on yet. But God's Word says I should receive a harvest on those things–all of them. And I. Want. That. Harvest.
I want it now, too. I'm fed up, insistent, and ready to see God's Word manifest in all these areas.
How about you? Do you feel like going to war over similar things?
Are you tired of seeing your family get attacked? Are you fed up with stress and hardship? Are you ready to see the REWARD of your laborrrrrrrrrrr??????
If so, then I want you to ask the Lord for a very prophetic and very specific thing right now:
"Lord, give me punitive damages in the Spirit."
What are punitive damages in the Spirit?
In legal terms, "punitive damages" is money awarded to a plaintiff when a person or company has done them egregious harm. Basically, the wrongdoer has to pay the plaintiff absurd amounts of money just because the harm done to them was so very wrong. This is different from "compensatory damages," which repays the plaintiff for actual costs incurred.
For example, in 2002, a woman named Betty Bullock sued a tobacco manufacturer for damages she incurred from smoking cigarettes. The jury sided with her and awarded her $28 BILLION–that's $28,000,000,000–in "punitive damages," but only $850,000 in compensatory damages.
Why did the jury award this money? Because it was a way to punish the tobacco company for its wrongdoing.
Well, you know what? The Bible says you and I are entitled to punitive damages from the devil.
Proverbs 6:30-31 says:
"People do not despise a thief if he steals to satisfy himself when he is starving. Yet when he is found, he must restore sevenfold; he may have to give up all the substance of his house."
The devil is a thief. We know this from John 10:10, in which JESUS said:
The thief does not come except to steal, and to kill, and to destroy. I have come that they may have life, and that they may have it more abundantly."
And when we catch the thief stealing from us, we have the right to ask God to make the devil repay what he stole–seven times over.
We also have the right to ask God to award us "punitive damages" for our loss … because the Bible says that ALL THINGS work together for our GOOD.
So today, I'm on the warpath. I'm mad at the devil and glad at God, and I'm fired up and mad enough to bring this whole "kit and caboodle" of SHTUFF to the Lord and DEMAND that He work it out for my good. I'm bringing the years' worth of stuff that I mentioned above to the Lord–as well as a lot more that I didn't mention in writing. And I want it ALL to work out for my good.
Not only that, but I want punitive damages awarded to me for all of it.
Don't you want punitive damages for what you've been through too?
If so, it's time to respectfully demand those punitive damage awards from God.
"Demand," you say? "But who are you to demand anything from God? You shouldn't demand anything from God!"
Oh yes, you should demand things from God. Every day, in fact.
The Bible says in Luke 18 that it's our insistent, demanding, nagging, irate-at-the-enemy-but-filled-with-faith-in-God–prayers that get results. Read it if you don't believe me. That's the kind of faith that Jesus will be looking for when He comes back to the earth at the Second Coming; and believe you me, that's exactly the kind of faith He's going to find in me.
Today.
And every other day too.
So how do you demand punitive damages from God?
Simply go to Him and present His Word about your situation back to Him. He's been waiting for us to pray His Word back to Him, and His own Word forces His hand to move on our behalf. (Which He is eager to do–but He needs US to pray to give Him permission to move in our lives.)
So if you're ready, pray this prayer for punitive damages in the Spirit with me:
"Dear Heavenly Father, I come before You in Jesus' name.
Father, thank You that You hear me. You always hear me, for I am blood-bought by the blood of Your Holy Son, Jesus Christ. He redeemed me back to You with His death and resurrection, and I belong to You.
Father, I'm coming boldly before Your throne of grace right now because Your Word says I can. Your Word insists that I should. And I am lifting Your Word back to You right now, for Your Word cannot return to You void. It must accomplish the thing for which You sent it.
Father, Your Word says that, when the thief is caught, he must repay seven times what he stole.
So Father God, right now, I want to point out to You that Your enemy and mine–the devil–has stolen a lot from me. This enemy has stolen:
Health from me and my family;
Relationships;
Finances;
Fruit from my investments in _____;
Financial opportunities and increase;
Peace of mind; and so much more.
(List specific things that have been stolen in your life here.)
Father, the thief has been caught. I present this thief to You tonight and point out that he is guilty by the evidence You see today in my life.
But Father, You have magnified Your Word above Your name.
And Father, Your Word says that the thief must repay. And I present to You that the thief is the devil; and therefore the devil must repay. I also present Your Word to You that says that ALL THINGS work together for my GOOD, for I love You and am called according to Your purpose.
So Father God, in Jesus' name, I ask right now that YOU would force the enemy to repay everything good that has been stolen from me–and that it would be repaid seven times, so that I have seven times more blessing than I had when I started.
Father God, I don't know how the payment process works in the Spirit.
I don't know what exactly the process is by which the enemy must repay what he stole from me seven times over. But Father, since I don't know, I am asking You to stand as Judge, Jury, and Enforcer and enforce the situation. Enforce my receipt of the award for my trouble.
And Father, I ask in Jesus' name that You would award me punitive damages for my trouble.
I ask that You would award me so much compensation in the Spirit–and that You will restore and bless me so strongly–that the blessing I receive now for all my trouble will be exceedingly abundantly above all I could ever dare to ask, hope, or think.
That's what Your Word says You can do, and that's what Your Word says You have stored up for me: those things that eye has not seen and ear has not heard, that have not even entered into the heart of man.
So Father, I ask right now that Your reward to me would be BILLIONS OF TIMES greater than what I ever sowed.
I'm asking for even more than billions of times greater. I'm asking that every good seed I have in the ground would produce a harvest; that You would specifically spare me from the fruit of any bad seeds I have in the ground (and help me to root those out and make them right). I also ask that You would award me HUGE punitive damages in the Spirit, such that the enemy will be sorry he ever messed with me because Your victory is broadcast over all the earth on my behalf.
Abba Father God, I ask also that You would refuse to hear or consider any appeals the enemy makes on this verdict You are rendering on my behalf.
Forever, O Lord, Your Word is settled in Heaven. Forever. And since I am appealing to You on the grounds and authority of Your Word, there can be no appeal. There can be no reconsideration. For the facts are that:
Your Word promises me a harvest on my good seeds, purchased by the blood of Jesus.
Your Word promises me that Your mercy will cover any bad seeds, for You have forgiven my sins and I am the righteousness of God in Christ. No evil shall befall me.
And Your Word says that what You have written, You have written.
Therefore, Father, do not hear the enemy's appeal.
In Jesus' name, and by His blood and stripes alone, I stand before You today in this great courtroom of the universe, surrounded by the great cloud of witnesses, and I call You to bear on Your Word right now. Your Word is not negotiable; it is forever settled in Heaven.
Therefore, O Lord, enforce and demand that I be repaid seven times for everything that was ever stolen from me, and require it at the enemy's hand. Send angels and Your Holy Spirit to deliver Your reward, Your blessing, and Your restoration into my hand and my life.
Thank You, Abba Father. Righteousness and justice are the foundations of Your throne, and I give YOU all the praise.
In Jesus' name I pray, amen."
Hallelujah! Friend, did you pray this prayer with me today? If so, leave a comment below and give the Lord praise for His righteous and unfailing judgment on YOUR behalf!