Dimensions of Destiny: Divine Alignment with the Right People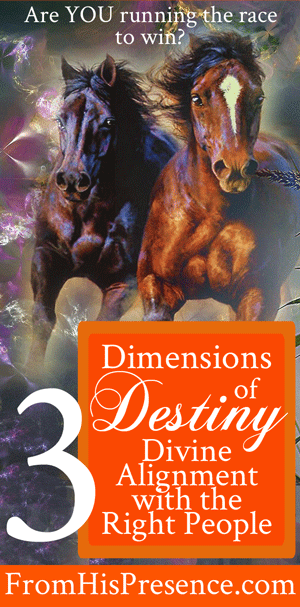 If you're hungry to reach the next dimension of your destiny, it's time to get in divine alignment with the right people.
There are two categories of people with whom you'll need to get in divine alignment: the people you follow and the people you take with you.
We'll talk about each category of people below, but let me first mention how to identify these folks. 🙂
Here's how to identify who might be your "right people":
1. They'll be kindred spirits.
The "right people" for you are the godly friends with whom you just click. You have the same heart, the same values, and the same spirit.
You won't always know at first that someone is a kindred spirit. Sometimes you just get thrown into a situation or conversation with them. They might be a total stranger.
But as time goes on and you get to know them, you find out this person is a sister or brother at heart. It takes time, so don't expect it to happen right away. But be on the lookout for those kindred spirits.
2. They'll care about you as much as you care about them.
Here are a few signs that a person does NOT care about you:
If someone uses you;
If someone only takes, takes, takes and never gives;
If a person talks about himself or herself all the time but never asks about you;
If they never bother to spend time with you or seek you out to get to know YOU better (in other words, YOU'RE doing all the work in your relationship);
If a person is a life-sucker, draining the spirit out of you …
… then RUN DON'T WALK away from that person or people. They are NOT your people. 🙂 #SorryNotSorry
You're welcome.
That's how I personally know if a person I meet has friend potential or not (not even thinking about kindred spirit potential).
If I have an entire conversation with you and I ask all about you, but you NEVER ask about me, that tells me that you are not a friend. An acquaintance, yes. Someone I'm happy to know, yes. Someone who needs ministry, possibly (and I'm happy to serve you as the Lord leads).
But not an actual friend, and definitely not a kindred spirit.
Now, there's certainly grace for this.
I have been to lunch with friends many times who are going through things, and we've talked about their situation the entire lunch. But I don't write them off for that. I understand, and there are other times when they do ask about me and show they also care about me. Just because someone needs a shoulder to cry on once in awhile doesn't mean they're self-absorbed.
Also, sometimes a person's efforts in your friendship might look different from yours.
For example, I have friends that have rarely ask me to spend time with them in person, even though I have often invited them to spend time with me (so almost all of the time we spend together has been at my invitation). It would be easy to get my feelings hurt about that, but I don't.
Why don't I get my feelings hurt about that? Because they call me on the phone all the time–on their own, without my asking them to call. And when they call, they call to really talk. Not to use me, not just to get my advice, and not just to vent. We actually talk about serious things that matter. And that means a lot to me. It's their way of spending time with me. So I am not about to write off their friendship just because their overtures of caring look different than mine.
Does that make sense?
Friendships look different and have different dynamics, but some people are friends and others simply aren't.
I know this can be hard, but beloved, if you haven't already made that distinction in YOUR relationships, with all due respect, you need to. It's important to be real. If you get your hopes up and expect someone to be something in your life that they aren't ready to be, you're setting yourself up for hurt and heartbreak.
So if someone exhibits the signs of NOT being "your people," let them go. Let them find the relationships that fit best for them, and you move on to find those that are right for you. Neeeext! Okay? 🙂
I know I'm being pretty blunt here. Are you ok? Are you still with me? Ok, good. Now back to finding the right people. 🙂
In order to reach your destiny, you have to follow someone AND take someone with you.
Every time. Without fail.
Who should you follow?
Other than Jesus, of course, Whom you should follow first and foremost in everything, you need a spiritual father.
Read my series about how to find a spiritual father here if you don't already have a father. And heads-up: unfortunately, in this day and age, leadership does not equal fatherhood.
Yes, you need to submit to your leaders. Learn all you can from them. But if you're looking for a spiritual father who will mentor you personally, you need to understand that being a leader or a teacher or even a pastor does not necessarily make you a father.
Unfortunately, if someone is not a father, you're simply not going to get fathered by them. They may have the best intentions, but they're simply not capable of fathering without the Father's heart.
It's because being a father is a heart thing.
A father will be protective of you, take personal interest in your life, and shepherd you personally. A father will love you enough to tell you hard truths. A father will see you with Father God's eyes, and will believe in you–even when you don't believe in yourself.
("Secrets of the Father's Heart" is the book I'm writing, sloooooowly, and am trying to finish this year. Check out my video about it here.)
And oh, yeah: women can be fathers too. #SorryNotSorryAgain
Women can function in every bit as much of Father God's heart and actions as men can.
In Christ, there is neither Jew nor Greek, male nor female (Galatians 3:28). And when the Father said He would take away our stony heart and give us a new heart (Ezekiel 36:26), He didn't say He had one large, Father's heart for men and another smaller, inferior one for women. No; He has one heart, and He gives it freely to all who will ask and receive it.
We are all called to conform to the image of Christ (Romans 8:29), who is the express Image of the Father (Hebrews 1:3; Colossians 1:15); so we are all called to become like Father God too.
And becoming like Father God requires us to have His heart–His heart to father people. Therefore, the math says that both women and men are called to the business of fathering and can father equally. It's called "making disciples."
(I realize that what I just said may not fit with your understanding or experience about men's roles versus women's roles in the Kingdom, but it is what the Word of God says, so let's conform our faith to the Word instead of limiting our faith to our experience, ok?) 🙂
So. Fatherhood is too big of a subject for this one blog post, but know this: you will recognize the difference between a mere leader and a father. When you feel like you're being fathered when you're around that person, it's probably because you are.
Lining up with the right father makes all the difference in the world, so find someone to father you who is a real father, who has a father's heart toward you and others.
And who should you take with you?
You have to take people with you, and the Lord will lead you to them. He has led me in the past to groups of people AND individuals, just depending on when and where. Some were for a moment; some for a season; and some, hopefully, will be for a lifetime.
Father God will put the people you're supposed to take with you in your path, so be on the lookout. I will tell you this about people that you take with you:
1. Sometimes they will simply be your friends, but you find out later that there's something you have that they need, or something they have that you need–hence the divine connection. Iron sharpens iron.
2. Sometimes they will be people in need of fathering, and God calls you to father them. Go for it if so; it will be the most rewarding experience of your life, other than knowing Jesus.
3. Sometimes they will outrank you in some area.
If someone outranks you in some area, that's okay; don't be intimidated. If God has given you something that they need, share it anyway. I don't mean share your revelation. If they outrank you, they probably don't need your revelation unless they ask, or unless they give you permission to speak into their lives as a friend. But:
Maybe they need you to watch their back in the spirit realm, and they don't even know it.
Maybe Father wants you to sow into them and bless them because nobody else does.
Maybe there's an opportunity in your hand that Father wants you to share.
Maybe somebody's so busy serving everybody else's dreams that they have given up on their own–but Father sent you to help keep those dreams alive.
Don't be afraid. If Papa puts you into divine connection with someone that outranks you and somehow gives you a burden to bless them, go for it. You'll feel God smiling on you, and you may be the only one who's sowing into that person's life. You never know!
No matter who God leads you to, you will need to take people with you in order to reach the next dimension of your destiny.
Destiny is simply a Kingdom thing. It's meant to be done together. LIFE is meant to be done together, and taking other people with you benefits you as much as it does them.
Fathering draws YOU closer to our Heavenly Father.
Making disciples helps YOU grow.
Fathering someone enlarges YOUR heart and teaches YOU as much or more than it teaches your son/daughter.
Sowing into someone else's life enriches YOU as well as them.
And sharing your opportunity with someone else, so they can have their dream at the same time you receive yours, protects you from becoming selfish and seeking your own glory.
So no matter where you are, find someone you can bless. Find someone you can raise up. Ask Papa for the Father's heart, and go sow into other people. Take them with you as Father raises you up. Make like Jesus and make disciples. 🙂
Divine alignment with the right people can change everything.
In summary: when you get into divine alignment with the right people:
You grow.
They grow.
You get opportunities you wouldn't otherwise have gotten.
Doors open for you that would have otherwise remained shut.
You see the fruit of your labor in other people's lives, which is SOOOOO rewarding.
You obey the Word and build the Kingdom.
You lift up the downcast and serve the servants.
You form a circle of honor and giving that paves the way for Father to dump blessing into your life.
It's all about divine alignment. Will you get into divine alignment with the right people today?
What is God saying to you about this subject? What do you need to do to get into divine alignment with the right people in your life? Leave a comment below and share your thoughts with our community!
Dimensions of Destiny: A Study of Divine Alignment: