Divine Alignment with the Right Things, Part 3: Your Schedule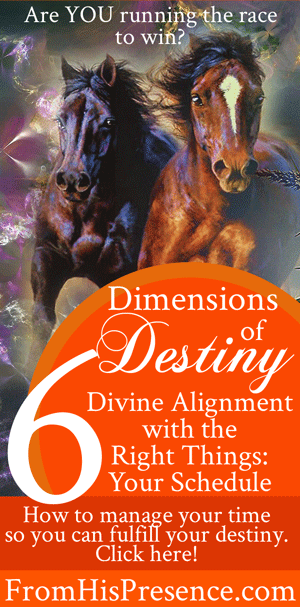 If you're making some changes in your life to bring yourself into the next dimension of your destiny, your schedule is THE key to divine alignment.
It isn't your first priority, because seeking God first has to be our first priority (Matthew 6:33) … but how you handle your schedule decides whether you seek God first or not. (That's why I'm calling it the key.) But:
Your schedule determines how healthy or sick you are.
Your schedule dictates how much money you earn;
How good (or bad) your relationships are;
and whether you fulfill your God-given ministry.
How you handle your time will determine whether you reach your destiny or not.
That's why Ephesians 5:15-16 tells us:
See then that you walk circumspectly, not as fools but as wise, redeeming the time, because the days are evil" (Ephesians 5:15-16).
Your entire life is made up of minutes. How you choose to use those minutes dictates the outcome of your life. Use them well, and you will prosper and fulfill God's purpose for your life.
On the other hand, if you squander them, your life can go by before you know it and you can miss out on God's best for you.
Which do you prefer? I, for one, want everything God has for me. Don't you?
And time management is something you can master. I promise.
It takes grace, but God's grace is sufficient for you! His strength is made perfect in our weakness.
It takes effort, but you can do it!
It takes being willing to get right back on track if you get derailed. But hey, as long as you get back on track, those temporary lapses aren't going to derail you in the grand scheme of things.
I am passionate about living intentionally, but sometimes I mess it up pretty badly.
Sometimes I get caught up in my latest 19th-century inspirational novel, and I stay up wayyyyyy too late at night. That makes me tired and unfocused the next day. But hey, I can fix it by just going to bed early the next couple of nights.
Sometimes I get overwhelmed with writing and forget to take care of my house, but I can fix that by just spending a few extra minutes on the house on Saturday, or keeping the washer running each weeknight after work.
I often get derailed from my exercise schedule, but I just let myself have a brand new beginning every day, and boom! I start again.
It doesn't matter how often you mess it up. Just get up and let yourself begin again. There's grace!
And every time you begin again, you will make more progress. You will become stronger and more adept at managing your time well.
Just like you build muscle every time you lift weights, you will build willpower and intentionality every time you let yourself start over!
Here's how I wrangle my schedule into divine alignment:
(And keep in mind, even though this works for me, you'll want to tweak this however you like to work for you!)
1. I line up my schedule with my list of priorities.
If you haven't written down your list of priorities yet, now's the time to do that. You can't align your schedule with God's best for you until you DECIDE what you're going to put first in your life (and second, and so on).
2. I try to be very careful not to allow lower priorities to encroach upon my time until I've taken care of first things first.
My first priority is one-on-one time with God, so I give Him the first of my time every morning. I learned about myself years ago that if I, personally, do other things first–even eating breakfast or taking a shower–then I tend to give Him less attention (or none at all). You may not have that problem, but I do.
So I fixed it by literally making Him first. I set my alarm for an early enough time to allow plenty of time with Him (even if I end up hitting snooze a couple of times). I get out of bed, shake the sleep off, and head into my spare bedroom, where I have set up my altar (the place I offer myself to the Lord every day). And He ALWAYS, without fail, meets me there.
Another example:
I've been working lately to try to exercise more. I struggle to exercise in the evenings OR in the mornings. I blog in the morning, and my evenings are busy and I'm often tired.
But my health is still a higher priority than my social life or church work, so I have to find a time slot for exercise. And I've found that it works really well for me to go for a walk at work before I eat lunch. I don't do it every day, but I try to walk for 30 minutes and then eat lunch afterward. I can fit both exercise and lunch into my allotted lunch break, and that frees up my morning and evening time.
Moral of the story? Do what works for you, but line up your schedule with your priorities.
3. I celebrate the little wins, and I keep at it until the wins pay off.
Life is too short not to be happy about little things. So if I exercise once this week, I'm excited about that one time and I allow myself a little pat on the back. But I don't let myself be satisfied with that. I celebrate the wins and forget about the fails, allowing myself perpetual new beginnings, until the habit pays off over time.
That's how you can change your life … one little win at a time.
For example:
Did you spend time with God this morning? Awesome! Celebrate your win, and win again tomorrow! 🙂
Did you exercise today? Awesome! Celebrate your win, and win again tomorrow! (Hey, even a ten-minute walk counts.)
Did you eat one healthy meal today? Awesome! One healthy meal is MUCH better than three unhealthy meals. You did great! Eat one healthy meal again tomorrow!
Transformation takes time, but it's okay to enjoy the process. Focus on what you DID do, not what you didn't do.
Let yourself celebrate your good decisions. And keep your eyes on TODAY, and on what you did do, and be excited for YOU. Over time, if you will do that, you will look back and see amazing transformation in your life. 🙂
Does this message speak to your heart today? Is the Lord speaking to you about how to align your time differently? If so, please leave a comment below. I'd love to hear from you!
Dimensions of Destiny: A Study of Divine Alignment:
The Amazon link above is my affiliate link. This means that, if you click through my link to purchase a resource on Amazon, Amazon will pay me a small commission at no additional cost to you. Thanks in advance! And if you love to read legal mumbo-jumbo, you can delight yourself in my disclosure policy here.