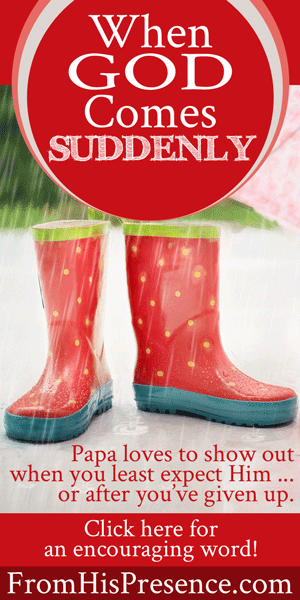 I'll be publishing the last post in the Dimensions of Destiny series on Friday, but for today, due to some things that are happening in my life right now, I wanted to talk to you about when God comes suddenly.
Have you ever noticed that God has a habit of showing up on the scene of your life in huge ways out of nowhere?
I have seen this time and time again … and often, God comes suddenly just after you've given up on a thing.
It was that way for me when I got married. Before I began dating my husband, I had been lonely for years. All I wanted was a husband. But I had finally decided that I was content to be single and didn't need to get married. After years of waiting and wishing and hoping, the Lord has finally just brought me to a place where I was receiving my fulfillment from Him.
When that happened, my thoughts changed from "I must have a husband!" to "Meh. I'm happy the way I am, so why bother changing anything?"
Then, out of the blue, my now-husband asked me out. And exactly seven months (to the day!) from our first date, we were walking down the aisle. It's been over nine years, and we're as happy as can be. 🙂 Papa knew best, and He showed up, even though I didn't expect Him.
God loves to come suddenly.
He came suddenly to the early church in Acts. Acts 2:1-4 records this event:
When the Day of Pentecost had fully come, they were all with one accord in one place.

And suddenly there came a sound from heaven, as of a rushing mighty wind, and it filled the whole house where they were sitting. Then there appeared to them divided tongues, as of fire, and one sat upon each of them.

And they were all filled with the Holy Spirit and began to speak with other tongues, as the Spirit gave them utterance."
The early believers had been praying for fifty days for the outpouring of the Holy Spirit. I don't believe they knew what the timetable was. They were simply obeying Jesus, who had commanded them to remain in Jerusalem until the Holy Spirit was poured out.
Put yourself in their place and imagine what that must have felt like.
They had a promise from Jesus, and they had each other, but they didn't know when the promise would be fulfilled. So all they could do was stay in unity and pray. And wait. And wait. And pray.
And then one day … BOOM! "Suddenly" happens. The Holy Spirit was poured out. Every believer was filled, and they began to operate in the gifts of the Spirit. People were radically transformed in one moment, and their lives were never again the same.
It happened suddenly after a long time of waiting. It happened without warning. SUDDENLY, God came.
Papa God has a habit of showing up suddenly, and He's still doing it today.
You may have some dreams you've waited for a long time. You may have even given up on some things, or simply become content without your dreams. And that's not necessarily a bad thing, if you've settled into a godly contentment where you receive your fulfillment from Jesus instead of from the thing for which you've been waiting.
But even if you've given up …
Even if you've become happy without that vision God gave you …
I felt led to tell you today to watch for God to come suddenly.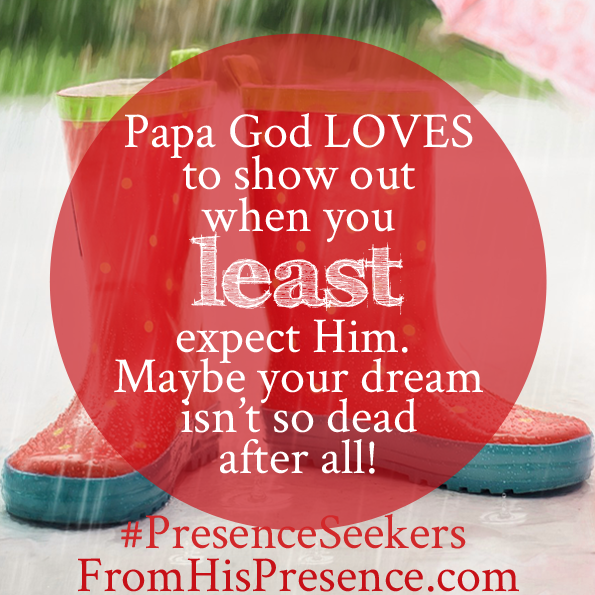 You may have forgotten about your dream, but Papa hasn't forgotten.
You may be happy the way you are, but Papa has more.
You may be content to keep doing things the way they've always been done, but maybe Papa has a new plan.
I don't know what His new plan is. I don't know what His dreams for you are. However, I do know that He loves to surprise you. He loves to do exceedingly abundantly above all you could ever dare to ask, hope, or think (Ephesians 3:20). And He ALWAYS has something up His proverbial sleeve.
So watch. Pray. Ask Him what He's up to, and ask Him for more than you've ever dreamed. Ask Him to surprise you, and watch Him do it.
You might receive more than you ever dreamed you could receive. Papa's just a good Daddy like that.
Does this message encourage your heart today? If so, please leave a comment below. I'd love to hear from you!