Prophetic Word & Prayer: The Limiting Spirit Is Off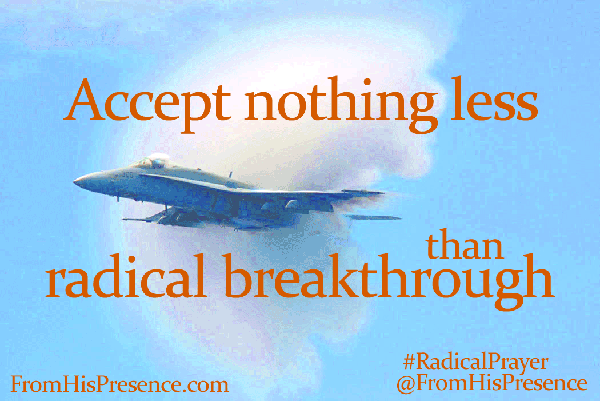 I felt like the Holy Spirit wanted me to share this encouraging, prophetic word and prayer with you today. He gave me this word a few days ago, but I felt like He told me TODAY to send it out, even though I hadn't planned to blog today! 🙂
Here's the prophetic word:
"You will see My faithfulness this year. I will reward faithfulness this year. YOUR faithfulness will be rewarded this year. You will see My righteousness in the land of the living; I will show Myself great on your behalf. THE LIMITING SPIRIT IS OFF."

"Yes, again and again they tempted God, and limited the Holy One of Israel" (Psalm 78:41).

"But as it is written: "Eye has not seen, nor ear heard, nor have entered into the heart of man the things which God has prepared for those who love Him'" (1 Corinthians 2:9).
Pray this with me:
"Heavenly Father, in Jesus' name, I thank You for this word. I thank You that he who comes to You must believe that You exist, and that You are the Rewarder of those who diligently seek You.
Thank You for seeing me, knowing me, empowering me, and ordaining my steps every day. Thank You for the privilege of knowing You, loving You, and serving You, and thank You, Daddy, for adopting me as Your child. Father, I ask in Jesus' name that the Holy Spirit would intercede for me right now.
Father, I confess that I have limited You by having a small view of who You are.
Even my loftiest dreams pale in comparison to what You have for me, for Your Word says that eye has not seen nor ear heard, nor have entered into the heart of man the things You have prepared for me.
So Father, where I have been limiting You by my doubt and unbelief, I confess that as sin and I ask You to forgive my unbelief. Father, I lift my dreams up to You right now:
Father, please fill me with Your vision for my life.
Fill me with Your dreams.
Give me dreams that are worthy of You.
Download the dreams You have had for me before the foundation of the world into my heart, and help me to believe You for the fulfillment of every one of them with the very faith of Christ.
Thank You, Father. Thank You for loving me, washing me, and making me whole. Thank You that the limiting spirit is off, and I will see reward THIS YEAR. Thank You, Father, for vindicating me, making me righteous in Christ, and showing Yourself great on my behalf.
I love You, Papa, Lord Jesus, and beautiful Holy Spirit. I love You so much. Thank You for being faithful to me. You are everything to me, and I give You all the praise right now.
In Jesus' name, amen."
Does this word speak to your heart? If so, please leave a comment below. I'd love to hear from you!
This week's featured product: My Arise, Shine! printable vision retreat handbook (with loads of bonus material) is the perfect tool to use to start any new season. This workbook contains tons of teaching and exercises, walking you through an entire vision retreat so you can get heavenly downloads for your new season.

Every believer needs to get alone with the Lord several times a year for a personal retreat, even if you have to lock yourself in your bathroom to do so! 🙂 This book will help you maximize your time with Him and receive His strategies and blueprints for your new season. Click here to purchase and download it instantly on Gumroad!
If you liked this prayer, check out my radical prayers series: