Prayer of Faith When Your Hopes Are Dashed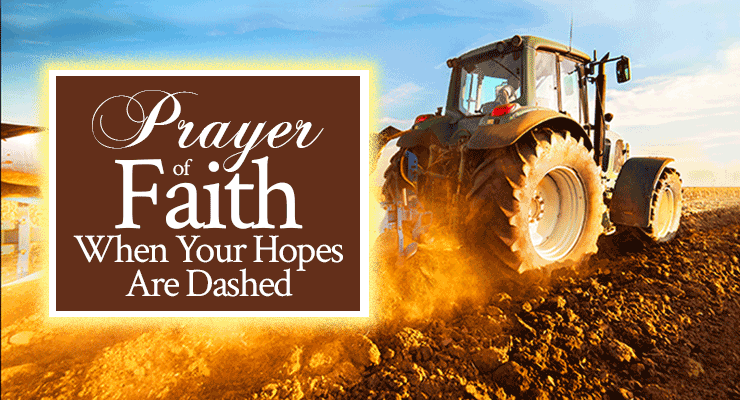 Have you had a dream destroyed recently? Are you disappointed and grieving over something that isn't going to work out the way you thought it could–and would? If so, then I encourage you to pray the prayer of faith today, even if your hopes are dashed.
Yesterday, I saw the death of one of my fondest wishes, at least for now.
It wasn't anything to do with the ministry; it was something really personal, but something that meant a lot to me. It was a dream I have cherished for many years; something important to me and my family; something good for body, soul, and spirit; and something I thought could happen now. I thought it was the right time.
However, after doing my due diligence, I came to the conclusion that it wasn't humanly possible at this time.
And I'll be really transparent here: I was heartbroken.
I felt so sad about it. Between that and a few other things yesterday, it just felt like the last straw.
But you know what? Even though I was tempted to get all over into self-pity like I have SO many times in the past, I just couldn't.
I've been through so much with the Lord, and I know Him. And I KNOW that He is faithful; and that if you delight yourself in the Lord, He will give you the desires of your heart.
Related: Get to know the Lord better by praying the names of God. Read my complete, FREE how-to guide here.
As it says in Psalm 37:3-4:
"Trust in the Lord, and do good; dwell in the land, and feed on His faithfulness. Delight yourself also in the Lord, and He shall give you the desires of your heart."
To be perfectly real, my flesh wanted to get depressed about it. And I did get sad; as I already said, my heart was pretty broken over it. BUT …
And this is a BIG deal to me …
The only thing that I could do–the only thing that was in my spirit–was to say:
"God, it's impossible. I can't make this dream happen, even though I thought I could. I thought now is the time, but it looks like it's not.
BUT GOD, YOU can still do this for me, even now. It's an impossible dream and I've got nothing, and 'nothing' is all You need to work with. 'Nothing' is what You created the earth out of.
So Father, I've got nothing and You've got everything. Please help me, and give me the desires of my heart."
That is the truth. And even though I was disappointed, and even though I asked my friends for prayer, and even though I told my husband how sad and heartbroken I was over it, I couldn't deny God …
… Because He IS.
He exists.
And He is a REWARDER who operates on and uses our FAITH.
God is the God of the impossible.
Our God, our Father, makes impossible things happen every single day. He SPOKE and created the heavens and the earth. All it took was one word. And THIS GOD is the One who tells us that, if we:
trust in the Lord;
do good;
dwell in the land;
feed on His faithfulness; and
delight ourselves also in the Lord …
Then He will give us the desires of our heart.
Related: 7 Keys to Constant Miracles
That, my friend, is the long and the short of it. That is where we have to sit down and stay, even when our hopes get dashed. Even when our fondest wishes don't work out; even when we are sad; even when the thing we thought was for now, for this, for this situation and circumstance … isn't.
We still have to sit in the seat of faith.
My friend, are you there with me right now, today? Have your hopes been dashed?
Are you in a place where you're sad, maybe even heartbroken, but you've been too far with the Lord to look back now? Are you tempted to go down into self-pity, but you know better and you're fighting off temptation with everything you've got?
Or, even if you're succumbing to the temptation to get into self-pity, are you willing to change your approach right now?
Are you willing to repent for the sin of self-pity? Are you willing to choose to stand in faith?
Faith is a choice, my friend. One of the biggest and hardest lessons I have ever learned in my life is that faith is a choice. It's not a feeling; not an emotion; not a visible circumstance. Faith is not what happens when everything works out just the way you want it.
Faith IS, however, the proof that eventually everything WILL work out the way you want it to in the big picture.
The specific details of what we want in our flesh don't always work out. Sometimes we get too attached to details, when we should let God work things out for our good. Just because we want a particular thing, person, or whatever right now doesn't mean that thing, person, or situation is God's highest and best plan for our lives.
But your faith IS the evidence that you will receive the thing you hope for.
As it says in Hebrews 11:1:
"Now faith is the substance of things hoped for, the evidence of things not seen."
If you have faith, you can be assured that things will eventually work out.
You might not:
… But you have to trust along the way that the Lord will bring you into contact with the right things and deliver you from the wrong things. Even when we get attached to certain details, we have to yield those details to God and let Him pick out what is TRULY best for us in the big picture.
Sometimes that big picture takes awhile to form.
Nevertheless, we have to stand in faith; pray the prayer of faith; and refuse to relent or back off from our position of faith. We have to keep on:
trusting in the Lord;
doing good;
dwelling in the land;
feeding on His faithfulness; and
delighting ourselves also in the Lord …
And if you will do that, my friend, then you WILL see the ultimate desire of your heart come to pass.
In the meantime, my friend, are you willing to pray the prayer of faith with me, even while you're in the waiting room of your dreams? Would you like to confess your faith to the Lord, pouring out your heart before Him, and placing your heart, your emotions, and your trust in Him in this area?
Pray this prayer of faith with me if your hopes are dashed today:
"Dear Heavenly Father, I come to You in Jesus' name.
Father, thank You for being alive and hearing me pray.
Thank You for Jesus, and thank You for being my Father. Thank You for creating the heavens and the earth, the sea, and all that in them is.
Thank You for being my all-powerful Lord and God, and yet bending Your ear to speak with me and hear the cry of my heart. Heavenly Father, I love You so much, and I thank You for loving me too.
Father, I'm depending on Your love right now and I know that You will understand.
No one else understands how important this is to me, but You do; for You love me, and You made me. You're the only One who will truly 'get it.'
Father God, You know my dream. You see my heart. You know how very important this thing was to me, and You know how long I have dreamed about it.
But Father, it looks like now that it will not happen–or may not happen right now.
Nevertheless, Father, I want You to know I trust You:
Father, even though I had hoped the time was now, it doesn't look like it is. However, I want You to know that I know You–and I know that You could do this thing for me today if You wish.
I don't know what Your plan is, Father. I'm not certain of Your timing.
But I do know that Your will is to give me the desires of my heart in the big picture. So Father, I confess to You in faith:
If now is Your time, then please make it happen supernaturally for me now. I believe You can.
If this is Your situation, then please work it out–divinely carved and created out of nothing, for I have nothing but You have everything. You can do that.
But Father God, if Your highest and best time is later–or if Your perfect way is different–then I commit my dreams to You.
Do with me and for me what You will, for I trust You. My times are in Your hands. You will eventually give me the desires of my heart, and I will wait for You to do it at the right time, in the right way, and for the right reasons.
Father God, I love You. I trust You.
In Jesus' precious name, I ask that You would strengthen me. Help me to endure. Keep my heart, Father, and help me to keep it with all diligence, for out of my heart stream the issues of life.
Keep me stable, Father; hide me in the secret place of the Most High today. Please encourage me and help me to lift my eyes up to You all day long, for my help comes from You, Maker of Heaven and earth.
Father God, I speak to my soul–my mind, will, and emotions–and I say, 'Soul, come to attention right now in Jesus' name! Soul, line up with my spirit, which is filled with Holy Spirit, in Jesus' name! Bless the Lord, O my soul, and all that is within me, bless His holy name!"
Father, please keep me as the apple of Your eye and hide me under the shadow of Your wings.
Comfort me, comfort me, and comfort me some more. Help me to keep my eyes on You. Help me to be and stay encouraged. Comfort me in my affliction and distress, Father.
Father, I pray in Jesus' name for a grateful and thankful heart.
Help me to be grateful and to thank You for all of Your many blessings, instead of giving into temptation to self-pity because I didn't get the thing I wanted. Father, let the words of my mouth and the thoughts of my heart be acceptable in Your sight, O Lord, my Strength and my Redeemer.
Thank You, Abba Father.
Help me to stay firm in You, rooted and grounded in faith in Your Word, all day today and every day. Keep me, Father, for I cannot keep myself. Bless me, Father, and help me to align my words and actions with everything You want me to say and do regarding this.
Father, I believe. Help thou my unbelief.
Do this impossible thing for me, Father, at the right time and in the right way. I pray for it now, Father, sooner rather than later if possible; but later will be fine too, because I know You work all things for my good. No matter what, I trust You.
Thank You, Heavenly Father. I love you so much, and I commit my thoughts, plans, wishes, desires, hopes, and dreams to You. Thank You for giving me the desires of my heart, whenever You choose to do it.
In Jesus' name I pray, amen."
Beloved friend, is Holy Spirit speaking to you about this today as well? If your hopes are dashed but you prayed this prayer, sow a seed of faith and also leave a comment below. I read the comments and I love to hear what's on your heart, so I can agree with you in prayer about YOUR situation.