Day 17: Ask, and You Shall Receive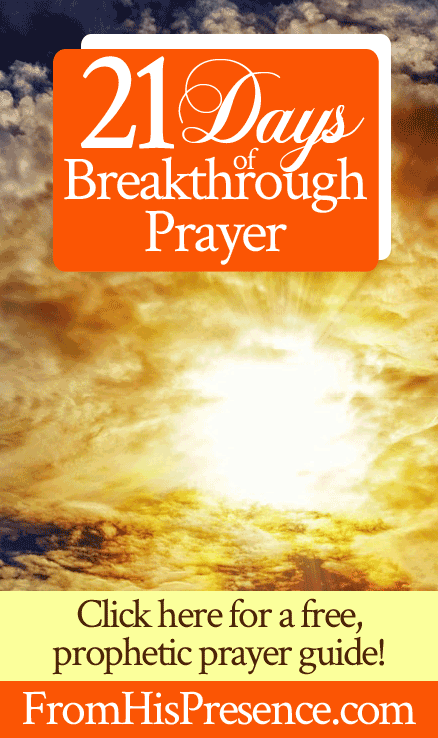 Welcome back to 21 Days of Breakthrough Prayer! Today, we are obeying God's instruction to "ask, and you shall receive!"
A couple of reminders:
This is a very simple series; I am not expounding on each Scripture very much, except through a bullet-point list to share some prayer pointers. I also am not writing out sample prayers, as I believe the Lord wants you to exercise your prayer muscles and make these Scriptures your own vocabulary for prayer.
But, even though it's a simple series, I believe it's a POWERFUL one … and I want to hear your testimonies as the Lord answers your prayers, okay?
See the 21 Days of Breakthrough Prayer series table of contents here.
And now, for Day 17 of 21 Days of Breakthrough Prayer:
Our Scripture for Day 17 is Matthew 7:7-11, which says:
Ask, and it will be given to you; seek, and you will find; knock, and it will be opened to you. For everyone who asks receives, and he who seeks finds, and to him who knocks it will be opened.

Or what man is there among you who, if his son asks for bread, will give him a stone? Or if he asks for a fish, will he give him a serpent? If you then, being evil, know how to give good gifts to your children, how much more will your Father who is in heaven give good things to those who ask Him!" (Matthew 7:7-11).
Pray along these points to ask, and you shall receive:
Thank the Father for everything He has done already, and for hearing all your prayers so far.
Thank You that His ear is bent toward you and inclined to your cry.
Ask Holy Spirit to show you if there is anything you need to get right with Him before you go on. If He shows you something, confess it, repent of it, ask Papa's forgiveness, and ask Him to fill you with His Spirit where that was.
Thank Father for caring about you so much, and for being such a good Father.
Thank Him that His Word does not return to Him void; it always accomplishes the thing He sent it for when you pray it back to Him.
Point out to Father that this passage says specifically that if you ask, it will be given to you. Then decide on a single thing to ask Him for today, and ask Him for that thing very specifically.
Thank Him for giving it to you.
Point out to Father that this passage also says that if you seek something you need, you will find it. Decide on one thing that you're looking for, and ask Him to lead you to it. (It could be a missing item; an answer or solution to a problem; an open door somewhere; etc.)
Ask Him to help you seek this one thing that you're looking for diligently, since seeking is the pre-requisite to finding in this passage.
Thank Him for showing you where the thing is that you need to find.
Point out to Father that His Word says that if you knock, doors will be opened to you. Decide on one opportunity or open door that you need, and ask Father to open that door for you, in agreement with His Word.
Ask Him to help you knock on that door, since you have to knock on the door in order to have it opened to you according to this passage.
Thank Him for opening that door.
Ask Him to give you all the best gifts, the good and perfect gifts that are in agreement with His perfect will.
Ask Him to give you even more than you asked for; to help you find even more than you sought for; and to open even more doors for you than you knocked on.
Thank Him for so generously doing all these things for you!
Related: How to Get Your Prayers Answered 100% of the Time
That's our breakthrough prayer for day 17!
Remember to use the verse itself as your vocabulary for prayer. Doing so will not only help you pray the most effective prayers it's possible to pray, but it will also help you hide God's Word in your heart, that you might not sin against Him (Psalm 119:11).
Did you pray this Scripture with me today? Or, do you have a testimony to share about how God has answered this prayer? If so, please leave a comment below! I'd love to hear what the Lord is saying to you!