Prophetic Word for October: You Cannot Ask Too Largely
Dear Presence seekers,
Want to know what the Lord is doing right now, and how to pray strategically? If so, I have an encouraging word for you!
Holy Spirit is brooding over me heavily right now with this prophetic word for October. Here's what He showed me for His Body this month:
By the way, if you are blessed by our ministry, would you prayerfully consider sowing into this ministry financially? We need your help to keep reaching people all around the globe for Jesus. You can give here via PayPal or sign up to be a monthly partner via Gumroad here. Thank you so much for your support!
1. Sit down immediately and make a list of what you want God to do for you in 5779.
Be sure your list is in writing. You need to be able to refer to it often and pray over it. You need to be able to read it and run with it. Even the angels need to see it so that they can run when they read it.
In Habakkuk 2:2-3, we read this:
Then the Lord answered me and said: 'Write the vision and make it plain on tablets, that he may run who reads it. For the vision is yet for an appointed time; but at the end it will speak, and it will not lie. Though it tarries, wait for it; because it will surely come, it will not tarry.'"
2. I heard Holy Spirit whisper over and over, "You cannot ask too largely."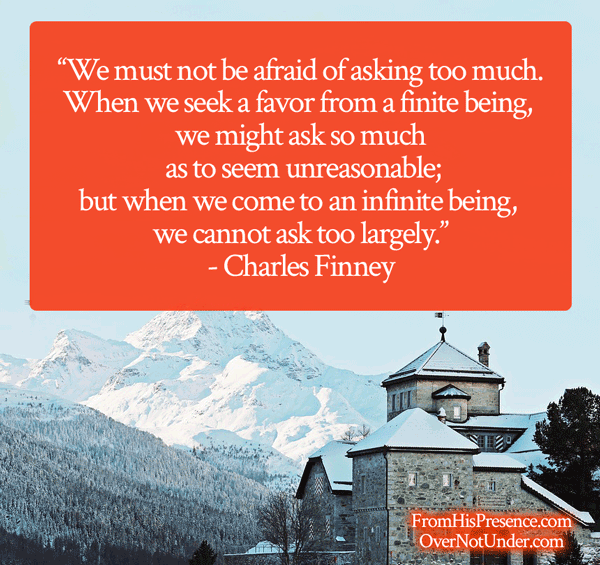 Charles Finney, a great general from the Second Great Awakening, said:
We must not be afraid of asking too much. When we seek a favor from a finite being, we might ask so much as to seem unreasonable; but when we come to an infinite being, we cannot ask too largely" (from "The Reward of Fervent Prayer," May 15, 1850).
This morning, as I was praying over my day, Holy Spirit prompted me to make my own list of what I'm asking Him to do for me in 5779. As I wrote down several things, I heard Him say over and over, "You cannot ask too largely."
He was challenging me to ask for more.
Related: Heavenly Prayer Directives for Your New Season
I wrote down a few things I need or want, but then I kept forgetting to push in. Each time I thought I was through–or when my mind wandered–Holy Spirit nudged me again.
It was as if He was looking at my list and saying, "Come on. I need you to ask for more so I can do more. Help me out, please." Holy Spirit wanted me to expect more and to cover more aspects of our life and ministry in prayer and holy expectation. He was prompting me to put a draw on His infinitude, His awesomeness, His eternal perspective and unspeakable power.
The Lord wants YOU to ask for more too.
Over the last several days, Holy Spirit has convicted me that so much more is possible than we, as Christians, have been believing for, wishing for, or hoping for. I believe He is challenging His whole Body in this area. So please, tune in to His nudging. Expand your possibilities and ask for exponential growth.
Free gift: The image below fits personal Facebook covers. I made it for you if you'd like to borrow it. 🙂

3. Claim Matthew 7:7-8 as you pray over your list.
Matthew 7:7-8 says:
Ask, and it will be given to you; seek, and you will find; knock, and it will be opened to you. For everyone who asks receives, and he who seeks finds, and to him who knocks it will be opened."
This promise is just one piece of legal evidence (out of many in Scripture) that you can lift back up to the Lord with your prayers. God always honors His Word. He has magnified His Word above His name, and it never returns to Him void.
God's Word works! So when you pray through your list, remind Him of His Word and tell Him you know He has to do what you're asking because HE said He would!
4. If you expect something next year, begin to live it now.
The best way to step out in faith AND change your reality is to begin to live your future now. Here's what I mean:
It's always best to pre-determine your outcome before the target time period ever starts. Then, start living your goal now. When the target time period begins, you'll already be in the space you've been dreaming of.
So how does this apply to you?
Simple. Whatever you want God to do for you next year, work on it and prepare for it like it's happening now … because as soon as you ask Him for it, it's a done deal according to Matthew 7:7-8. You just have to execute the steps to see it come to fruition.
5. Ask God to enlarge your territory.
First Chronicles 4:10 says:
And Jabez called on the God of Israel saying, 'Oh, that You would bless me indeed, and enlarge my territory, that Your hand would be with me, and that You would keep me from evil, that I may not cause pain!' So God granted him what he requested."
Did you see that? Let's look at it closely. Jabez asked God:
to bless Him INDEED;
to ENLARGE his territory;
that God's hand would be with Him;
that Father would keep Jabez from evil; and
that he would not cause pain to anyone.
And because Jabez asked, God granted him what he requested.
John 16:24 says:
Until now you have asked nothing in My name. Ask, and you will receive, that your joy may be full."
Father God is no respecter of persons. If He'll do it for Jabez, He'll do it for you.
Do what, you ask? Why, grant you your request, of course–even if your request is for huge blessings, bigger territory, God's hand to be with you, to be kept from evil, and to be a blessing and never to hurt anyone. He'll do that for you. Ask and you shall receive, that your joy may be full.
But have you asked recently?
I don't know about you, but I have only been asking a little bit. I've been so tired that I've been surviving, not dreaming like I should have. But Father God and Holy Spirit are waking me up to bigger dreams because time is urgent.
If you desire to co-labor with God, ask Him to enlarge your territory.
6. Ask God to strengthen you in your inner man.
Many of you have been so tired, as I have. In this time, we need to pray in the Spirit and also ask Father God to strengthen us in our inner AND outer man. Remember that it's your spirit that communes with God, so don't neglect the maintenance and upkeep of your spirit.
7. Ask Holy Spirit to bear more fruit through you for Jesus than ever before.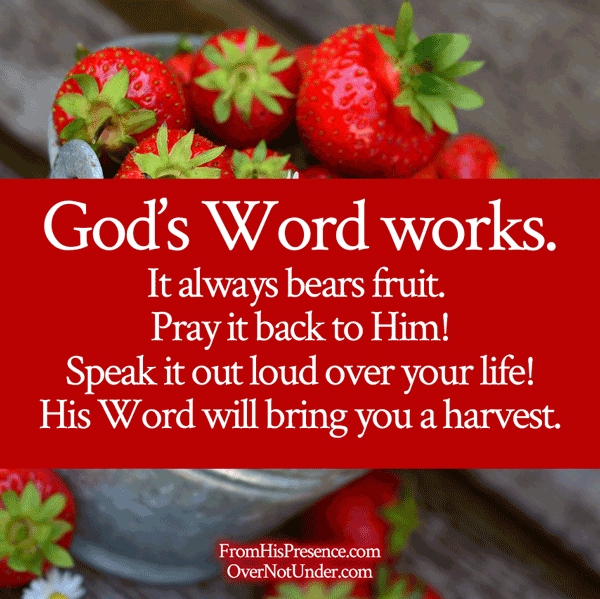 Without Jesus, we can do nothing. But, with God, all things are possible. It is God who works in you both to will and to do for His good pleasure. So this month, double down and ask Holy Spirit to bear His fruit through you.
Ask Him to fill you with love, joy, peace, longsuffering, kindness, goodness, faithfulness, gentleness, self-control, and even more good things (Galatians 5:22-23). Confess your natural inadequacy to Him, but also confess your faith that He can and will bear thirty, sixty, and a hundred times more fruit through you than He has ever borne before.
It's harvest time.
Pray through the prayer directives above daily. Ask Holy Spirit to bring Jesus a harvest this month through you, and ask Him to bring you a harvest this month through Jesus. Pray big, pray with expectation, and pray often. You cannot ask too largely!
Does this prophetic word for October resonate with and confirm what the Lord has been showing you? If so, please leave a comment below! I love to hear from you!