Worried About Something? The Perfect Solution Is On Its Way!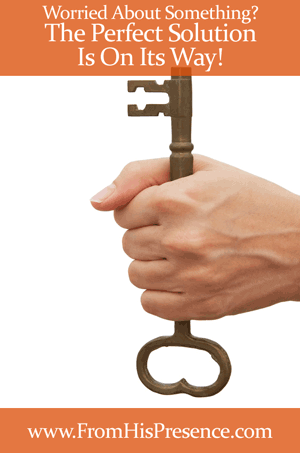 Have you been worried about something that is beyond your control recently?
If so, I'd like to encourage you today. You are not alone, and there is a God in Heaven who is on your side.
God loves you. He's your biggest fan, and He is going to fix your problem. If you're worried about something, look at these three encouraging things:
1. God knows what you're going through.
He knows all about the problem. He knows how you feel. He knows what's been happening to you. He knows what other people have been doing, too. He knows all about the situation in every way. Psalm 139:1-4 says:
O Lord, You have searched me and known me. You know my sitting down and my rising up; You understand my thought afar off.

You comprehend my path and my lying down, and are acquainted with all my ways. For there is not a word on my tongue, but behold, O Lord, You know it altogether."
Your Father God knows you intimately. It's not possible for Him to overlook you. Take time to think about that, and let God comfort you. You are NOT alone!
TIP: God knows things about your problem that you don't even know! Ask Him to reveal great and mighty things to you, and in my experience, some of the great things He tells you just may be about your problem. 😉
2. He wants to take away your anxiety so you can have peace in this difficult time.
Philippians 4:6-7 tells us that if we'll just tell God all about it (which is prayer), and ask Him to fix it (which is "supplication"), and thank Him in advance for fixing it and for who He is, then He will give us peace instead of anxiety. Check it out:
Be anxious for nothing, but in everything by prayer and supplication, with thanksgiving, let your requests be made known to God; and the peace of God, which surpasses all understanding, will guard your hearts and minds through Christ Jesus."
If you're worried about something, would you take a minute to tell God all about it? Just talk to Him like you would talk to your best friend–in everyday, conversational language.
If you will tell Papa God your problems, ask Him to fix them, and thank Him for hearing you and fixing everything, His peace will flood your emotions. You won't be anxious anymore. It may still take time to see the problem solved, but you will have inexplicable peace throughout the process.
"What happens if the anxiety comes back" you may ask? So glad you asked! If anxiety comes back, go to God again and repeat the process. Tell Him all about it, ask for help, and thank Him… then RINSE AND REPEAT as often as necessary. 🙂
3. God is going to solve the problem for you, and solve it perfectly.
You don't have to try to fix things yourself. If you've caused the problem by your bad behavior, you do need to make your part right, of course. You do have to get right with God and make sure you've repented of your sins. You do have to make things right with people that you've wronged.
However, not all problems are caused by your sin or by things you've done. Some things are completely out of your control, and you don't have to try to fix those things. Why? Because God is going to fix them for you.
Psalm 138:8 says:
The Lord will perfect that which concerns me; Your mercy, O Lord, endures forever; do not forsake the works of Your hands."
Did you hear that? God will PERFECT that which concerns me. Not just fix it, but fix it perfectly.
God will PERFECT that which concerns you, too. He knows how to fix everything in ways that you can't even imagine. He has the perfect solution, and He's going to bring it.
Are you worried about something?
Your Papa God doesn't want you to worry. He knows what you're going through. He's right there with you. He will take away your anxiety and give you peace if you'll let Him. And He is going to perfect everything that concerns you.
What do you need God to perfect for you today?