Day 16: The Former Rain and the Latter Rain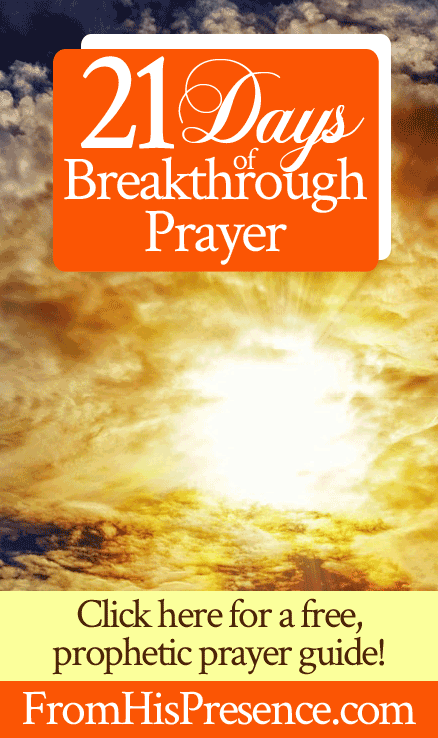 Welcome back to 21 Days of Breakthrough Prayer!
A couple of reminders:
This is a very simple series; I am not expounding on each Scripture very much, except through a bullet-point list to share some prayer pointers. I also am not writing out sample prayers, as I believe the Lord wants you to exercise your prayer muscles and make these Scriptures your own vocabulary for prayer.
But, even though it's a simple series, I believe it's a POWERFUL one … and I want to hear your testimonies as the Lord answers your prayers, okay?
See the 21 Days of Breakthrough Prayer series table of contents here.
And now, for Day 16 of 21 Days of Breakthrough Prayer:
Our Scripture for Day 16 is Joel 2:23, which says:
Be glad then, you children of Zion, and rejoice in the Lord your God; for He has given you the former rain faithfully, and He will cause the rain to come down for you—the former rain, and the latter rain in the first month" (Joel 2:23).
Pray along these points, as applicable:
Thank the Father for all the mercy drops of answered prayers He has already answered to this date in your life.
Thank Him for bringing you where you are, and for never leaving you nor forsaking you.
Thank Him for helping you seek Him during this set-aside time of consecration with breakthrough prayer.
Thank Him for being so faithful to always provide all your needs.
Tell Him that you're reading His Word here, and it says that He will continue to pour out as He has done. Thank Him for that.
BUT, if Father has promised you more than you have seen manifest in your life, point out to Him that His Word promises that He'll continue doing what He's always done, but He'll add more to it (the former plus the latter rain).
Ask Him to pour out for you both the former rain–the provision He has always manifest; the mercy drops–PLUS the latter rain–the HUGE provision, manifest promises, and answers to prayer that He has promised you.
Ask Him to pour this out on you NOW.
Ask Him to continue pouring it out even after these 21 days of breakthrough prayer.
Remind Him of what He has promised you.
Thank Him for all of His mercy drops.
Point out to Him that the mercy drops, though needed and lovely, are NOT fulfillment of what He said He would do.
Ask Him to do the full quota of what He said He would do, and do it now.
Remind Papa of 1 John 5:14-15, which says: "Now this is the confidence that we have in Him, that if we ask anything according to His will, He hears us. And if we know that He hears us, whatever we ask, we know that we have the petitions that we have asked of Him."
Thank Him for hearing your prayer. Thank Holy Spirit for helping you pray.
Thank Him for giving you the petitions you have asked of Him!
Related: How to Get Your Prayers Answered 100% of the Time
That's our breakthrough prayer for day 16!
Remember to use the verse itself as your vocabulary for prayer. Doing so will not only help you pray the most effective prayers it's possible to pray, but it will also help you hide God's Word in your heart, that you might not sin against Him (Psalm 119:11).
Did you pray this Scripture with me today? Or, do you have a testimony to share about how God has answered this prayer? If so, please leave a comment below! I'd love to hear what the Lord is saying to you!