Fasting Brings Acceleration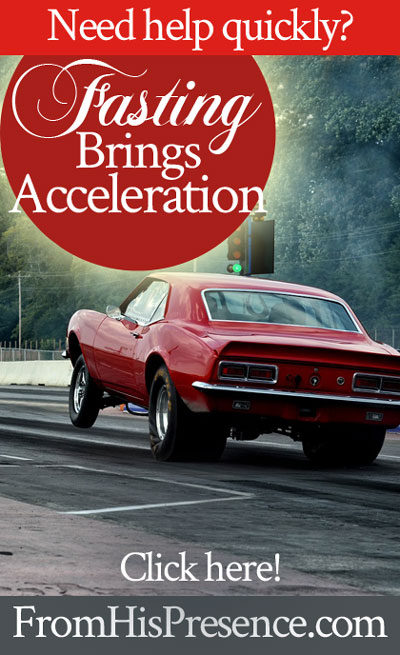 Beloveds, I'm spending time with the Lord this morning and I felt urgently that I am supposed to tell you this today: fasting brings acceleration.
Many of you have received promises or prophetic words from the Lord, but you haven't seen progress toward those promises. Fasting brings acceleration.
Others of you are in desperate need for God to answer your prayer. Will He answer anyway? YES. But fasting brings acceleration.
Some of you have been earnestly waiting on God for material and financial provision. Will He provide anyway? YES.
But fasting brings acceleration.
God has been blessing me quite a bit lately. Every blessing has been a welcome change, because you all know I've been through some pretty hard times over the last few years. Sometimes it has felt like the fulfillment of my promises would never arrive. (That's why we don't operate on feelings; we operate on faith.)
But fasting brings acceleration.
And every time I have been desperate for breakthrough, I felt led of the Holy Spirit to take to fasting.
And every time I have fasted …
Not kidding, every time! …
Breakthrough that seemed like it was very far off came quickly.
Because fasting brings acceleration.
So what's the word for you today?
Just this:
If you have been sensing the prompting of Holy Spirit to take to fasting, even in mild ways (e.g. fasting from desserts), please, follow His prompting.
Because fasting reaches forward into the future and pulls things which are far off, in the normal course of events, into the here and now IN THE SUPERNATURAL COURSE OF EVENTS.
And by the way, fast specifically for the breakthrough you need.
If you need a new job, write down the kind of job you desire, the work hours you want, the salary you want, and the benefits you need. Then fast and pray, pray, pray SPECIFICALLY for those things. Name them out loud in prayer to God.
As in, "Father, please send me a new job with THIS pay and THIS working environment and THESE benefits. Thank You, Lord."
You have not because you ask not, right? That's what the Bible says. So it's time to get to asking.
Do you need money? Write it down, and pray for money.
Do you need relationships? Make a list of the relationships you want, and pray over those specific relationships over and over.
Beloved Presence-seeker, I can't even tell you how many breakthroughs the Lord has brought me–nearly ALL in response to prayer combined with fasting.
This is the word I felt like I was supposed to share with you today. Fasting brings acceleration.
Is Holy Spirit prompting you to fast already? Is this word confirming something in your spirit? If so, please leave a comment below. I'd love to hear what's going on with you!
Love in Christ,
Jamie
Related articles I've written about fasting:
10 Practical Tips for Easy Fasting
Field Notes From My Fasting Failures
The Supernatural Grace for Glorious Fasting
On Intercessory Fasting
Would you help me with my work of reaching people for Jesus as a domestic missionary? This blog, and all of my mission work in person, are made possible through your partnerships, donations, and product purchases.
If you'd like to help me, please check out the partnership details and products available for sale here. And, thank you in advance for helping make this blog and everything we do together for the Kingdom possible!