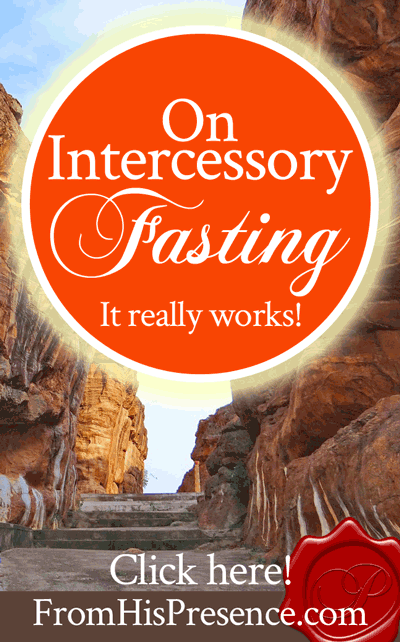 If you're anything like me, you may have seen situations lately that break your heart:
People who are hurting;
People who aren't right with God;
People who aren't pursuing the call of God on their lives;
Relationships that are messed up; or
Any other situation in which someone you love is not walking in God's best according to His Word.
If that's you, and you're desperate for breakthrough, I felt like I should share with you what I do to obtain divine intervention for someone else.
I'm not sharing this to get any kind of credit or so anybody will look at me. I'm sharing this because it's a tool–a weapon in the arsenal of God–that many believers might not be aware they can use.
The weapon that will get you incredible breakthrough for someone else is intercessory fasting and prayer.
There's something about fasting. It adds atomic power to your prayers. It somehow moves the heart of God to such a degree that it speeds up His work and gives Him prerogative to accomplish His will on the earth faster and with more power than He could otherwise.
(Remember that He has placed us in charge over the earth, and He moves on it in response to our prayers.)
And intercessory fasting and prayer is no different.
When you pray and fast for someone else, you will see God change people's hearts even if they don't want to be changed at this very moment. He'll take away their hardened hearts and give them a soft heart of flesh. He'll take away their old spirit and give them a new spirit.
Over and over, I've seen indescribable success and breakthrough with intercessory fasting.
I don't have biological kids of my own yet, but I do have spiritual kids, and I love them. They have my heart in the same way that you love your biological kids. And over and over, when my kids have not been right with God or walking in His best, I have seen God:
radically transform them;
set them free;
change their hearts;
heal relationships; and
turn them back to Himself in response to intercessory fasting and prayer.
It's incredible. It's unreal.
God always answers prayer, but I think there's something special about it when we go to intercessory fasting and prayer.
I feel like it's because, when we fast and pray for someone else, we are literally doing what Jesus did (albeit in a smaller manner): laying our lives down as a highway for God to ride into the hearts of our sons and daughters.
Father God loves and honors that heart that is enough like Jesus that it's willing to sacrifice its own comfort and hunger in order to see His will come forth in someone else's life.
If you feel called to an intercessory fast for someone you love, here are a few tips that will help you:
Related: 10 Practical Tips for Easy Fasting
1. Don't go into it without first preparing your heart.
Pray over the fast before you begin it–asking God for conviction to fast, for grace to fast, and to give you the desire to fast and a love for that person that will sustain you throughout the fast.
I recently felt called to fast for one of my sons. The need was desperate, but I didn't begin the fast right away. I prayed over it first for about a week before I actually felt led to begin.
But when the Lord put it on my heart to actually start the fast, it was like He flipped a switch. He gave me a sudden grace for that fast that lasted the entire length of the fast. And I watched Papa absolutely transform my son's life and pull him back from the pit. It was unreal.
2. Ask God for grace for fasting.
I taught on this (plus more about point #1) in my MP3 teaching called "Supernatural Grace for Glorious Fasting." You can check out my blog post about that here and get the actual MP3 here on my Gumroad store if you want.
Suffice it to say, there is truly a grace for fasting that makes fasting easy. (And I'm the one who LOVES her Mexican food.) 🙂 If I don't have that grace, I can't fast. My willpower is zilch without the grace of God. But with that grace, God has sustained me through many fasts, from which I've seen permanent results. 'Nuff said. Papa will help you if you ask Him.
3. Know that God will answer your prayers and fasting with magnificent results, even if you don't feel like your sacrifice is big enough to obtain the level of results you need.
God hears the cry of our hearts. In intercessory fasting, I think He responds most to the love in our hearts for that other person–the love that drives us to sacrifice ourselves and lift that son or daughter up to Him in prayer. Those prayers are sweet incense in God's nostrils.
But remember that Jesus already paid the price for our breakthrough.
We don't have to flagellate ourselves and try to earn that breakthrough. We simply have to lift our sons and daughters up to God. We can't ever earn the breakthrough ourselves.
This is important, because when you love someone, you want breakthrough so badly for them that sometimes you think you have to earn it. You think that, in order to see God transform their lives, you will have to do something really long and arduous like fasting on nothing but water for 40 days.
I'm not knocking fasting on water for 40 days. I think that's awesome, and I know beyond a shadow of a doubt that it is possible.
But God responds to faith.
You know how I have fasted and gotten the most results?
By simply skipping one meal each day. For me, it's usually breakfast. I'm sharpest in the morning, and I have the most willpower then; so I usually choose to fast just that one meal. I still have to go to work and everything just like when I'm not fasting, but I spend time during my morning quiet time praying for the person for whom I'm fasting.
Then, at work, I keep praying for them while I go about my daily tasks. And I just keep lifting that person up to Father all day whenever the Holy Spirit reminds me.
And you know what? Fasting by simply skipping breakfast may not seem like much, but God answers.
Skipping that one meal is what I can do, and He hears the cry of my fast and prayers. He answers. Radically. Every time.
So what are you in a position to offer up to God right now? Offer Him what you can. Offer Him your best, but don't compare your best to someone else's best or to some legalistic idea of fasting. Simply get your heart right before God and keep petitioning Him boldly. He will answer because JESUS paid the price.
4. Know what you're asking God for.
Write down what you want to see happen at the beginning of your fast. Do you want to see a relationship restored? Do you want to see someone repent of their sins and turn to God? Write it down.
When I'm fasting as intercession, I write my prayer list and requests in one place my journal and keep a bookmark there. Then I go back to it often. I also write down the answers God sends throughout the fast on the same list, so I can see all the progress He's made at a glance.
So know what you're asking for. Write down what you want to see happen. (No witchcraft, please; pray for God's best, not your good ideas.) Keep your list with you all the time and pray through it often. You'll see God answer in ways you never imagined He could.
5. Write down what God does every single day during your fast.
Literally every day, write down the answers to prayer that you receive. Even if they seem small:
Make a note about that awesome conversation you had.
Make a note about how you saw change in that son or daughter's heart.
Make a note about the people He brings alongside you who also speak into that child's life.
The more you recognize and honor what God is doing every day of your fast–the more you memorialize and cherish His answers to your prayers–the more results you will see. It's simple as that. What you bless and honor will always increase in your life.
Your intercessory fasting and prayer can radically transform someone else's life.
When you love someone so much that you're willing to lay down your comfort and hunger as an offering to God, He answers rapidly and with power.
Is God calling you to fast and pray for someone? If so, prepare your heart. Make your list. Pray and pray and pray some more … and EXPECT God to answer.
Does this word encourage your heart today, or confirm something the Lord has been prompting you to do? If so, please leave a comment below. I'd love to hear your experience!
Would you help me with my work of reaching people for Jesus as a domestic missionary? This blog, and all of my mission work in person, are made possible through your partnerships, donations, and product purchases.
If you'd like to help me, please check out the partnership details and products available for sale here. And, thank you in advance for helping make this blog and everything we do together for the Kingdom possible!