Prayer for Comfort and Holy Vengeance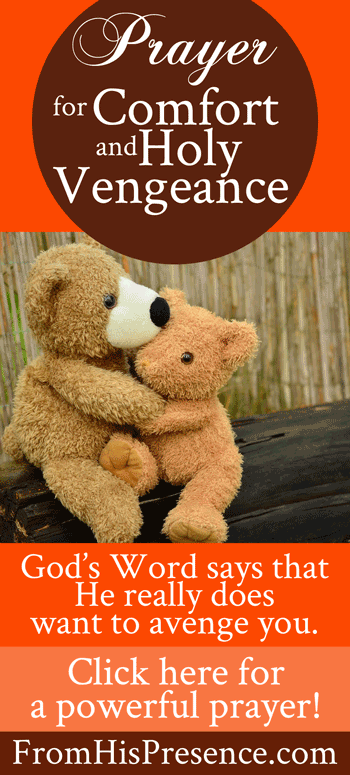 Have you been through something awful lately? Do you need comfort? Do you need God to work holy vengeance on your behalf?
I was upset about some things recently, and I went to the Lord about them.
When I did, all of a sudden He gave me words to pray that I had never prayed before. They were words of releasing the wrongs that had been done to me and asking Him to fill every place with His Presence and healing virtue.
As I prayed this prayer (which I wrote down in my journal as He gave it to me), I felt a tremendous release of the burden that had been hurting me. I felt God's peace settle around me and over me like a thick blanket.
It was wonderful.
So because this prayer for comfort and holy vengeance was so powerful for me, I wanted to share it with you today.
But first, a word about holy vengeance:
We have no problem believing that God wants to comfort us. For most of us, comfort is a very easy thing for which to ask.
But vengeance? Well, that's something else. We don't hear too much in the Body of Christ about vengeance. Yet … the Scriptures are full of verses about how God wants to wreak holy vengeance on our behalf.
Related: My post popular blog post is this Scriptural prayer to reverse unjust situations. Check it out!
Oh, His vengeance is not like our vengeance. We have to remember that vengeance belongs to God. Romans 12:19 says:
Beloved, do not avenge yourselves, but rather give place to wrath; for it is written, 'Vengeance is Mine, I will repay,' says the Lord."
Vengeance belongs to God. It's NEVER something we should try to obtain for ourselves.
Nevertheless, it is something for which we should pray, for it's God's revealed will in Scripture to avenge His people.
Check out these verses:
Rest in the Lord, and wait patiently for Him; do not fret because of him who prospers in his way, because of the man who brings wicked schemes to pass. Cease from anger, and forsake wrath; do not fret—it only causes harm. For evildoers shall be cut off; but those who wait on the Lord, they shall inherit the earth" (Psalm 37:7-9).

and

"The wicked plots against the just, and gnashes at him with his teeth. The Lord laughs at him, for He sees that his day is coming. The wicked have drawn the sword and have bent their bow, to cast down the poor and needy, to slay those who are of upright conduct. Their sword shall enter their own heart, and their bows shall be broken" (Psalm 37:12-15).
Those are just two passages about God's vengeance, but Scripture is full of them. Study it, and you'll see.
We just have to understand that God's vengeance is not like our vengeance.
God's vengeance is totally good, holy, just, and righteous–not bitter, angry, or motivated by retribution like ours is. Only He is capable of avenging us in a holy way. That's why we should leave it to Him. 🙂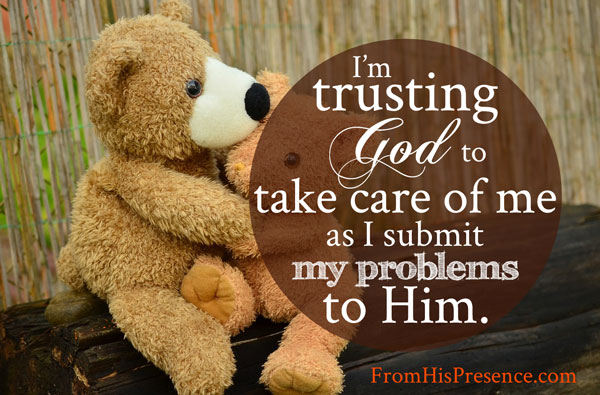 So, are you ready to pray for comfort and holy vengeance? Here's the prayer the Lord gave me:
"Father God, in Jesus' name, I thank You today for hearing my prayer. Thank You for seeing all things that concern me and my life, and thank You for always taking care of me.

Father, I need healing for my heart right now. I need Your help, too. So Abba Father, right now, I'm going to cast all my cares on You. I'm choosing not to be anxious, but instead, in everything–with prayer and supplication, with thanksgiving, I choose to make my requests known to You.

And Father, I ask in Jesus' name that, according to Your promise, Your peace which passes all understanding would guard my heart and mind in Christ Jesus. Let Your peace settle over me like a blanket, Father, and I pray that the Holy Spirit would comfort me. Thank You, Abba.

So Father God, I lift up the hurt of my heart to You right now, and I ask You to heal me.

Father, for every place that I have been abandoned, I ask that You would show Yourself to still be with me; that Your glory would be my rearguard, my front-guard, my guard on every side.

For every place I've ever been despised or forsaken, I ask that You would come in and help me to know that I'm cherished by You. Help me to feel Your love and watchcare over me.

For every place I've been betrayed, Abba, I pray: show Yourself more loyal to me, and more faithful, than I've ever seen before. Help me to see Your loyalty and Your faithfulness manifest in my life in tangible ways.

For every place I've been hurt, show Yourself to me to be my Healer and Healing.

For every place I've been demeaned, show me how valuable I am in Your sight.

Father, I ask that for every curse that's been spoken against me, for every foul thing that's been said about me, every evil thing that's been plotted against me, You would turn it around and work it out for my good.

Father, for every place I've been dishonored, stick up for me personally. I call on You, Holy Spirit, as my Attorney, Paraclete, Helper, Advocate, Standby, and Defender. Jesus, I call on You as my Righteousness and my Intercessor. Get me justice from my adversaries, and save me from those who have risen up against me.

For every place I've lost my joy, give me double joy. Restore the joy of my salvation, in Jesus' name.

Lord, Your Word says (Psalm 37:15) that the sword of the wicked shall enter their own heart, and their bows shall be broken. So remove their swords and arrows from my back and from my heart, O God, and let their swords and the Sword of Your Word enter their own heart in a good and holy way, as only You can do, and let their bows be broken. Heal every wound in my body, in my soul, and in my spirit that they have inflicted, Lord; and convict them for the sake of Jesus.

Father God, I lift up my enemies to You. Your Word says we do not wrestle against flesh and blood, but against the evil one. Father, remove every evil influence from my enemies. Bring them into holiness, godliness, righteousness, and purity in every way. Convict them of their sin for the sake of Jesus, and glorify Your own name in them.

Father God, I ask in Jesus' name that You'd remove every trace of this attack from my life other than the good You have brought from it.

Where there has been shame, remove it from me completely and give me twofold recompense. Where dishonor has been inflicted or placed upon me, remove it and clothe me with double honor instead. Where any damage has been done at all, work a great healing in my life and bring me to a higher level than I've ever been before.

Help me, Father. I can't bear this alone.

I lay it at Your feet, casting all my burdens on You, and I'm believing You to sustain me. Please bless me and reward me for the persecution I've been through. Give me the Kingdom of Heaven according to Your Word.

Thank You, Father. Thank You for always watching over Your Word to perform it. Thank You for hearing and answering my prayer, for I pray according to Your Word. I give You all the glory, and I thank You for comforting and healing me.

In Jesus' name. Amen."
Beloveds, we serve a good, good Father. No matter what you've been through, He sees. He knows. AND HE CARES.
Ask Him to comfort you and avenge you today, and keep clean hands and a pure heart before Him while He does. If you will, you will see Him move powerfully on your behalf–for He always watches over His Word to perform it.
Does this prayer resonate in your spirit today? If so, please leave a comment below! I love hearing from you!