Spiritual Warfare: Your Answers Have Been Dispatched
When you're fasting and and praying for breakthrough, you need to know that spiritual warfare will often rise against you. Why? Because THE VERY MOMENT you begin praying, God sends the answer.
This is vitally important for you today. I'm going to say it again:
The moment you pray, God sends the answer you prayed for.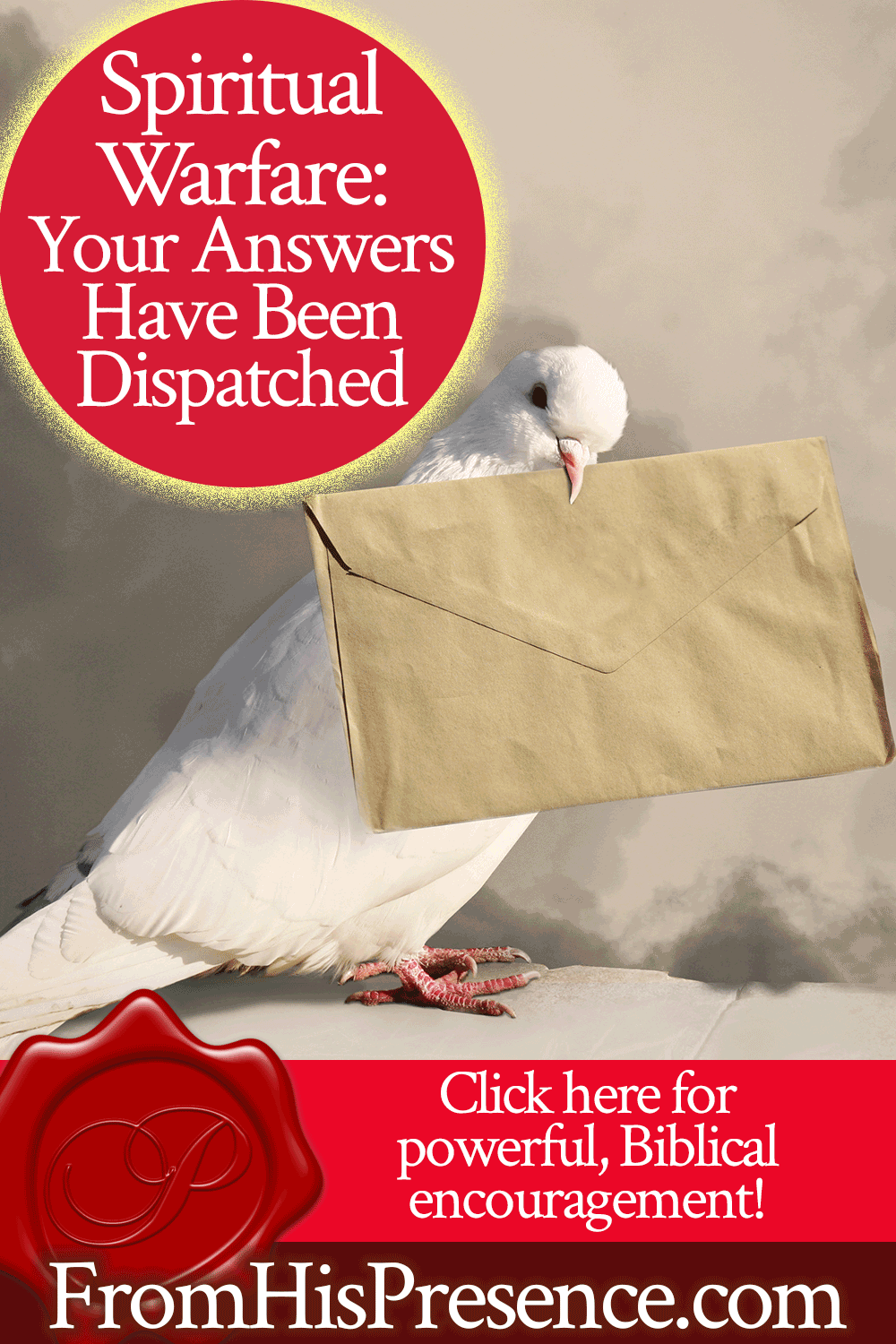 We see this in Daniel chapter 10. Daniel is on a 21-day fast. At the end of the 21-day fast, he sees a vision of the Glorious Man, who is the pre-incarnate Christ.
(Note: Lest your first response be to say, "But Jesus would not have required the help of angels to win the battle mentioned in Daniel 10!" … then let me point out that the angels who speak to Daniel and strengthen him at the end of the chapter are NOT the same Being as the Glorious Man, Jesus, whom Daniel sees at the beginning of the chapter.

Read this chapter carefully and you will see this. There are multiple beings appearing to Daniel in this chapter, including at least two angels, as well as Jesus, the Glorious Man.)
Anyway, Daniel sees a vision of Jesus. The description of Jesus, the Glorious Man, in Daniel 10 matches the description of Jesus in the book of Revelation exactly.
Then, Daniel passes out or is slain the Spirit.
Next, an angel comes and tells Daniel that he, the angel, has been sent to tell Daniel some things.
This is what we read:
"Then he said to me, 'Do not fear, Daniel, for from the first day that you set your heart to understand, and to humble yourself before your God, your words were heard; and I have come because of your words.

But the prince of the kingdom of Persia withstood me twenty-one days; and behold, Michael, one of the chief princes, came to help me, for I had been left alone there with the kings of Persia.

Now I have come to make you understand what will happen to your people in the latter days, for the vision refers to many days yet to come'" (Daniel 10:12-14).
Notice that the angel told Daniel that from the first day Daniel set his heart to understand and humble himself before God–in other words, the first day of his previously-described fast–his prayer was heard. He must have been dispatched from Heaven at that moment, because the angel discloses that he has been fighting spiritual warfare in the heavenlies for 21 days–the full duration of Daniel's fast!
So the answer to Daniel's prayer was sent the very moment he, Daniel, first prayed that prayer.
This is consistent with what Jesus told us in Mark 11:22-24:
"So Jesus answered and said to them, "Have faith in God. For assuredly, I say to you, whoever says to this mountain, 'Be removed and be cast into the sea,' and does not doubt in his heart, but believes that those things he says will be done, he will have whatever he says.

Therefore I say to you, whatever things you ask when you pray, believe that you receive them, and you will have them" (Mark 11:22-24).
In Mark 11:22-24, Jesus Himself says "WHEN" you pray, believe that you receive the things you prayed for. That means:
Well, Daniel prayed. He set himself to humble himself before the Lord, and he prayed for understanding. And in the very moment that he prayed, his answer was dispatched from Heaven.
Yes, there was a delay. There was spiritual warfare over the answer.
The angel who was sent with God's answers for Daniel got caught up in warfare in the heavenlies. God had to send Michael the archangel to back up that angel, and help him get through the spiritual warfare which he fought for 21 days.
But eventually, the answer got through the spiritual warfare. It was sent the moment Daniel prayed, and Daniel got everything he had asked God for.
And you know what? The same thing applies to you too.
IF you will believe when you pray, then …
The things you ask God for are granted to you and dispatched to you in the very moment you pray.
If you're fasting and praying right now, that means that the fullness of the things you are fasting and praying for were released to you on Day 1 of your fasting and prayer time–at the first moment you prayed.
For me, that means:
1. I'm fasting and praying for $55,000 to purchase and clean the 5.14 acres of land for Paid-For Parsonages for Pastors that adjoins our current tract.
That amount works out to tithe [which we always pay on the gross] + purchase money + closing costs + 4-5 days of forestry mulching.
And since I've prayed for this amount to come in for this project, that means God has already granted it to me. If you're called to help fund this, please contact me. 🙂
2. I'm fasting and praying for our first $1,000,000 donation to put toward building the Paid-For Parsonages for Pastors.
The road itself will probably cost around $100,000. Utilities, survey, and a site plan will be included in that first $1,000,000 too. And I'd like to build 3-4 parsonages all at the same time to save costs, and I'd like to break ground in March.
Yes, this is an ambitious plan, but it's ambitious only for the Kingdom and for the advancement of the cause of Christ, so it's my privilege to believe God who only does wondrous things. I've prayed for this first $1,000,000, and so according to His Word, God said "YES" at the moment I prayed.
That means He has instructed someone, somewhere, or multiple people, to send this first $1,000,000. If that's you, please contact me. 🙂
3. I'm fasting and praying for a RIVER of financial provision for everyday ministry expenses.
We need $6,000 to move Pastor Dan Brown to Chattanooga, as he is coming on as full-time staff to be on the phone praying with you day in and day out. He has already sold his house in Colorado and is packing to move. We need the Lord to send the $6,000 to hire the trucks to move him and his family.
We also need the Lord's provision every single month, including about $30,000 this month between now and the end of the month. I'm so grateful to all our faithful readers like you who give sacrificially, and I'm asking the Lord to do miracles and increase the RIVER of His provision every month exponentially.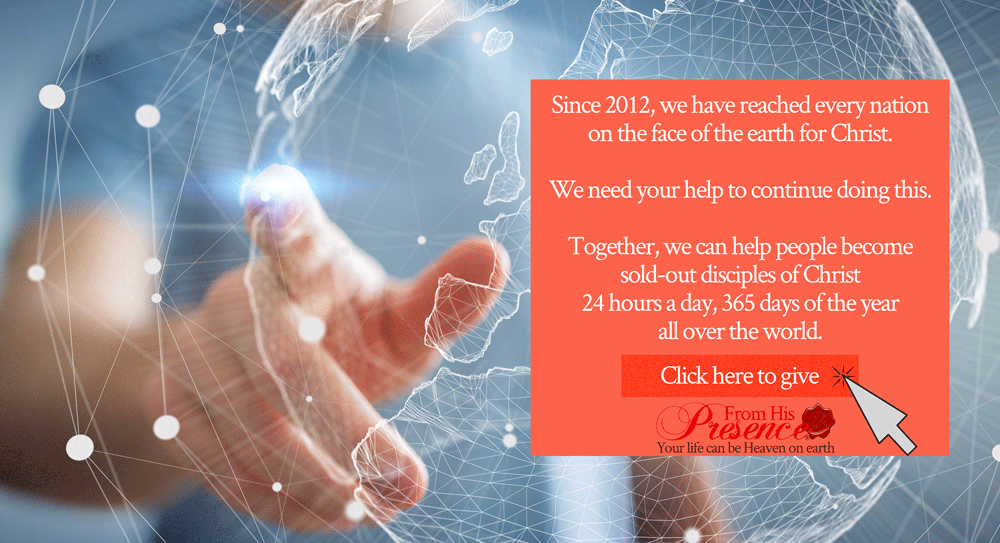 But you know what? Because I BELIEVED when I prayed, I know according to the Scriptures above that the Lord has already sent the RIVER of provision we need.
And finally, for me and my family personally:
4. I am praying for the Lord to give my family land to build a house on, personally.
Related articles: Prayer for a Paid-For House, Prayer for Land Inheritances, and Urgent Prophetic Bulletin: Your HOUSE and LAND
My husband and I greatly desire to get out of the city and move to the country. We want to raise our son in the outdoors, like we were both raised. And I need trees and nature–they bring rest to my soul. There are few things I enjoy more, and that bring me rest more, than walking through the forest and communing with God. We are praying for land to be able to do that.
But since I believed when I prayed, the Lord has already dispatched the land to us that He has for us–even if I don't see it physically yet today.
And beloved, no matter what you've prayed for, if you believed when you prayed, then God dispatched the things you prayed for to you too.
So if that's true–which it is–then what on earth is the rest of the fast for? Why do we continue to pray?
Well, #1, we continue to pray because that's what Jesus calls "FAITH."
Luke 18:1-8 says this:
"Then He spoke a parable to them, that men always ought to pray and not lose heart, saying: "There was in a certain city a judge who did not fear God nor regard man. Now there was a widow in that city; and she came to him, saying, 'Get justice for me from my adversary.'

And he would not for a while; but afterward he said within himself, 'Though I do not fear God nor regard man, yet because this widow troubles me I will avenge her, lest by her continual coming she weary me.'"

Then the Lord said, "Hear what the unjust judge said. And shall God not avenge His own elect who cry out day and night to Him, though He bears long with them? I tell you that He will avenge them speedily. Nevertheless, when the Son of Man comes, will He really find faith on the earth?" (Luke 18:1-8).
Jesus told us here that He considers our continual, insistent prayers to Father God to be demonstrations of faith. He even wonders if He will really find such faith on the earth when He returns.
I don't want Jesus to consider my faith to be lacking when He returns; do you? Of course not! So that's reason #1 why we continue to pray.
Reason #2 that we continue to pray is to push through the warfare.
Our prayers seem to provide fuel to God's forces of righteousness, the angels who are fighting on our behalf. As we pray, God's forces win and our answers get pushed through the warfare that the enemy sends to hinder our breakthroughs.
Reason #3 that we continue to pray is that our prayers release God to move in our spheres of influence.
Psalm 115:16 says this:
"The heaven, even the heavens, are the Lord's; but the earth He has given to the children of men" (Psalm 115:16).
All authority in heaven and earth belongs to Jesus, but He has delegated authority over the earth to us as His "middle managers." That's why we're kings and priests unto our God.
He respects the "middle managers" He has appointed. So, if we want Him to move in the spheres over which He has delegated authority to us, we have to ask Him to do so. We have to ask Him to move. That "asking Him to move" is called "prayer"–continuous prayer.
So even though we received the thing we asked God for at the moment that we prayed, we continue praying until we see the thing manifest.
Don't faint and don't give up. Don't quit; never quit! Instead, pray and fast and believe God and speak the Word of God, which is the sperma of God and which literally births the thing on the earth.
Related: Get my tools to help you speak the Word over your life in my book Speak Life Volume 1: Chart Your Course with Your Words, available in paperback here and in PDF ebook format here.
Beloved, God dispatched His answers to your prayers at the moment you prayed.
What did you pray for? For what things have you asked God? What are you standing in faith for, without doubting, nothing wavering? THOSE THINGS are on their way to you.
Yes, you may experience some spiritual warfare first. My family and I have been experiencing crazy amounts of spiritual warfare–BUT GOD is working it all out for our good. He'll work any battles out for your good, too, my friend; for His Word says:
"And we know that all things work together for good to those who love God, to those who are the called according to His purpose" (Romans 8:28).
Every bit of spiritual warfare works out for your good.
My friend, God has sent your answer to prayer already. Therefore, beloved, I urge and exhort you today: Continue contending for their manifestation. Ask Father to send Michael the archangel to help push through the great victories for you that Jesus purchased on the cross. Pray and believe and speak the Word.
You will win.
Beloved, this battle is stacked. Jesus has already overcome, and victory is assured.
Will you be standing in faith, and therefore worthy to receive, when your victory finally breaks through the spiritual warfare in the heavenlies? Leave a comment below!