21 Days of Breakthrough Prayer: Angelic Assistance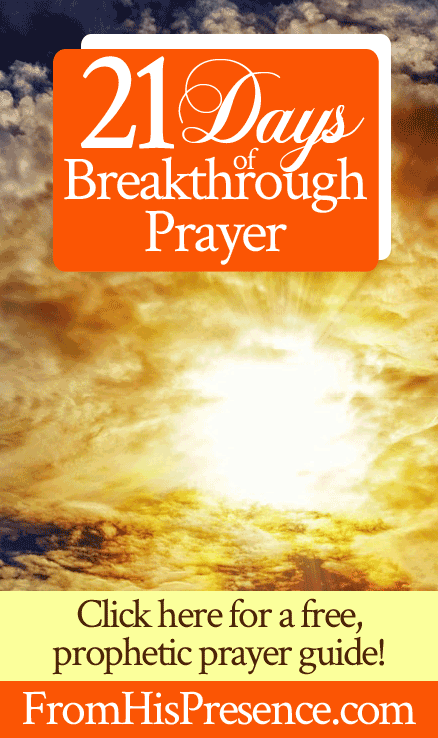 Welcome back to 21 Days of Breakthrough Prayer! This simple series will provide you with Scriptures to pray into for 21 days, asking the Lord for your breakthrough. Today, we are praying for angelic assistance.
A couple of notes before we begin:
This is a very simple series; I am not expounding on each Scripture very much, except through a bullet-point list to share some prayer pointers. I also am not writing out sample prayers, as I believe the Lord wants you to exercise your prayer muscles and make these Scriptures your own vocabulary for prayer.
But, even though it's a simple series, I believe it's a POWERFUL one … and I want to hear your testimonies as the Lord answers your prayers, okay?
See the 21 Days of Breakthrough Prayer series table of contents here.
Without further ado, here's Day 6 of 21 Days of Breakthrough Prayer:
The Scripture verse of the day is Psalm 91:11-12, which says:
For He shall give His angels charge over you, to keep you in all your ways. In their hands they shall bear you up, lest you dash your foot against a stone" (Psalm 91:11-12).
Pray along these points:
Ask Father God to help you dwell in the secret place of the Most High–the secret place of His presence–continually (Psalm 91:1).
Ask Father God to help you abide under His shadow (Psalm 91:1).
Confess out loud to the Lord that He is your refuge and fortress; your God, in whom you shall trust (Psalm 91:2).
Thank Father God for giving His angels charge over you, to keep you in all your ways.
Point out to Father God that His Word shows example after example of His angels sending help to His people when they need it. For example:

An angel brought food to Elijah in the wilderness.
An angel released Peter from prison.
Angels rescued Lot and his family from Sodom before it was destroyed.
An angel brought an encouraging message of instruction to Joseph when he found out Mary was pregnant.
An angel ministered to Jesus in Gethsemane.
An angel showed the apostle John all around Heaven.

Thank the Lord that His angels are at work in your life as well.
Point out to the Lord that He is no respecter of persons; so what He did for others, He will do for you as well.
Ask the Lord to TRIPLE the amount of angelic assistance you are currently receiving in your life.
Ask Him to send His angels:

to carry messages to you from the Lord;
to show you Heaven and heavenly things;
to protect and deliver you;
to minister to you;
to strengthen you;
to do warfare on your behalf; and
to bring you provision and resources from Heaven.

Ask Father God to help you remember to test the spirits when you encounter them, so you'll know they are holy angels from God.
Ask the Lord to help you see His angels, since that's how people in the Bible functioned. (They interacted with the angels.)
Ask Him to help you notice His answers to your prayers!
Then thank Him for tripling the angelic assistance in your life, as well as all the rest of the above!
Related: 31 Days of Supernatural Encounters: Heavenly Hosts
Also related: Read what Rick Renner has to say about the power of legions of angels working on your behalf, here!
That's our breakthrough prayer for day 6!
Remember to use the verse itself as your vocabulary for prayer. Doing so will not only help you pray the most effective prayers it's possible to pray, but it will also help you hide God's Word in your heart, that you might not sin against Him (Psalm 119:11).
Did you pray this Scripture with me today? Or, do you have a testimony to share about how God has answered this prayer? If so, please leave a comment below! I'd love to hear what Papa is saying to you!