Day 5: Heavenly Hosts and Orbs of Light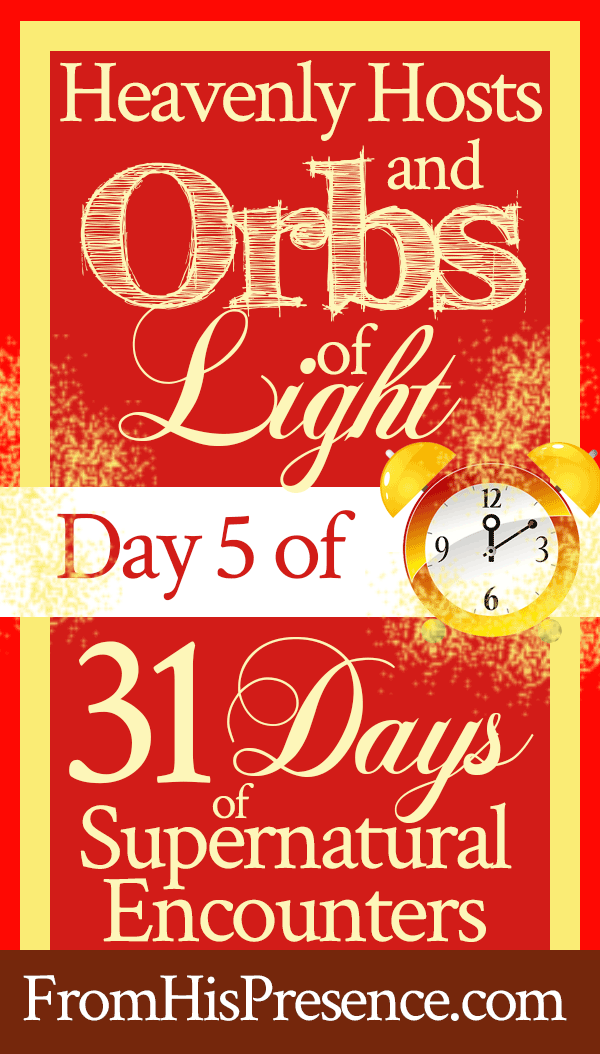 Welcome to Day 5 of our 31 Days of Supernatural Encounters free devotional series!
(Click here for the series index.)
Every day of this series has four parts: Read, Know, Pray, and Listen. As you walk through this series, I pray that you would be powerfully impacted and that Holy Spirit would take you to a new level of intimacy with Jesus!
Day 5:
Read: Acts 20:7-8
And upon the first day of the week, when the disciples came together to break bread, Paul preached unto them, ready to depart on the morrow; and continued his speech until midnight.

And there were many lights in the upper chamber, where they were gathered together" (KJV).
Know:
Would you like to experience visitations from heavenly beings? You absolutely can!
Here's the backstory:
The Bible tells us that there are many different kinds of creatures and beings in Heaven. These beings and creatures include things like:
God Himself, who is Spirit;
Angels;
The four living creatures around the throne;
Humans; and more.
Of course, we know that Holy Spirit is always with you, living inside you, if you have given your life to Jesus.
We also know that Jesus can and will manifest Himself to you personally, if you love Him. We've already talked about those things here on the blog repeatedly, and we may talk more about them later as well.
But did you know that God sometimes sends angels AND other sorts of creatures to minister on earth too?
Yup. God sends angels to earth to minister to us … and sometimes He sends other creatures too.
Because we have limited understanding of heavenly beings, we tend to call everything except God that manifests itself here on earth an "angel." However, that terminology is not necessarily correct. God can send any sort of being to visit us that He wants to send.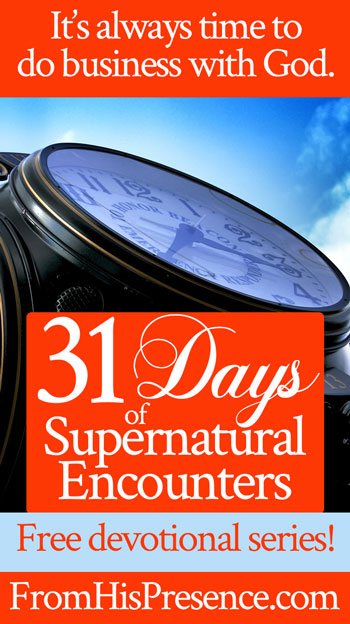 For example, I've heard very well-known prophetic voices talk about being visited by heavenly beings such as "watchers" and other things. Each time I've heard a testimony about these things, the teller has always described how the visiting being carried the very atmosphere of the throne room.
Let me first be clear that we must TEST THE SPIRITS.
As we discussed in yesterday's blog post, when something supernatural appears to you, you need to ask that thing/being to confess that Jesus Christ is come in the flesh.
If they will, then they are from the Lord. If they will not, they are NOT from the Lord.
But as long as we know how to test the spirits, then we don't have to be afraid of receiving visitations from heavenly beings that Father God might send to us.
And there is a certain kind of being that manifests itself on earth in the form of moving, ministering orbs of light.
I do not know if these particular kinds of beings are simply an odd appearance of angels, or if they are something else. My personal belief is that they are most likely something else.
Here's the first reason why:
First, the Scripture I asked you to read today–Acts 20:7-8–is key. This passage describes how Paul was preaching one night. He was preaching as late as midnight, so you know it was dark outside. However, the author–a very detailed historian named Doctor Luke–takes care to point out that "there were many lights in the upper chamber."
Key point (and this isn't original; I heard it first from John Paul Jackson but have seen it myself since then):
If Luke meant that there were a lot of torches in the room, or oil lamps, that would be a very odd thing to comment on. It was dark outside for hours during this story. Paul was preaching and people were listening. Of course they had some sort of light source in the room.
Having natural light of some sort in the room at midnight is so obvious it's totally unremarkable. It's like saying, "And all the people had their clothes on" as part of a story. It's an extra detail that is not needed. Of course they had light.
However, Luke found this one thing remarkable: that there were many lights in the room.
What's the significance?
A few years ago, with the advent of digital photography, people began seeing some things on camera that they had not seen before with the naked eye.
When people began taking digital video and still photographs of worship services, prayers, etc, something strange began to show up: orbs of light. They didn't show up all the time; they showed up when worship was at its most fervent; when people were chasing God with all their hearts.
Again, they show up both on video and still photography. I've personally taken photos and seen these orbs of light. (Although I was not able to locate any of my own photos of this, as they were taken several years ago; so I'll show you some other people's photos in the videos at the bottom of this post.)
When I was first learning to hear God, I attended a class called "The Art of Hearing God" by the late John Paul Jackson's Streams Ministries. At the end of the workshop–sort of as the icing on the cake–our facilitator showed us some videos of some neat supernatural things that have been documented in church services.
And one of the videos showed the orbs of light.
The first time I saw them was at this class. It was on a video, and the video showed a beautiful, powerful worship service. People were praising the Lord, worshipping through the dance, and waving banners and flags. You could tell they were just welcoming the Presence of the Lord.
Suddenly, DOWN THROUGH THE ROOF came a huge number of orbs of light.
They descended downward in huge numbers. They looked like a cloud of bubbles would look, if you took your child's bubble bottle and began blowing bubbles all over the place–thousands of bubbles.
Except, these bubbles moved purposefully–and they came DOWN. Through the closed roof and down into the worship. They were obvious balls of light on camera.
Then, the bubbles (or orbs, as I'll call them going forward) began to interact with the worship. Some of them embedded themselves in the banners and flags that were flying through the air. Some of them stayed with the people, seeming to minister to the people. Some of them just flew around.
After awhile, all at one time, the orbs began to ascend. They went back UP through the air and through the roof, disappearing through the roof.
When I saw these orbs on video for the first time, I was amazed. So I started looking for them in the worship services I attended!
At that time, I sang in the choir at my church. Several of the choir ladies and I began taking photos of one another, or of the choir, or of the congregational worship when worship seemed to get really intense.
And sure enough: often, when we looked at the photos, we would see these orbs of light in the photo. Usually, the orbs would be sitting on the shoulder or otherwise positioned next to someone who was really caught up in worship. It seemed like these orbs of light were actually ministering to the people, somehow touching them with a heavenly touch.
I experienced their ministry myself many times, and saw others experience it as well.
So what are these orbs of light, anyway? Are they angels or something else?
My answer: Again, I don't know. However, I tend to believe personally that they are something else–perhaps something the Bible calls "heavenly hosts."
I already explained how Luke wrote in the book of Acts that the room was filled with lights. To me, the fact that this detail was included appears to indicate that this was an unusual phenomenon.
However, angels were not unusual to the believers in the early church. Angels appeared repeatedly to people in Acts, and the writers always called them what they were: angels.
So if these orbs of light were angels, wouldn't they have simply called them such?
However, there IS another reference in the Bible to heavenly ministers that are different from angels.
It's found in Psalm 103:20-21, and it says:
Bless the Lord, you His angels, who excel in strength, who do His word, heeding the voice of His word.

Bless the Lord, all you His hosts, you ministers of His, who do His pleasure."
When David wrote Psalm 103, he wrote what he meant. There is no reason to believe that he wrote anything other than exactly what he meant.
And what David wrote in Psalm 103 was addressed to two sorts of beings:
Angels, who excel in strength, who do His word, heeding the voice of His word; and
Hosts, who are ministers of God's, who do His pleasure.
I believe that this text appears to say that David was instructing two different kinds of beings. This is my personal belief only; you are welcome to disagree with it. However, I believe the Bible means what it says and was written entirely by Holy Spirit's inspiration.
I've also seen photographs of angels from reliable sources–and they were shaped like humans, not like orbs of light. I've also had angels visit me personally in dreams; and again, they were shaped like humans. Made of light, but shaped like humans.
Then there's also James 1:17, which tells us that God is the Father of lights.
James 1:17 says:
Every good gift and every perfect gift is from above, and comes down from the Father of lights, with whom there is no variation or shadow of turning.
God is the Father of lights. Lights! Hmmm … that's an odd thing to be the Father of, don't you think? Unless maybe He really meant exactly what He said–and there are lights that He made?
It's food for thought.
What I do know is that these orbs of light are actual beings–not just random balls of light.
They can't be just random lights, meant to illuminate a room, because:
They don't always manifest to the naked eye, so physical light cannot be their purpose;
They clearly have a will and can think, for they actively participate in worship;
They can see, for they sit on individual people or join the worship in ways that require one to see what's going on; and
They actually minister to God's people.
But whether these orbs of light are all angels, or whether they are a different kind of heavenly being, here's why this matters:
We should want to experience everything on earth that is currently happening in Heaven. And since Heaven is full of angels, heavenly hosts, and more, we should want to experience that here on earth as well.
We do NOT worship angels. We do NOT worship orbs of light. We do not worship ANYTHING or anyone but God Himself.
However, if God's Word says that the angels work on our behalf and that the heavenly hosts minister at His pleasure, we should certainly desire to receive their ministry. The ministry of angels and of heavenly hosts is simply another blessing that God has for us.
And I don't know about you, but I want EVERYTHING He has for me!
Do you?
Pray:
"Father God, I come before You in Jesus' name.
Father, Jesus taught us to pray that Your Kingdom would come, and Your will would be done, on earth as it is in Heaven. Father, in Heaven You have angels and heavenly hosts, and even other things, who minister on Your behalf wherever You send them. And Father, I want all the ministry from You I can get. I need You, Father, and I need every blessing You have. I am totally dependent on You.
So Father God, in Jesus' name, I ask that You would send both Your angels and Your heavenly hosts to minister to me. I ask that You would send me every blessing You have, and teach me about my heavenly home in the process.
Father, give me discernment, and help me always to test the spirits and remember that they must confess that Jesus is come in the flesh (1 John 4:1-3). Help me to keep my eyes on You. Let me never seek angels or any other heavenly being above You.
However, Father, I do ask that You would help me receive and enjoy all these supernatural blessings You have for me–things which are natural and normal to You, but are outside my experience. I thank You for Your angels and hosts who minister to me, and I pray that You would get all the glory from it.
In Jesus' name, amen."
Listen/watch:
Here are several examples I was able to locate on YouTube of videos that show the heavenly orbs. Anytime you are dealing with the supernatural, TEST THE SPIRITS! Do not believe every spirit. Even Satan can appear as an angel of light. But I do believe these videos below are legit (although I am not endorsing any of the authors of the videos).
Do you want every blessing from Heaven that God has for you? Did you ask Him to send His heavenly beings to minister to you today? If so, leave a comment below! I'd love to hear from you!
Would you help me with my work of reaching people for Jesus as a domestic missionary? I need you; we are in this together!

This blog, and all of the Kingdom work we do in this community together, are made possible through your partnerships, donations, and product purchases. If you'd like to help, please check out the partnership details and products available for sale here. And, thank you in advance for helping make this blog and everything we do together for the Kingdom possible!