Prophetic Word: Be Filled With Light (Day 6 of Supernatural Encounters)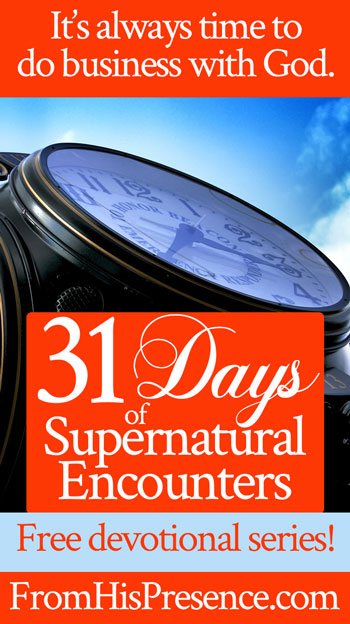 Welcome to Day 6 of our 31 Days of Supernatural Encounters free devotional series!
(Click here for the series index.)
Every day of this series has four parts: Read, Know, Pray, and Listen. As you walk through this series, I pray that you would be powerfully impacted and that Holy Spirit would take you to a new level of intimacy with Jesus!
Day 6:
Read: 1 John 1:5-10
This is the message which we have heard from Him and declare to you, that God is light and in Him is no darkness at all.

If we say that we have fellowship with Him, and walk in darkness, we lie and do not practice the truth. But if we walk in the light as He is in the light, we have fellowship with one another, and the blood of Jesus Christ His Son cleanses us from all sin.

If we say that we have no sin, we deceive ourselves, and the truth is not in us. If we confess our sins, He is faithful and just to forgive us our sins and to cleanse us from all unrighteousness.

If we say that we have not sinned, we make Him a liar, and His word is not in us" (1 John 1:5-10).
Know:
When I asked the Lord what He wanted to say today, I felt Him brooding over, and yearning for, His kids who feel they have strayed too far to return to Him.
If that's you, the Lord is saying to you today: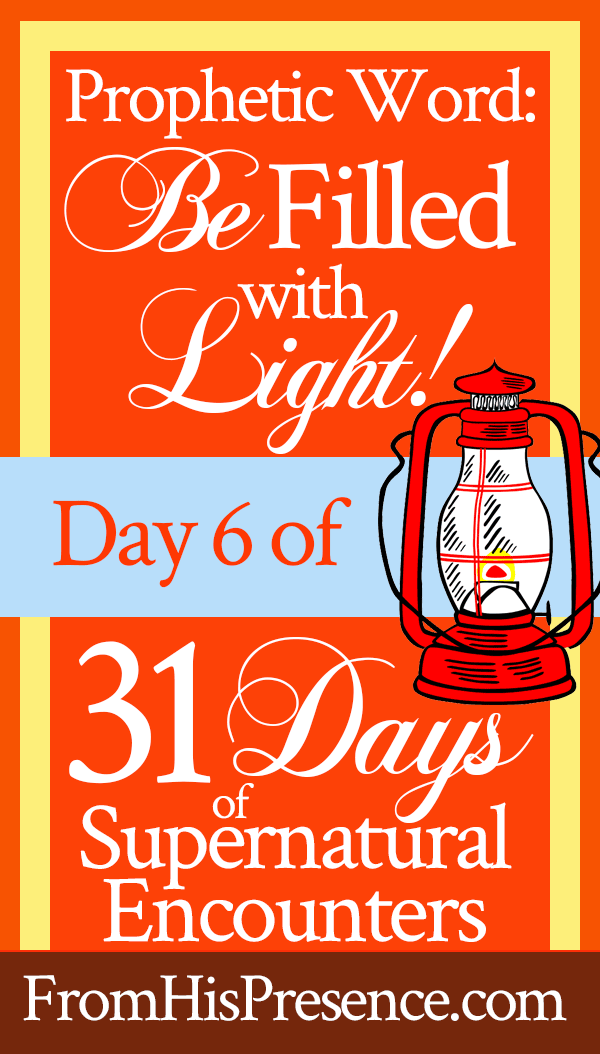 "Precious child, your world is dark but I am light. I am all the hope you need.
I see the dark places in you; I see even more than you do. You cannot fix yourself, but I can fix you. I can heal you, clean you up, and restore you to Myself completely.
Beloved child, you can be new today. You can be clean today. All you have to do is confess your sins to Me. If you will do that, I am faithful and just to forgive you your sins, and to cleanse you from all unrighteousness. I will immediately forgive you and fill you with My light.
Precious daughter, beloved son: I desire more than anything to fill you with light.
Every dark place that's in you right now can be instantly transformed by My Spirit. I AM light. I can and will fill you up, illuminate you, and make you new. I can make you clean, and I can do it in an instant.
So come to Me. Talk to Me. Pour out your heart to Me. As you confess your sins, peace will come. The blood of My Son Jesus paid the price for You to be forgiven, and I desire for you to receive everything Jesus' blood purchased for you right now.
I love you, My child. I am with you always, even to the end of the world. I will never leave you. I will never abandon you. I am not like people. I am Light. I am good. I am pure, and I am holy. You can depend on what I say."
Pray:
"Father God, I come before You in Jesus' name. Father, I confess to You that I have sinned. I have sinned against You by _________ .
But Father, I believe Your Word that You will forgive me. So Father, please forgive me right now. Wash me clean with Jesus' blood. Fill me with Your Holy Spirit. Take every place in me that's dark, and fill it with the light of Your Presence.
Thank You, Father God. In Jesus' name, amen."
Listen/watch:
Today, listen to the Newsboys sing "Presence (My Heart's Desire).
As you listen, pray especially that the Lord would continue to fill up your life with the light of His presence. Ask Him to illuminate every dark place with His Spirit on an ongoing basis, transforming your heart and life with His light. If you will ask, He will do it!
Did this word minister to your heart today? If so, please leave a comment below!
Would you help me with my work of reaching people for Jesus as a domestic missionary? I need you; we are in this together!

This blog, and all of the Kingdom work we do in this community together, are made possible through your partnerships, donations, and product purchases. If you'd like to help, please check out the partnership details and products available for sale here. And, thank you in advance for helping make this blog and everything we do together for the Kingdom possible!