21 Days of Breakthrough Prayer: ORDER from Chaos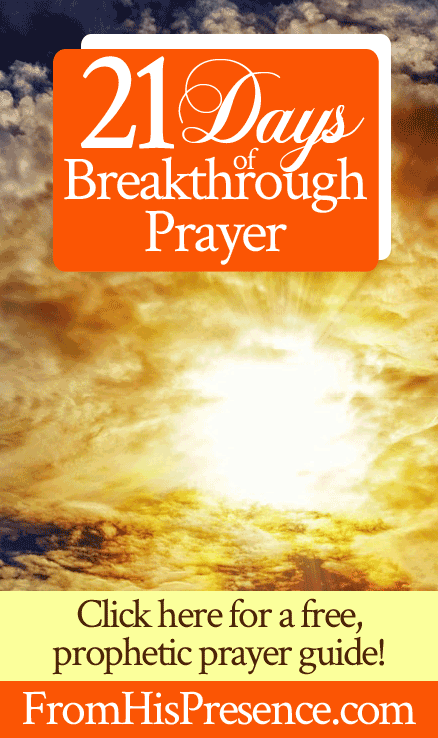 Welcome back to 21 Days of Breakthrough Prayer! This simple series will provide you with Scriptures to pray into for 21 days, asking the Lord for your breakthrough.
A couple of notes before we begin:
This is a very simple series; I am not expounding on each Scripture very much, except through a bullet-point list to share some prayer pointers. I also am not writing out sample prayers, as I believe the Lord wants you to exercise your prayer muscles and make these Scriptures your own vocabulary for prayer.
But, even though it's a simple series, I believe it's a POWERFUL one … and I want to hear your testimonies as the Lord answers your prayers, okay?
See the 21 Days of Breakthrough Prayer series table of contents here.
Without further ado, here's Day 7 of 21 Days of Breakthrough Prayer:
The Scripture verse of the day is 1 Corinthians 14:33, which says:
For God is not the author of confusion but of peace, as in all the churches of the saints" (1 Corinthians 14:33 NKJV).
Pray along these points:
Acknowledge to Father God that you know He wants all things done decently and in order (1 Corinthians 14:40).
Verbally acknowledge to Him that you know He is not the Author of confusion, but of peace.
Tell Papa God that you submit to His Lordship in this area. Since Peace is who He is, confess to Him that you know He therefore wants peace and order manifested in every area of your life.
Tell Him you need help.
Tell Him, simply and briefly and without getting over into whining, 🙂 about whatever situation(s) you are facing in which there is currently chaos, not order.
Admit to Him that you cannot straighten these situations out without His help; BUT that you can do all things through Christ who strengthens you.
Point out to Him that He is the Author of peace; meaning, He initiates it and writes it in books–the books of your life.
Ask Him to help you by going before you to make every crooked path straight so His Kingdom can come and His will can be done (Isaiah 40:3).
Ask Him to initiate peace in your life and to help you also seek peace and pursue it.
Ask Him to initiate order in your life.
Ask Him to bring ORDER from chaos in every situation around you.
Speak to every situation in your life and command them to re-align themselves and manifest ORDER instead of chaos!
Ask Papa God to show you what to do and help you actually do it–to WILL and to DO His good pleasure.
Ask Holy Spirit to anoint you to get organized.
Ask Holy Spirit to anoint you to get your environment cleaned up (your house, office, studio, etc).
Ask Him to order your steps in His Word (Psalm 119:133).
Ask Him to make His own paths straight, and help you also make His paths straight, so He can ride into every situation in your life and display His glory.
Ask Him to help you notice His answers to your prayers!
Then thank Him for bringing order from the chaos, as well as all the rest of the above!
That's our breakthrough prayer for day 7!
Remember to use the verse itself as your vocabulary for prayer. Doing so will not only help you pray the most effective prayers it's possible to pray, but it will also help you hide God's Word in your heart, that you might not sin against Him (Psalm 119:11).
Did you pray this Scripture with me today? Or, do you have a testimony to share about how God has answered this prayer? If so, please leave a comment below! I'd love to hear what Papa is saying to you!