Prophetic Word: Pray for Land Inheritances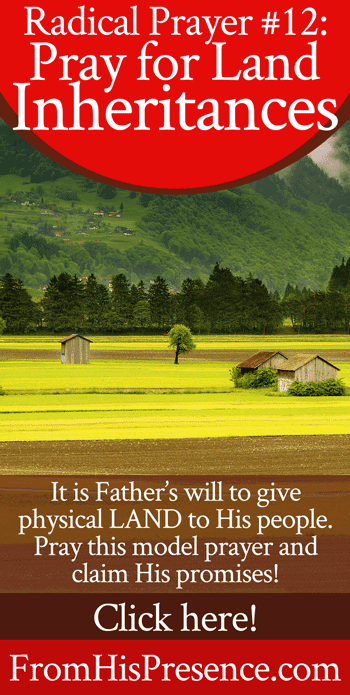 Do you want God to give you land? Would you like to inherit land without your having the money to buy it? To just receive land by the gift of God? If so, then it's time to pray for land inheritances!
What are land inheritances?
First, they are plural. When Father God told me to write this blog post with this prayer for land inheritances, He was very clear about the word "inheritances." Plural. I even tried to change the title to "Pray for Your Land Inheritance," but I didn't have peace about it. "Inheritance" is not what God said.
But "Inheritances" IS what God said.
(Holy Spirit was also very insistent that I write this post NOW, so I believe He's trying to move in this area in your life and mine. I was about to go get groceries, but He told me I had to SIT DOWN AND WRITE A PRAYER FOR LAND INHERITANCES NOW. #AwesomeSauce I take that as a very good sign!)
So, land inheritances. Inheritances are things that you receive by virtue of either your bloodline OR your relationship with another person.
A person is usually given an inheritance when there is a triggering event: namely, the death of the benefactor. When the benefactor dies, his will gets read and his commands get carried out, giving his property to the people named in his will.
Ummm … does that remind you of anything? It sure does me. 🙂
Let me say that another way:
When the Benefactor dies, His will gets read and His commands get carried out, giving His property to the people named in His will.
And in this case, Jesus is the Benefactor. Jesus died, so now we can read His will. Yes, He's alive again because He didn't stay dead; He rose again on the third day. However, His death was still the triggering event that made it possible to for His will to be carried out.
Now, thanks to Jesus' own blood sacrifice that paved the way for Heaven to invade earth, Father God is handing out His property to the people named in His will. And according to God's written Will, the Bible, the people named in the will are you and me.
Woot! Glory to God! Isn't that amazing? Sign me up!
So how does receiving land inheritances work? How can you pray for land inheritances?
First, we need to understand that all the land belongs to God, so He can give it to whomever He wishes.
Psalm 24:1 tells us:
The earth is the Lord's, and all its fullness, the world and those who dwell therein."
So if ALL the land is God's, does He want to give it to you?
Answer: YES. God definitely wants to give land to YOU.
Since Father owns everything and always has, He will still own it even after He gives it to you. He owns it because He is the over-arching Chief Owner of All Creation.
Nevertheless, it IS His will to physically give you land of your own to inhabit while you are living on the earth. How do we know this?
We know this because God has always given land to His people.
He planted a garden for Adam and Eve to live in. Personally planted it, then placed them in it. It was theirs to tend.
Then He gave land to Abraham and Abraham's descendants. In Genesis 13:14-17, God told Abraham:
And the Lord said to Abram, after Lot had separated from him: 'Lift your eyes now and look from the place where you are—northward, southward, eastward, and westward; for all the land which you see I give to you and your descendants forever.

And I will make your descendants as the dust of the earth; so that if a man could number the dust of the earth, then your descendants also could be numbered. Arise, walk in the land through its length and its width, for I give it to you."
God perpetuated that covenant that He made with Abraham.
He kept it always, and is still keeping it; for it was a "forever" covenant. He did in fact bring Abraham into that land, and it has belonged to Abraham's descendants from that time until now. It still does belong to the Jewish people.
And the blessings that God gave Abraham through the covenant He made with that man of faith are available to you and me today. Galatians 3:13-14 says:
Christ has redeemed us from the curse of the law, having become a curse for us (for it is written, 'Cursed is everyone who hangs on a tree'), that the blessing of Abraham might come upon the Gentiles in Christ Jesus, that we might receive the promise of the Spirit through faith."
(Note: In the passage above from Galatians, the apostle Paul tells us that the blessing of Abraham is ours through Christ Jesus. He then expounds on that fact by explaining that that's how we have Holy Spirit living inside us. However, the blessing of Abraham was not limited to Holy Spirit. Paul is simply teaching us a truth, then expounding on one particular aspect of that truth in line with the rest of the topic he was writing about in that whole chapter.)
What else does God say about giving you land?
It's so important to know that there are Scriptures for this, so you'll have faith that your prayer is God's will–and so you'll be able to pray God's Word back to Him! So look at just a few of the other Scriptures that tell us it's God's will to give us land:
The righteous shall inherit the land, and dwell in it forever" (Psalm 37:29).

"Wait on the Lord, and keep His way, and He shall exalt you to inherit the land; when the wicked are cut off, you shall see it" (Psalm 37:24).

"So it shall be, when the Lord your God brings you into the land of which He swore to your fathers, to Abraham, Isaac, and Jacob, to give you large and beautiful cities which you did not build, houses full of all good things, which you did not fill, hewn-out wells which you did not dig, vineyards and olive trees which you did not plant—when you have eaten and are full–then beware, lest you forget the Lord who brought you out of the land of Egypt, from the house of bondage" (Deuteronomy 6:10-12).

"When your son asks you in time to come, saying, 'What is the meaning of the testimonies, the statutes, and the judgments which the Lord our God has commanded you?' then you shall say to your son:

'We were slaves of Pharaoh in Egypt, and the Lord brought us out of Egypt with a mighty hand; and the Lord showed signs and wonders before our eyes, great and severe, against Egypt, Pharaoh, and all his household.

Then He brought us out from there, that He might bring us in, to give us the land of which He swore to our fathers. And the Lord commanded us to observe all these statutes, to fear the Lord our God, for our good always, that He might preserve us alive, as it is this day" (Deuteronomy 6:20-24).

"Therefore you shall keep the commandments of the Lord your God, to walk in His ways and to fear Him. For the Lord your God is bringing you into a good land, a land of brooks of water, of fountains and springs, that flow out of valleys and hills;

a land of wheat and barley, of vines and fig trees and pomegranates, a land of olive oil and honey; a land in which you will eat bread without scarcity, in which you will lack nothing; a land whose stones are iron and out of whose hills you can dig copper.

When you have eaten and are full, then you shall bless the Lord your God for the good land which He has given you" (Deuteronomy 8:6-10).
The Bible clearly says that it's God's will to give us houses, land, vineyards, and more.
Just to make sure I wasn't interpreting this wrong, I actually looked up the word "land" that is used in many of the Scripture passages above. And to my surprise, I found out that it means …
… yup. Land.
Dirt. The brown stuff.
As in, land. The kind that can grow grass. You know, the green stuff. 😉 Actual, physical space on planet Earth. Tangible, physical land.
Don't try to spiritualize all the promises of God. Sometimes He really is talking about physical stuff!
And in these promises, He really is talking about physical land. Land you can hike on, build on, live on, garden on, lay on, and even eat, if eating dirt is your thing. (Sorry; couldn't resist. Hasn't everybody eaten dirt when they were a little kid?)
Land.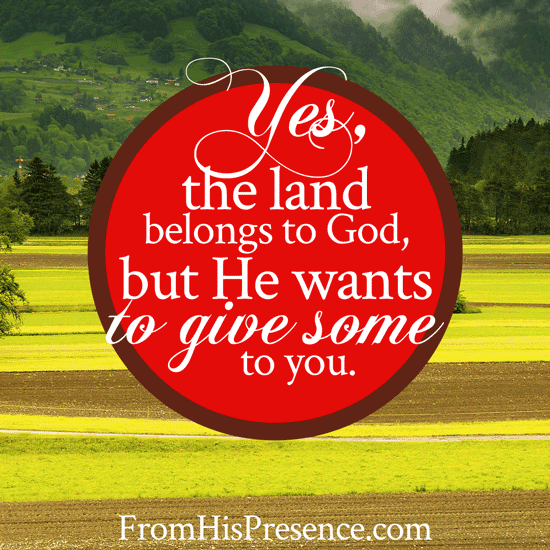 So what kind of land do you want?
I actually dream of having from 1-40 acres of paid-for land in an accessible part of Wyoming. Accessible being the key word, and paid-for being the second key word. 🙂 I love Wyoming and want to lay on my land and rest my cheek on it and love it and squeeze it and look at the view all around me. Having that land is a written goal of mine.
What kind of land do you dream of having?
Land to live on?
Land for your kids to play on?
Land for your ministry?
Land to swim and hike and fish on?
Land with enough trees around your house so your neighbors can't see into your windows? 🙂
Whatever kind of land you want, I can tell you this: I don't believe in "name-it-claim-it" theology, in which some people believe you can just say something and boom, you'll have it.
However:
I do believe in the Word of God.
I do believe in claiming God's promises and praying His Word back to Him.
I believe every single word in it is inspired by God.
I believe He is a GOOD, GOOD FATHER.
And I believe that He meant it when He said:
Delight yourself also in the Lord, and He shall give you the desires of your heart" (Psalm 37:4).
So I don't know what Father has in store for you, but I do know that if you will delight yourself in Him, and present His Word back to Him in prayer, He will hear your prayer, honor His Word, and give you the desires of your heart.
So are you ready?
Pray this prayer for land inheritances with me:
"Father God, in Jesus' name, I thank You for all Your promises that tell me You desire to give me land. Father, I thank You that it's the blood of Jesus, who died but then rose again and is alive forevermore, that has purchased my inheritance for me. And I thank You that Your Word says that, if I delight myself in You, You will give me the desires of my heart.
So Father God, in Jesus' name, I claim Your promise. You said the righteous shall inherit the land. I am the righteousness of God in Christ (2 Corinthians 5:21), so I'm asking You to send me the land You have for me. Bring me my inheritance of land that You desire me to have. Bring me the perfect land at the perfect time, and help me to dwell in it forever.
Father God, thank You for my land. Thank You for giving me bold faith to believe You mean what You say. I know I have received my land, and I give You all the praise.
In Jesus' name, amen."
Does this message speak to your heart today? If so, pray for your land inheritances and don't stop praying until you receive them! Also, please leave a comment below! I'd love to hear from you!
Would you help me with my work of reaching people for Jesus as a domestic missionary? I need you! This blog, and all of my mission work in person, are made possible through your partnerships, donations, and product purchases.
If you'd like to help me, please check out the partnership details and products available for sale here. And, thank you in advance for helping make this blog and everything we do together for the Kingdom possible!