Create a Battle Map and Lay Siege To Your Problem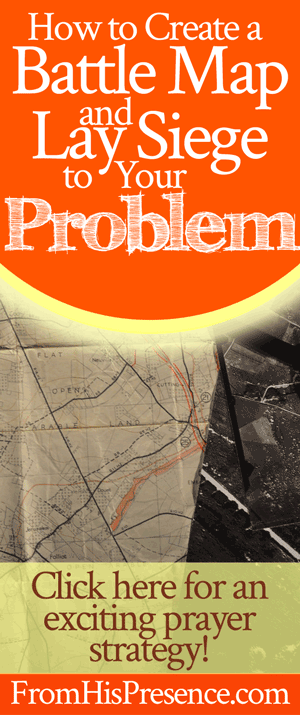 Would you like to be better equipped, and better prepared, than the enemy, so you can win whatever battle you are facing today? You can be when you create a battle map, so you can lay siege to your problem in prayer.
I first heard about "laying siege to something" from Matt Lockett of Bound4Life.
When he spoke awhile back at The Call's 222 Conference, he said his organization is praying from every possible angle for abortion to end in the United States.
For example, they are praying for:
The defunding of Planned Parenthood;
The confirmation of pro-life judges in the United States Supreme Court;
The growth of the adoption movement; and so much more.
To explain why they pray in so many different ways, he gave the example of an army laying siege to a city.
When an army besieges a city, they do everything they possibly can to take down the city:
They cut off its trade routes.
They cut off its water supply.
They pummel its walls with a battering ram.
You name it; they do it. Everything an army can do to harm an opposing city decreases its power and, ultimately, contributes to its fall. Matt Lockett pointed out that this is how God told Ezekiel to intercede. (See Ezekiel 4:1-4 for an example of this.)
That illustration about laying siege to something in prayer stuck with me.
Big-time. It has rolled around in my spirit for weeks now, and the Lord finally showed me a strategy for how I can lay siege to other problems in prayer.
What's the strategy? Creating a battle map.
It all starts with a battle map.
A few years ago, my husband and I had the privilege of visiting London. I'm a history buff; so, while there, we visited the Churchill War Rooms. This amazing place is the underground bunker from which Winston Churchill and his staff commanded World War II.
At the Churchill War Rooms, we were amazed (and very much in awe) to see the actual maps that Churchill's cabinet used during the war. The maps were huge, still hanging on the walls where they had hung during the war–and they had been left untouched since the day the war ended.
See an official photo of a battle map from the Churchill War Rooms here.
That means:
The national boundaries were marked just like they used to exist.
The locations of enemy ships and troops were still indicated on the maps.
The Allied troops and ships were marked too.
Everything that the British cabinet had used to strategize the war was still there. These very maps were used to determine battle strategies, monitor results, and generally command the most hellacious war that's ever been. Even the phone line Churchill used to communicate in secret with the American President was still there.
And you know what? The Allies won!
They won, and the world was liberated from an oppressive, evil regime! But it wouldn't have been possible unless the Allies had strategized first. It wouldn't have been possible unless they had dissected the enemy's movements, secret codes, troop positions, ship positions, etc–and mapped it all out so they would know how to respond.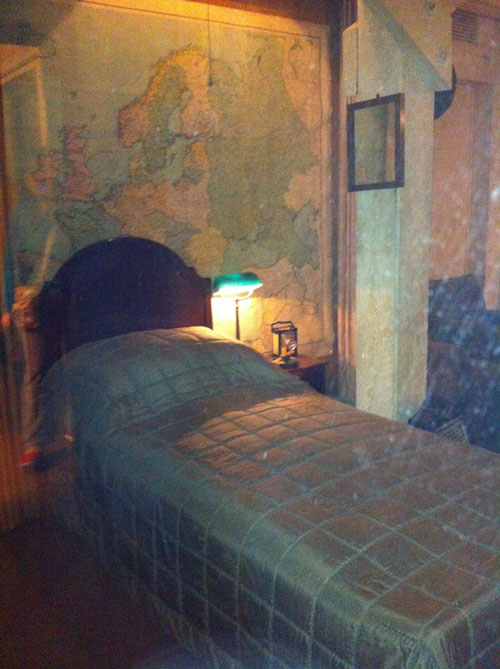 And the Lord showed me that we can win the battle in the heavenlies the exact same way–by creating a battle map.
When you create a battle map for your situation, you map out what the problem is. And the problem, by its very nature, consists of what the enemy is doing. Blessings from God are never a problem; only the enemy's interference creates problems. Therefore, mapping out the problem shows you the enemy's strategy.
And after you clearly expose the enemy's strategy, you can then position your air troops, ground troops, your attacks, and your resources in the best and most effective positions to defeat the enemy.
Your air troops are God the Father, God the Son, God the Holy Spirit, and all God's angels. Your attacks are your prayers. And God can win the victory for you no matter what kind of battle you are facing.
All it takes is the spiritual warlord–in this case, you–directing the battle and commanding the troops. But in order to command those troops, you must have a battle map.
So are you ready to make your battle map?
It's super-easy. I have been making my own battle maps about different problems. Since we're going to talk about finances a lot on this blog this month, I made a battle map this morning about finances to show you, in order to illustrate this article.
Also, TOMORROW, I'll publish 4 financial battle map centerpieces (PDF format) that you can use if you want to. These are just examples; feel free to use them or make your own.
Step 1: Put a visual of your problem onto paper.
Do this in the most appropriate way for your problem. For example:
Write it down;
Print it out;
Draw it; or
Do whatever it takes to get some sort of visual representation of your problem ON PAPER.
This is going to be your war map, and nobody ever carried their war map around in their phone. Write it down! Get it on paper.
Below is a small image of one of the financial map centerpieces I made. (The items on this map are not personal to me; I just made several pages of these, showing every financial situation I could think of that people might face.)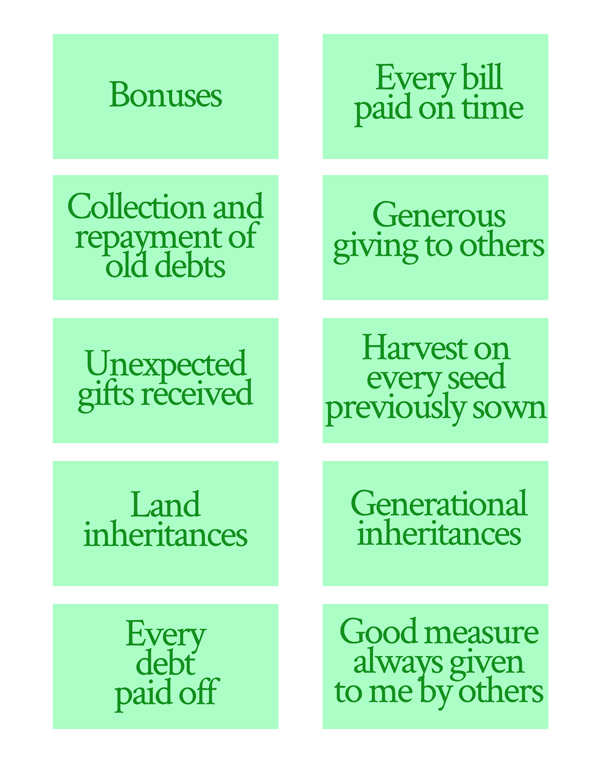 Step 2: Tape blank paper to the sides (and top/bottom if needed!) of your paper.
Again, you're making a battle map. You need lots of space to write and move your proverbial ships around. 🙂
Here's what my example map looked like when I taped paper to the sides: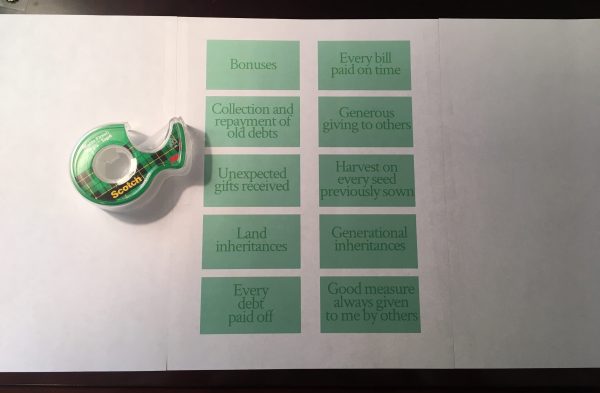 Step 3: Examine your problem from every angle.
Ask yourself questions like:
What are its weaknesses?
What are the root causes of each aspect of your situation?
What are the supply lines that are feeding this problem?
What caused it, and what's perpetuating it?
Where are the weak spots in its defenses? Where are the points of easiest access and quickest potential change?
Underline the issues if you need to. Circle them. Highlight them. Draw arrows. Whatever you need to do to dissect the problem from all of its angles.
Step 4: Draw a line from each aspect of your problem out onto the blank paper, and write your prayer points in the blank space.
It's okay to use brief phrases. Remember that this is your battle map, not your war handbook!
For example:
"Father, teach me how to handle money Your way."
"Father, show me if/how You want me to start my own business."
"Father, wake up my child's conscience and remove his/her enjoyment of sin completely."
"Father, remove unholy influences from my child's life."
"Father, give me a spirit of excellence at work today."
"Father, bring clarity to every misunderstanding."
"Father, teach my spouse and I how to communicate well."
On your map, write down a verse or Scripture reference with each prayer.
Google one up if needed. Add Scripture references for as many of your prayers as you can–preferably all of them. It may take time to find them; that's okay. Just work at your own pace, and start praying today even if the whole battle map isn't finished yet.
If you aren't sure how to pray about a certain situation, and Googling up Scripture references doesn't help, then claim the promises of Jesus that say we can have whatever we ask for in prayer.
There are many verses in the Bible about answered prayer! Jesus Himself often said that He will give us whatever we ask for in prayer. Matthew 7:7-8, John 16:23-24, and John 14:13-14 are great examples of those promises. So use those if you can't find a specific promise about your situation–and even use those anyway! They are good ammo. 🙂
Here's what a portion of my example map looks like (and these are definitely my personal prayers for these things–not just good examples!):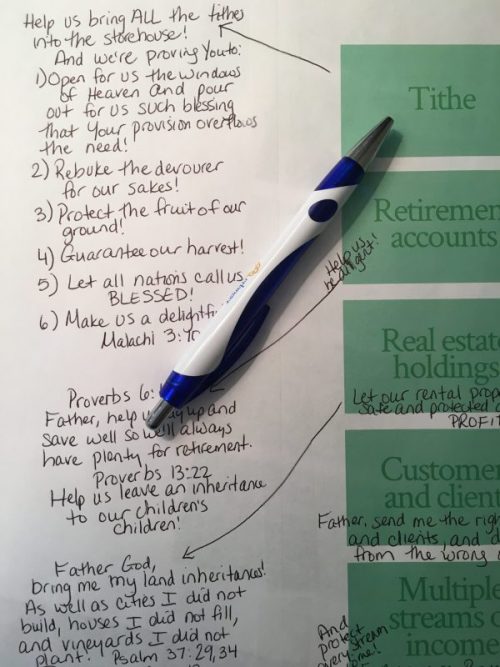 After you have dissected your situation, you should have a visual of both the enemy's strategy and God's strategy.
When you look at your battle map, notice that the enemy may be trying to occupy some land, but YOU have the high ground. 🙂
You have the supernatural power of the King of kings and Lord of lords on your side, and your prayers are AIR POWER that come from the Highest Power in Heaven and earth–God Most High! So you are going to win this thing.
But you still have to follow God's warfare strategies to see your victory manifest! How to do that?
The final step is to put on your armor and pray.
Your armor is described in Ephesians 6:10-18, which says:
Finally, my brethren, be strong in the Lord and in the power of His might. Put on the whole armor of God, that you may be able to stand against the wiles of the devil.

For we do not wrestle against flesh and blood, but against principalities, against powers, against the rulers of the darkness of this age, against spiritual hosts of wickedness in the heavenly places.

Therefore take up the whole armor of God, that you may be able to withstand in the evil day, and having done all, to stand.

Stand therefore, having girded your waist with truth, having put on the breastplate of righteousness, and having shod your feet with the preparation of the gospel of peace; above all, taking the shield of faith with which you will be able to quench all the fiery darts of the wicked one.

And take the helmet of salvation, and the sword of the Spirit, which is the word of God; praying always with all prayer and supplication in the Spirit, being watchful to this end with all perseverance and supplication for all the saints…"
And how do we do battle? We stand and pray.
Step 5: So now take your map, spread it out before you, and begin praying over each point.
Ask God to cut off each of the enemy's supply lines that you've identified.
Ask Him to bless every holy thing.
Pray for the manifestation of every promise you haven't seen manifested yet.
Ask Him to give you wisdom, motivation, and inspiration.
Ask Him to teach you how to practically apply every one of His principles.
Ask Father to release angels to work in your life more than they ever have before.
As you pray, lift every aspect of this battle up to Father's throne of grace.
If you were in your nation's military, you would never go into a physical battle without making sure you had good communication with your headquarters, would you? Of course not. You would never enter a battle without establishing supply lines first. You would never start a war without identifying who the enemy is.
Well, life is a spiritual battle. Read the passage from Ephesians 6 (above) again! "We do not wrestle against flesh and blood, but against principalities, against powers, against the rulers of the darkness of this age, against spiritual hosts of wickedness in the heavenly places."
We are in a battle right now! Therefore, shouldn't we prepare just as thoroughly in the spiritual realm as we do in the natural realm? Shouldn't we war with just as much skill, strategy, and mental acuity in the spiritual realm as we do in the natural?
Yes.
Of course we should.
And making a battle map is a great tool to help you WIN, no matter what kind of battle you are facing.
In Luke 18, Jesus told us that we are to pray persistently. Persistent prayer is what He calls FAITH. But in order to know the best ways to pray persistently, we have to be wise to what the enemy is doing.
When you prepare a battle map for your problem, and array your troops against it in the manner God prescribes, you can win the battle.
Do you need to create your own battle map? Is Holy Spirit bearing witness in your spirit with this word? If so, please leave a comment below! I'd love to hear from you.